Karaoke Battle USA feasted on the Big Apple this week, as contestants competing in the Eastern Regional Final chased their dreams in the city that never sleeps. And just like New York itself, this week's show had it all, from a ready-made teen heartthrob to a big-voiced Southern mom who gave the judges real bang for their buck -- literally.
Shantel Norman, 26, commanded "Respect" as she tackled the Aretha Franklin classic and even handed judge Joe Levy a roll of bills as she belted the lyric "I'm about to give you all of my money."
Levy gave the money back -- "so they don't accuse me of taking a bribe," he said -- while fellow judge Brian "The Cowboy" Scott declared, "You have just rattled the battle."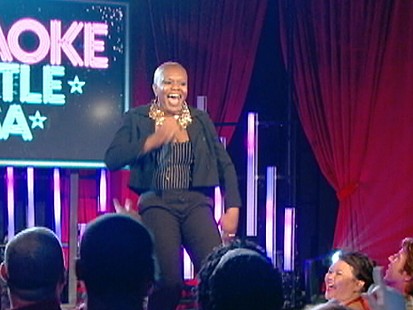 Other contestants rattled the judges, but not in a good way. One singer's face showed so much strain as he hit the high notes of Whitney Houston's "The Greatest Love of All" the judges questioned whether he might need medical attention.
"I swear to God, dude, I thought your head was going to freakin' pop off your neck," said judge Carnie Wilson.
Wilson was more impressed -- and rather hot and bothered -- by a different male contestant.
"You are sexy, man, whoa," she told the South Carolina Air National Guard's Todd Coleman, after the buzz-cut sporting staff sergeant performed Jason Aldean's "She's Country." "You just reek of this fabulous sexiness."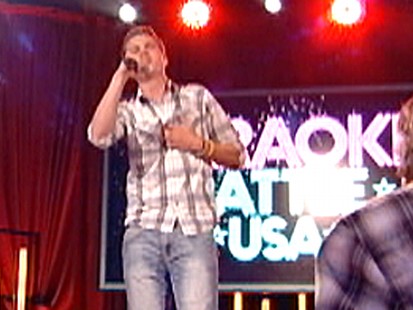 But the men whose voices ultimately rose above the rest were Creigh Riepe of Charlotte Courthouse, Va. and Corey Johnson of Fort Myers, Fla. Both were inspired by loved ones they'd lost. Johnson dedicated his performance of Sarah Mclachlan's "Angel" to his brother, who died while Johnson was serving in the Navy. Riepe, 19, a college student who helps run his family's farm, said his father, who died of lung cancer in 2007, taught him how to play guitar and encouraged him to pursue music.
The fresh-faced Riepe, praised by the judges as being "the complete package," won the battle against Johnson with his soulful rendition of "Walkin' in Memphis." On the ladies' side, Norman faced some stiff competition from Brandi Thompson, of Astoria, N.Y. Thompson, whose performance of "And I'm Telling You I'm Not Going" was dubbed "fantastic" by judge Scott.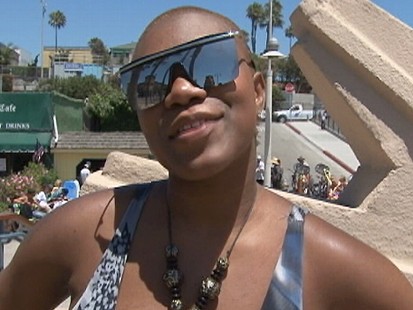 In the ladies' battle, Thompson had the house rolling with Tina Turner's "Proud Mary." But it was Norman who got Carnie Wilson's ponytail swinging and was named the Eastern Final ladies' semi-finalist when she took on Rufus and Chaka Khan's "Ain't Nobody."
"I am a huge Chaka Khan fan," Wilson exclaimed. "I like the way you did that better than her."
Who will be our final Karaoke King and Queen? Keep watching "Karaoke Battle USA" to find out!
To say hello to Creigh Riepe and read his biography, click here.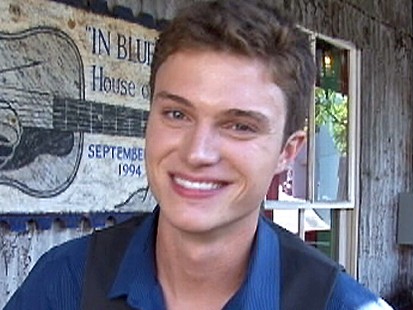 To say hello to Shantel Norman and read her biography, click here.