Poised for the so-called comeback shows of his career, Michael Jackson rehearsed tirelessly in his final days -- at times overexerting himself in rehearsals, insiders tell ABC News.
Jackson's death June 25 came before the start of his upcoming "This Is It" concerts, which would have amounted to his first major concert series since his HIStory tour that ended in 1997.
The 50-year-old Jackson was scheduled to perform 50 sold-out concerts at London's O2 Arena, promoted by AEG Live, from July 13 to March 6, 2010.
"I think he had a sense of timing that this was the time to do it," AEG Live CEO Randy Phillips said in an interview with ABC News' Chris Connelly. "He was always negotiating and renegotiating. And he was a character. He was our character."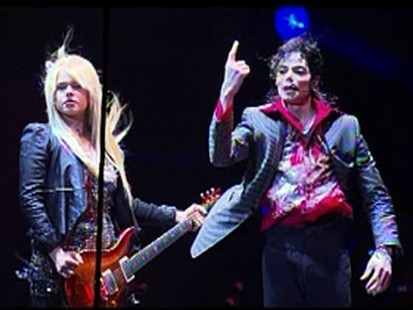 Phillips said that the 50 scheduled performances were not too many to be contractually expected of Jackson.
"We're talking about 50 shows in one city -- no travel, living in a beautiful estate outside of London," Phillips said. "He was going to average two-and-a-quarter shows a week. You can't do less than that and spend this much money on production and advertise it ... and make money.
"This was his chance also to get his finances in order," Phillips added.
Those who watched Jackson perform were convinced that he was healthy enough to tour. Before the tour's formal announcement, Phillips said, Jackson was given a five-hour medical examination by Dr. David Slavik, in which Jackson was given a "clean bill of health."
Phillips said that Jackson insisted that AEG hire his doctor of choice, Dr. Conrad Murray, the Houston- and Las Vegas-based physician who was with Jackson as he died, for 24-hour medical assistance on tour in London. AEG was paying Murray $150,000 per month for compensatory fees, as well as hotel and travel costs.
When Phillips attempted to contest the "ungodly" costs of retaining Murray, Jackson pushed back.
"Michael looked me in the eye, and he's strong and he was stubborn and wanted something," Phillips said. "He looked me in the eye [and said], 'Look, this is the machine,' pointing to his body, 'that fuels this entire business. OK? I need a doctor 24/7. He's my doctor. I am comfortable with him, he's an incredible guy and he makes me feel good about myself.'"
AEG Hired Someone to Remind Jackson to Eat
Phillips said that contractually, AEG wanted Jackson to perform on stage for 80 minutes, but Jackson's sheer passion and desire for perfection pushed the concert well over that time marker.
"We wanted to conserve his strength. ... There were a lot of shows, even though they were spread out over nine months," Phillips said. "He couldn't do it. His obligation to his fans, his reverence for his fans -- and a lot of artists feel this way -- was so strong that the show ... started to creep well over two hours. And that's the reality."
Director Kenny Ortega said that Jackson was the show's grand "architect," extremely involved in every aspect of the production.
"He was the architect. He worked with us, with the lighting, the music, the choreography, the special effects, the special film content and had conceived a vision of perfection in his head for his fans," Ortega said. "It was about creating the perfect show, leaving the audience wanting more but creating the perfect show ... His fans were his fuel."
While his entourage on tour deemed him physically and emotionally capable of performing, some felt Jackson couldn't hold himself back in rehearsals -- potentially overexerting himself.
"As we all know, he is very competitive -- and we would throw at him and he couldn't help himself," said musical director Michael Bearden. "He would sing full out more than we wanted him to."
While the team insists that they saw no sign that Jackson was using drugs, Phillips said worries mounted that Jackson did not have the energy to endure. His weight showed signs of wear and tear.
"Kenny [Ortega] used to cut his chicken breast for him and feed him," Phillips said. "I actually, in the last week, brought in someone whose sole purpose it was to remind him to eat. That was my biggest concern, was his weight."
Jackson told Ortega he had issues with insomnia.
"He would say to me, 'I didn't sleep much last night,'" Ortega said. "If he got inspired, then he would work on a song, work on a lyric. He would go downstairs and work in his room and work on a dance step or call me on the phone at 3 o'clock."
Still, those who saw the dress rehearsals were shocked that the man they saw dancing on stage would die less than 48 hours later. Phillips said releasing the video of Jackson rehearsing Thursday was an attempt to set the record straight about the icon in his final days.
"It was thrilling," he said. "It [the rehearsal video] shows his commitment and his capability -- and one of the great entertainers."
"Michael was there. Present. Within his body. His heart was into it," said Ortega. "There was a lot of creative jousting and wonder and you weren't always 100 percent certain with Michael. Michael had his own process but at the end of the day, no one wanted it more and I think that you see that."