In his new movie "Crazy Heart," Jeff Bridges plays an aging country music legend, soaked in bourbon and stumbling through his late-50s, his talent frayed and unwound by decades of abuse.
"Funny how falling feels like flying…for a little while," he sings.
The sharp, evocative line mirrors Bridges' soaring performance as Bad Blake, a late-stage alcoholic who seeks redemption and a second chance through an improbable love affair with a small-town reporter, played by Maggie Gyllenhaal.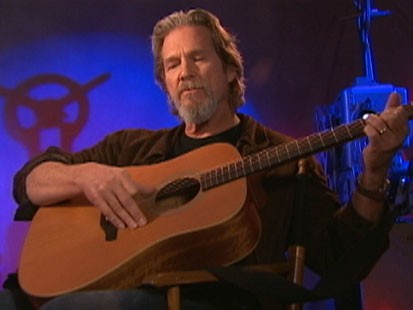 Blake is a music industry veteran, both burning out
and
fading away. He can't write songs like he used to and he's haunted by the outsized success of his young, former protégé, Tommy Sweet, played by Colin Farrell. Sweet, with his ponytail and earrings, represents a new era of commercially-successful country/pop stars.
Bridges' character, by contrast, is pale, pudgy, and constantly out of breath, wheezing as he lights each new cigarette with the dying ember of his last one, over and over, until you can feel your chest tighten.
But when he takes the stage, anywhere, even a bowling alley, the audience's reverence is palpable.
"That's his home turf, that stage,'' Bridges said in a recent interview for ABC News' "Popcorn With Peter Travers." "That's his throne, he can be totally at peace up there."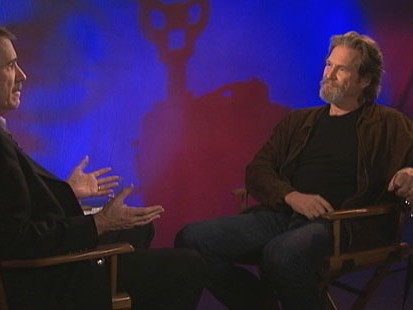 But the peace seems always short-lived.
"He's kind of hit the wall as far as the song thing. He feels he can't come up with a good song, and he wishes he was like Leonard Cohen or Bob Dylan, one of these great guys, and that's probably the reason he drinks,'' he said. "He's pretty damn good. But [Dylan and Cohen are] in a class… you know, all by themselves."
As Blake works his way back from the bottom, a song slowly emerges from the mess of his life, which shapes and defines the movie.
'We Got Our Song!'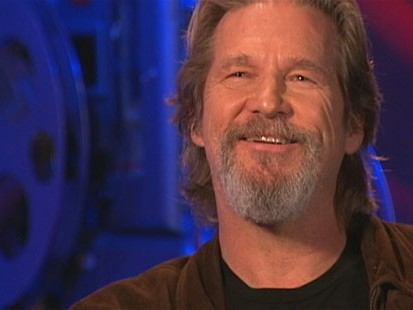 Bridges originally turned down the script "because there was no music, and it was all about music."
But a year after he originally passed on it, Bridges' old friend, music producer T-Bone Burnett, convinced him to give the script another look.
During filming, Bridges said, Farrell met Ryan Bingham, a struggling, young country artist who was living out of his car at the time. He was cast in a supporting role as a young guitarist backing Blake at the bowling alley gig.
Burnett and writer/director Scott Cooper were still casting about for the right music to fit the story, and one night Cooper got a call from Bingham.
"He's a very humble guy,'' Bridges said of Bingham, "and he said, 'I think I might have a song for you, that you might consider.' And Cooper said, 'come on over to Bone's house and play it. And he sat there on T-Bone's coffee table and played us this remarkable song that he wrote… inspired by the movie, and it fit perfectly.
"And I remember seeing T-Bone's face when he heard that thing and just how wonderful it is… like, 'we got our song! Oh God!'''
The song, "The Weary Kind," became the movie's theme song. It won the Academy Award for best original song (watch the acceptance speech here). Bridges won the 2010 Oscar for Best Actor, after winning a Golden Globe for the performance. Gyllenhaal was nominated for Best Supporting Actress.
The Fifth 'Highwayman'
Bridges said he channeled the legends of country music, among them "Highwaymen" Johnny Cash, Willie Nelson, Kris Kristofferson and Waylon Jennings, a group of hard-living musicians of whom Cash once joked from stage, "I miss those criminals, er, guys."
"Scott Cooper -- one of his first directions to me was that if Bad was a real person, then he would be the fifth Highwayman,'' Bridges said. "So that was a nice piece of direction, and of course I used all those guys as role models. I'm a buddy of Kris's."
Cooper previously sought the elusive rights to the life of troubled country icon Merle Haggard. Haggard's mythos stretches from the late 1950s -- when he spent three years in San Quentin prison -- through last year, when Haggard played two triumphant shows following lung cancer surgery. Haggard's anthemic ballads have been covered by everyone from The Everly Brothers to the Grateful Dead.
Cooper "wanted to make Merle Haggard's story, but Merle Haggard has a bevy of wives himself…ex-wives I should say,'' Bridges said, smiling. "It's tough to get the rights to Merle's story, so he came across this wonderful book called 'Crazy Heart' written by Thomas Cobb, and [Cooper] figured, well, he's a big fan of country music and he could use elements of all of his favorite country musicians in the character of Bad."
Bridges Bulking Up
Bridges said it took time to achieve a pitch-perfect portrait of a man in free-fall. And it wasn't easy.
"It's fun for a couple weeks to remove the governor and just eat whatever you want to eat and drink whatever you want to drink,'' he said. "That's fun for a couple of weeks, and all of the sudden, it just doesn't feel as good…"
"I've made the mistake of, uh, being actually drunk when I needed to be drunk in the scene, and that did not work for me. It works for some guys -- you know, a lot of roads to roam, but that's not one that I take."
Bridges is a California native and the son of actor Lloyd Bridges. His talent seemed evident right out of the gate when he received a Best Supporting Actor Oscar nomination for his role in 1971's "The Last Picture Show." He played alongside Clint Eastwood in 1974's "Thunderbolt and Lightfoot," and was nominated for another Academy Award, this time Best Actor, for his role as the alien in 1984's "Starman."
Bridges told ABC News that he approached the peculiar role of an alien "the same way I approach all of my roles, where I look inside myself and see aspects of myself that I could use, then I look at my close circle of friends or my family, and I look in my phone book and I say, 'hmm, I wonder what friends remind me of - or that wouldn't surprise me - if they were an alien."
Bridges hired a dancer friend to train for him the first scene in "Starman," where the alien is born.
"I would take those lessons home and I would take a video camera and I would video[tape] myself. And I remember one day I was doing that in the nude, 'cause that's how Starman had to be," Bridges said. "And I was going like this [he mimics a fetal position] and I remember my wife coming in and her opening the door, and we made eye contact and the expression is just in my mind,'' he said, smiling.
"What did she think I was doing, photographing myself in the fetal position in the nude?" he said, laughing.
Happy Marriage
The couple seem to have a strong bond, especially by Hollywood standards. Bridges married Susan Geston in 1977, who he met while filming "Rancho Deluxe." The couple have three daughters.
"My wife said we were apart 11 months out of the last 14! Terrible! It's terrible!," he said. "She's such an important part of what I do, you know? Holding that kite string and letting me soar out there? And she comes to visit occasionally and there's been a few months here and there where we've gotten together, but we've got to figure out a way to work it out… we will. We're strong. We've been married 33 years, man. We've been doing this a long time."
Asked what the secret is to a happy marriage, the veteran actor and family man was concise.
"Don't get a divorce!"