NEW YORK — Ay dios mio!
Hot on the heels of her first best-actress Oscar nomination, Spain's Penelope Cruz is basking in some very sweet reviews for playing a stormy artist in Woody Allen's dramedy "Vicky Cristina Barcelona" and a composed college student involved with her ambivalent professor in the drama "Elegy."
And yet, she can't sit through a single interview or stroll down a red carpet without the same question cropping up: What was it like kissing her "Vicky Cristina" co-star Scarlett Johansson?
"Always," Cruz says with a sigh, raising her eyebrows, of inquiries about a quick yet potent scene that's pivotal to the film. "Maybe if I was a journalist I would ask about it, too. But Scarlett and I have run out of things to say about it. We get asked 50 times a day."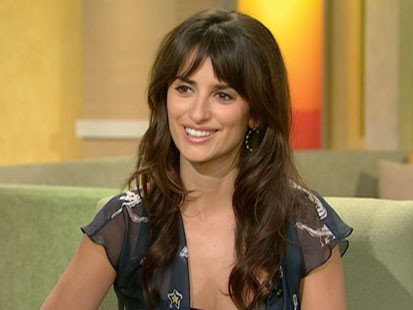 Right now, Cruz, 34, lacks the energy to whip up any pithy fabrications about their on-screen smooch in Allen's tale of two New Yorkers (Johansson and Rebecca Hall) who spend a summer in Spain and become entangled with a local painter (real-life boyfriend Javier Bardem) and his unstable ex-wife (Cruz).
The film opens Friday and goes up against Cruz's other project," Elegy", an intimate adaptation of Philip Roth's novella "The Dying Animal". Cruz is Consuela, a Cuban student who falls in love with her much older and very conflicted professor (Ben Kingsley).
Cruz has been doing publicity non-stop for both movies on both coasts. She just wrapped the thriller "Los Abrazos rotos (Broken Hugs)", her fourth film with her frequent collaborator Pedro Almodóvar.
"That's why I'm tired. I don't even know what my name is anymore," she says, dipping into a bowl of miso soup.
A busy year
Still, she's not complaining, she's quick to point out. It has been a rich year for the actress, long a superstar at home in Spain and hailed for her work in Spanish-language films but frequently relegated to being eye candy in English-speaking movies.
Hollywood didn't seem to know quite what to do with her, and for years she was more famous for her boyfriends (like Tom Cruise) than her performances. That's finally changing.
"The only thing standing in her way was that she didn't know the language well, but years have passed, and she has developed the language much better," Allen says. "She's going to be a perennial. She's a great actress, like Sophia Loren. She's very earthy, full of feeling, full of passion.
"If she chooses her parts wisely, she'll be a great actress, and with her kind of looks, the kind of looks that age very well, she'll be beautiful at 50 and 60."
Thanks to her dual dramatic turns, "this is the first time people are taking her really seriously," says Elegy director Isabel Coixet.
In "Vicky Cristina", Cruz sizzles in both languages, berating Bardem in her native tongue while sparring with Johansson in English. In Elegy, she's delicate and defiant as Kingsley's paramour.
It's a potent one-two punch for Cruz, even critics agree.
"Cruz has never done anything like this: with her downturned mouth and wild black hair, she looks witchy and unbeautiful," writes the "New Yorker's" David Denby of her turn in "Vicky Cristina". "New York" magazine's David Edelstein praises her "hilarious turn as a hellcat."
"EW's" Owen Gleiberman calls her "brilliant" in "Elegy," and Variety's Leslie Felperin says Cruz has "never been better in English."
The only one who might question the kudos is Cruz herself. Coixet says Cruz would demand retake after retake, thinking she could always improve on something. "There were times I was like, 'You're exhausted.' She's a perfectionist."
Allen goes one step further. "She doesn't appreciate how terrific she is. She's slightly insecure and thinks she's not going to be able to do something well or that she needs extra takes to do it, which isn't true at all."
After 17 years of work, she gives credit for her current success to Almodóvar's 2006 comedy Volver, in which she played a janitor with mother issues and earned a best-actress Oscar nomination.
"It was what happened with that movie. It was seen around the world and by the American industry that brought me other opportunities, like Woody's movie. Movies that are in English and are very demanding emotionally."
Though her clout has grown considerably, Cruz doesn't put down any of her previous films, including duds such as 2005's Sahara and 2001's "Vanilla Sky".
"The first movies I did in English, I was struggling more with English," she says. "I'd studied French before, so in the beginning, I was learning my dialogue almost phonetically. But all of them come from me. I would never make less of these experiences. All of them mean a lot and taught me."
Like so many actors, Cruz had dreamed of working with Allen, whose lore in Hollywood lives on. One day, she got a call to meet him, and the encounter lasted less than a minute. He'd seen her in Volver, was writing a script that might include a part for her and would let her know either way in a few weeks.
"He was very nice, but there is no (baloney) with Woody," she says. "He's very direct and honest and sometimes you cannot believe your ears. There's no social veneer. It's a very New York thing, but he has that more than anybody I know, and I really respect and appreciate that. He doesn't waste energy."
Allen says he always had Cruz in mind for Maria Elena. "She's the Rolls-Royce of Spanish actresses. She's very sexy and beautiful, she's got the look, she's got everything you want for that character. You believe her completely having those irrational mood swings. You believe she could stick a knife in Javier."
But Cruz didn't want to play the woman, an emotionally unstable painter, as a caricature.
"She thinks she will not be as creative if she's not torturing herself, and she can't get out of that pattern. That felt to me like somebody in a lot of pain, and I did not want to laugh at that pain. When I saw the movie in Cannes, they were laughing. And now, every time I see the movie, I laugh and relax and see the movie from the point of view of the audience."
A fan of Philip Roth
There's little to laugh about in "Elegy", an often tense but tender drama.
"I'm happy that I did both movies back to back with characters that are so different," Cruz says. "With Consuela, I was attached to the project for five years, since I read the book. I love Philip Roth, and it was one of the best books I've ever read. You read something, and almost every day of your life, you remember it. It means something to you."
Like Consuela, "Penelope really admires people who know everything about culture and architecture and art. She's a very passionate person, and her passion is in Consuela, too," Coixet says. "When Penelope likes something, she really likes something. If it's a song or a book or an author, she's like, wow, totally flipping out."
You don't glimpse any of her fiery side in interviews, however. Cruz is thoughtful and focused.
She's obviously giddy about one thing: finally doing a big-budget musical —"Nine for Chicago" director Rob Marshall, which she starts rehearsing in August for an October shoot. "I'm very excited. All the years I studied dance — 17 years — I get to use it here with the wonderful numbers Rob Marshall put together," she says.
But otherwise, she's somewhat reserved. She doesn't pretend to be your friend or engage in idle banter about her favorite foods. She's an avid reader, about to start Yann Martel's "Life of Pi". She gets cold easily and wonders why, especially in Manhattan, so many office buildings pump out overzealous air conditioning. She hopes Democratic contender Barack Obama wins the presidency.
And she's serious about keeping her personal life under wraps. She will not discuss her relationship with her "Vicky Cristina" co-star Bardem. So undercover is Cruz that even Allen didn't notice sparks flying between the two.
"They're just very professional, always running their lines and practicing and practicing, something I never do," he says. "They didn't bother me. They'd sit in their makeup chairs and run their lines and practice scenes. All they did was work all the time."
Those who know Cruz say she's tremendously fun and loose in her personal life. "She loves karaoke. She's really good at singing Lenny Kravitz songs and rap and hip-hop; she's really good at P. Diddy songs," Coixet says. "She eats a lot. She's really skinny, but she eats a lot. There's nothing dirty about her — and that's dirty. She doesn't even drink! It's horrible."
But the actress won't divulge what she does for fun at home in Madrid. "I don't feel like people really care what I do in my time to relax," she says with a shrug. "It's true that I spend a lot of time working. I was a workaholic, but now I am more balanced."
She says she's working on kicking back more and plans to do only one movie a year going forward — two, at most — to focus more on her off-screen life.
"It takes discipline for me to stop worrying in general. It has been in my nature always," she says. "I'm as driven, or more, but about more specific things and appreciating the balance between the time for work and the time for yourself. You have to live."