"You've never seen Oscar like this!" trumpet the ads, and truly, ceremony producers Bill Mechanic and Adam Shankman have slaved to make sure that when you flip to ABC at 8 p.m. EST Sunday for the 82nd Academy Awards, you're entering a realm of surprises and shocks. It's part of a series of tweaks to make the awards show more relevant and to trim the running time so we fans aren't hanging around at midnight to see who wins Best Picture.
Among the changes is a two-host assault. This year Steve Martin shares emcee duties with "It's Complicated" co-star Alec Baldwin in something of a comic tag-team. (Is it legal for Jack Donaghy to appear on a rival network?) Also, the Best Picture field has been expanded to ten nominees for spine-tingling, watch-checking suspense.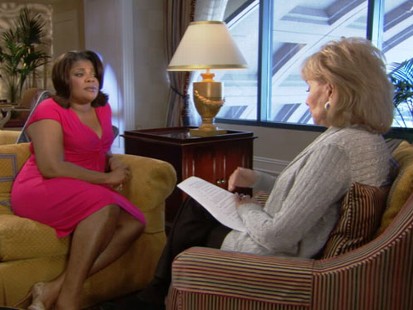 Alas, where you add, you must also subtract. That means this year the Best Original Song nominees won't be performed live. Instead, they'll be represented in montage. So we won't get to see the grizzled Jeff Bridges meander through "Crazy Heart's" "The Weary Kind" or Randy Newman tap out yet another piano-fueled Disney theme.
Some people think it's an acceptable sacrifice. But as a music fan, I think it stinks. What would have happened had this rule been instituted in '72, when Isaac Hayes made the Dorothy Chandler Pavilion thrum with the funk of the "Theme from 'Shaft'"? In 2007 we would have missed Glen Hansard and Marketa Irglova aching down the cobblestone of "Once's" "Falling Slowly." Unconscionable. Music enhances the soiree beyond scripted antics and fashion-plate dishing. Let's hope it's only a temporary loss.
Until then, at least we have our memories. The envelope, please…
VOTE! What's your favorite musical Oscar moment?
Michael Jackson, "BEN" (1973)
This sweet song was featured in the 1972 film of the same name, which was a sequel to the 1971 horror chestnut "Willard," about a young man who preferred the company of rats. So, in an Academy first, 14-year-old Michael Jackson appeared on the telecast to deliver a heartfelt, chart-topping, Golden Globe-winning ballad to, of all things, a rodent.
DID IT WIN? The Academy preferred Maureen McGovern's sunny "The Morning After," from the topsy-turvy disaster epic, "The Poseidon Adventure." It was a big-budget affair soaked in Hollywood royalty and set on an ocean liner Ben would have been only too happy to desert.
Madonna, "SOONER OR LATER (I ALWAYS GET MY MAN)" (1991)
The words belonged to Stephen Sondheim, but Madonna made them her own, first on film (1990's "Dick Tracy," directed by and starring then-squeeze Warren Beatty), then on the Oscars. There wasn't a dry lapel or clean thought left after the Material Girl's sultry sashay.
DID IT WIN? Like the lady said, she always gets her man.
WATCH: Madonna perform "Sooner or Later" during the 1991 broadcast.
Robin Williams, "BLAME CANADA" (2000)
Now, THIS was the way to start the New Millennium. Williams led a marching, singing cast through perhaps the most profane number ever nominated: "Blame Canada," from "South Park: Bigger, Longer & Uncut." The vulgarities had been cleverly excised, but "And that bitch Anne Murray, too" would have been more delicious from the pipes of the target herself. And apparently, it almost happened. Anne had been approached, but she declined, even though she found the song hilarious. Gosh, those Canadians are so darn nice.
DID IT WIN? Most famously, no. Phil Collins made the mistake of winning for "Tarzan's" "You'll Be in My Heart." He was soon skewered on an episode of "South Park." Don't mess with Trey Parker and Matt Stone!
WATCH: Robin Williams perform at the 2000 Academy Awards broadcast.
Three 6 Mafia, "IT'S HARD OUT HERE FOR A PIMP" (2006)
It must have been surreal to step into the Kodak Theatre, which on Oscar night sits on a Hollywood Boulevard teeming with glamour, and be confronted by a gritty street scene splayed onstage, thugged out and besieged by dancers beating each other down. It was an elaborate and electrifying performance, and the boys of Three 6 Mafia carried their "Hustle & Flow" track beautifully. It was the highlight of the evening, a glimpse of what might have been had Eminem been present to drop his Oscar-winning "Lose Yourself" three years earlier. Hip-hop had exploded beyond street cred.
DID IT WIN? Awww, yeah.
WATCH: Three 6 Mafia's groundbreaking 2006 performance.
BJORK, "I'VE SEEN IT ALL" (2001)
The 73rd Oscars were memorable for precisely three things: it was Steve Martin's hosting debut, it was the last such gala held at Los Angeles' Shrine Auditorium, and Bjork arrived in what appeared to be a dead waterfowl draped around her body. She was the talk of the night long before she strode onstage for this stirring rendition of her song from Lars von Trier's "Dancer in the Dark," in which she starred, but more modestly attired.
DID IT WIN? If you're gonna lose to anyone, you couldn't do better than Bob Dylan. Bob wasn't around to collect his statue, but he beamed in from Australia to perform "Things Have Changed" from "The Wonder Boys."
WATCH: Bjork sing "I've Seen It All" from "Dancer in the Dark."
Elliott Smith, "MISS MISERY" (1998)
'Twas a curious sight: a Kill Rock Stars artist and indie darling standing onstage at the Shrine Auditorium in Los Angeles, performing his nominated song from "Good Will Hunting" for an audience of Tinseltown elite. Funnily enough, he had to be goaded past the curtain; he wasn't planning on playing, but was told either he would or someone else would do it for him. Like who — Ben Affleck?
DID IT WIN? On a night when "Titanic" sailed off with every bauble in sight? Not a chance. When Madonna opened the envelope and saw Celine Dion's "My Heart Will Go On," she remarked, "What a shocker!"
WATCH: Elliott Smith perform "Miss Misery" in 1998.
Aaliyah, "JOURNEY TO THE PAST" (1998)
At the opposite end of the spectrum — yet just as deserving — stood 19-year-old Aaliyah, imbuing her rendition of the theme from the animated "Anastasia" with a beauty and grace beyond her years. To Elliott and Aaliyah: we miss you both.
DID IT WIN? Anastasia may have been a princess, but "Titanic" was king of the world.
WATCH: Aaliyah's performance of "Journey to the Past."
Catherine O'Hara and Eugene Levy, "A KISS AT THE END OF THE RAINBOW" (2004)
The "SCTV" alums donned their Mitch & Mickey personas from Christopher Guest's gentle folk-music satire "A Mighty Wind" and reenacted that movie's most resonant scene, performing a heartbreaking ode to love's lost promise. Speaking of "lost," why Levy himself wasn't nominated for Best Actor is still beyond us.
DID IT WIN? The duo had to be satisfied with just a kiss. Annie Lennox swiped the gold-pot with "Into the West," from "The Lord of the Rings: The Return of the King," whose half-hour catering bill probably dwarfed "Wind's" entire budget.
WATCH: Catherine O'Hara and Eugene Levy's "Kiss."
For more, go to Sodahead.com.