It's been a long road for Jon Hamm.
With the surprise television hit "Mad Men" entering its second season later this month, a Golden Globe under his belt and a starring role in the upcoming remake of the 1951 classic "The Day the Earth Stood Still," Hamm has arrived.
Hamm shed the suit-clad, cigarette-hazed world of "Mad Men" to catch up with "Popcorn With Peter Travers" on ABC News Now.
The story behind "Mad Men" has already become the stuff of Hollywood legend. Matt Weiner, one of the chief writers behind "The Sopranos," penned the pilot more than eight years ago. After knocking around the offices of various studios and networks, the show was finally picked up last summer by AMS and went on to become a critical success.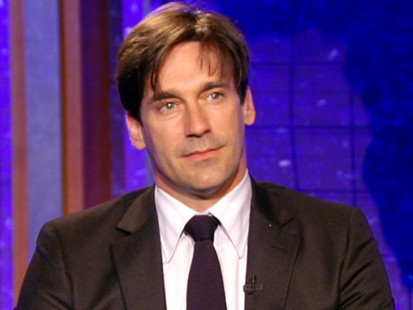 Hamm plays leading man Don Draper, a suave, successful Madison Avenue advertising executive in 1960. Though leading a seemingly normal life, Harmm's mysterious past slowly reveals itself.
"He has many facets that he is very successful at compartmentalizing," Hamm said, "and as we move through the season we meet more and more of those compartments and they're not all nice."
Draper's conflicted character was one of the principal reasons the show was continually turned down.
"A lot of networks told me 'Don is too unlikable,'" Weiner told The New York Times. "And I'm like, 'I write on 'The Sopranos,' and I'm watching the most on-paper unlikable person in the world.' Well, guess what? Jim Gandolfini played that person, and it made a huge difference. So I wrote it."
Hamm recalled his first experience with the "Mad Men" script.
"I read the pilot some years ago, and it's stuck with me. It remains with me," he revealed. "It's a great honor to be able to work on something that's written this well and with the people who I get to work with who are all incredibly talented."
The show functions as both a drama and a period piece.
"This was a very fertile time, not only in the culture at large but in the advertising culture as well, because you're starting to see a big shift in the way advertising treats people and their subjects that they're advertising to," said Hamm.
Hamm drew on his own experiences of growing up during the 1960s for inspiration.
"My father wasn't an advertising man," he said. "He was a businessman in the 1960s. I remember going into his closet and just looking at the rows of suits he had in every color of the rainbow. You just thought, 'That's what it is to be a man. You get to wear suits every day, look sharp and be in control of your own world.' The older you get, the more you realize that maybe these people aren't really in control of the world all that much."
As much as Hamm fits Draper's debonair persona, it was a long and uncertain casting process to the very end.
"They eventually flew me out to New York," Hamm recalled. "I got to meet all the AMC people and finally I had two more auditions with them. And finally they said, 'Meet us at the Gansevoort Hotel. We're going to make a decision but come to the rooftop of the Gansevoort.' I said, 'They're not going push me off. That would be the end of it.'"
Instead, it was just the beginning. Hamm got the job, but he was still nervous the first day of shooting.
"The whole crew knew each other because they were all straight off 'The Sopranos,'" Hamm said. "Everybody knew everybody except me. It was terrifying, but I made it through. The first day turned into the second day, and the second day turned into the third day, and here we are."
Hamm remains grateful for getting the role.
"I just started at the bottom of everybody's list," he said. "No one knew who I was, no one cared and eventually I climbed up the ladder slowly. I'm glad I was able to persevere."
Though he performed in plays throughout his childhood, it never registered with Hamm that he could pursue acting as a full-time career. He described the path as almost accidental.
"You really got that sense of a sort from being in a theater company, being part of a family, being part of a group that feels special," Hamm said. "When I got into college and was trying to figure out what I wanted to do, where I wanted to go, and find a major. I thought, 'I'm not good enough to play professional baseball, I'm not good enough to professional football, so maybe this will be what I do and maybe some day I'll get a part where I can play a professional baseball player or football player. So it'll be the closest thing I can do.'"
With "Mad Men," Hamm has gotten a chance to show off his finely honed acting chops.
"I'm not one of these guys who can't watch himself," he said. "There's obviously stuff that I get embarrassed about, but it's a good story. I like it as a story, and the fact that I'm in it is even cooler."
Even with a hit TV show and a Golden Globe, Hamm hasn't let success go to his head.
"I've been incredibly lucky with the confluence of all of these things -- with the show, with the network, with the part, the writer, with the cast, with the crew," he said. "To be at the sort of eye of this perfect storm has been tremendously gratifying, but I realize that there's a tremendous amount of luck and fortune involved in it. I'm just happy to be the beneficiary of it. It's really been wonderful."
"Mad Men" season two premieres Sunday July 27, at 10 p.m. on AMC.