Perhaps Randy Newman was right: Small people got nobody.
For a brief time, it seemed Tyra Banks, the model-turned-host of the popular CW show "America's Next Top Model," had become the savior for every short woman who ever dreamed of becoming a model. Last month, Banks announced for the first time that her show, in its 12th season, would be open only to women under 5-feet-7, considered the starting height for a model.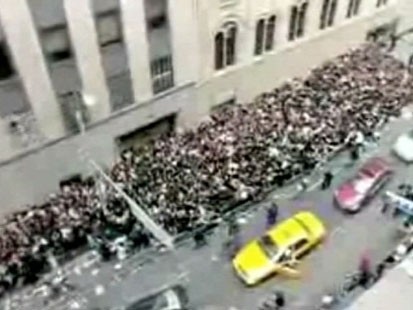 "When she [Banks] said, 'Calling all short girls,' I started screaming. This is my shot, this is my chance. I've been waiting for this show to come out since they started the show," 21-year-old aspiring model Jessica Paravati told ABCNews.com.
She was one of thousands of contestant hopefuls who lined up Saturday outside the Park Central Hotel in midtown Manhattan for an open casting call.
After an overheated car triggered a stampede, six women were injured and three people were arrested for disorderly conduct and inciting to riot, organizers abruptly shut down the auditions, leaving the 5-feet-5 Paravati and hundreds of other undersized women out in the cold.
"I'm disappointed, sad, angry, frustrated," she said. "There are no words to describe how I feel. I was just standing there trying to go inside and grasp this dream of mine. I didn't even get to touch it. Something needs to be done to fix it. It's not right."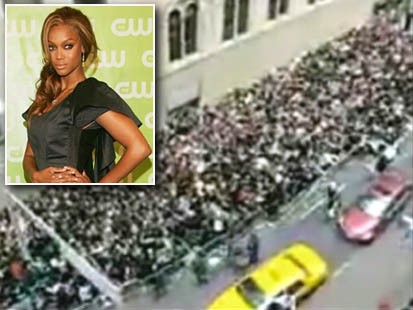 The publicist for the show said there has been no word on whether the
New York auditions
will, if ever, be rescheduled.
In a statement to ABCNews, Banks and her producer Ken Mok said: "We are concerned by the events that occurred Saturday afternoon in the vicinity of the New York City casting call for the next cycle of 'America's Next Top Model.' At this time, we still don't know all the details of what happened or what triggered the incident. We appreciate the efforts of the NYPD and will assist them in any way possible in this matter."
Late Monday, Banks issued a separate statement through her publicist:
"To all the Top Model hopefuls who were affected by the New York casting, we are doing everything we can to make sure that ALL the girls who weren't seen, get an opportunity to audition -- we'll update you on our plans very soon. It is so important to me to redefine beauty, and make sure that everyone gets a fair chance to pursue their dream. I am beyond excited for Cycle 13; for the first time ever, young women 5'7" and under have a shot at becoming America's Next Top Model! I encourage each girl to come out ready to rock the runway and show off their fiercest pose. I'm rooting for all of you!"
Models May Lack Height but Not Drive
Paravati said organizers should have been better prepared for the huge turnout. "We're the shorties," she said. "We've been waiting for something like this for years and years. Of course, half the girls in the frickin' world are going to show up."
"Never underestimate the power of a wing man," fashion industry expert Kelly Cutrone said, jokingly comparing the scrappy would-be contestants to the short, scrappy wingers who score many of the goals in hockey.
More seriously, Cutrone, founder of fashion public relations firm People's Revolution and a regular on MTV's "The Hills" and "The City," told ABCNews.com that the show's producers may have underestimated the desperation some women feel to act out a fantasy they get from watching a reality television show.
"It's sad when people get hurt trying to get a deal, whether at Wal-mart [where a security guard was trampled to death in a Long Island store at the start of the Black Friday Christmas sale] or to be on a TV show," Cutrone said. "It's like a gladiator sport."
Kiara McCarthy, a 19-year-old sophomore at Long Island University, said, "I was sad, truly upset. I don't want to give up, but this definitely set me back a little."
McCarthy has dreamed of being a model since she was 12 but was turned away from many auditions because of her slight stature -- she's just shy of 5-feet-4.
She arrived at the auditions around 7 a.m. and stood in line for 10 hours, while her mother and younger sister waited across the street.
From the start, she said the crowd was edgy. Some women had camped out the night before and as the numbers swelled, police and organizers seemed unprepared for the turnout, she added.
With little organization to the lines and women unable to leave their spot to get food or go to the bathroom, tempers flared and scuffles broke out, McCarthy said. When an overheated car began to smoke and backfire on the street next to the line of women, several women yelled "Bomb!" Panic ensued.
McCarthy was standing at the front of the line, next to go in, when "all of a sudden I hear a roar behind me," she said. "All of a sudden people started coming toward me."
She and the young woman standing next to her in line ran just before a barricade toppled over under a sea of women. "I literally got pressed up against the doors," she said.
Sorry, See You in Dallas or Chicago
When the crowd finally calmed, the show's organizers announced that the auditions had been cancelled for the rest of the day and people in line could go to Dallas this Saturday or Chicago next Wednesday if they still wanted to try out.
Both McCarthy and Paravati remained standing on the sidewalk.
"My words were 'I'm not leaving,'" said Paravati, who had also been standing at the front of the line when mayhem broke out. "I stood there, crossed my arms and said, "Have them [the police] remove me."
McCarthy said, "I didn't believe them, I hung around like everybody else did it. The police were saying if you don't leave we're going to arrest you. It started setting in right then and there."
A full-time student working two jobs, McCarthy is doubtful she will make it to the other cities to audition.
Paravati, who has been trying to break into modeling "forever," and has even created her own portfolio, feels robbed of an opportunity. "If I had been able to audition, I could have left and said I tried but it was not meant to be," she said. "But I didn't even get to do that."
Fashion expert Cutrone said the women who missed out shouldn't feel bad because few of the "Top Model" winners have gone on to a successful modeling career. She also said it was unrealistic for short women to think they could have a supermodel's career when there are less than a handful of well-known short models, including Kate Moss and Devin Aoki.
"It's hard enough as it is," Cutrone said. "But if you're small, you're pretty much going to catalogue-land ... wearing a robe with some warm fuzzy slippers on your feet. That's where you're headed."