— -- When comedian Louis C.K. was hit by allegations of sexual misconduct from two female comedians, he responded with a nearly 500-word statement that included the words, "These stories are true."
When Kevin Spacey faced multiple allegations of sexual misconduct, he issued a less than 200-word statement that ended with a declaration of his sexuality as a gay man.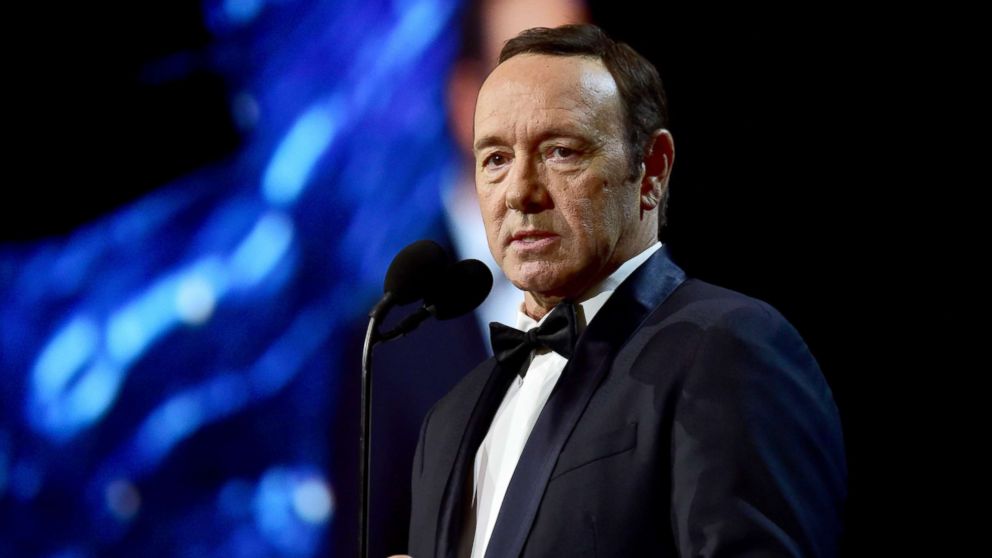 Behind each carefully crafted statement is likely a team of advisers: a crisis PR person, a lawyer and often a manager, an agent, a partner and a trusted confidante.
"Then you have to go through a decision process and that is, 'Do I want to make a statement or not? And am I going to deny it or am I going to acknowledge it?'" according to one entertainment insider who asked not to be named.
The words women, behavior, learn, apologize, inappropriate, actions, regret and true were commonly used in statements issued by 11 public figures in response to allegations of sexual misconduct, according to an ABC News analysis. I, me and my were the most-used words overall.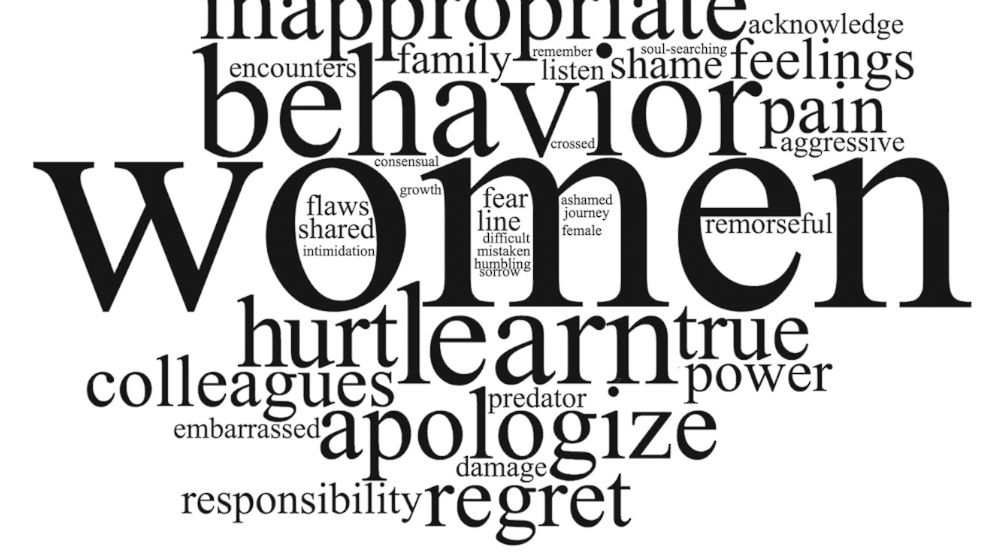 The statements analyzed were issued on behalf of Spacey, Louis C.K., Matt Lauer, Harvey Weinstein and Charlie Rose, in addition to Russell Simmons, Sen. Al Franken, Jeffrey Tambor, Mark Halperin, New York Times reporter Glenn Thrush and Dustin Hoffman.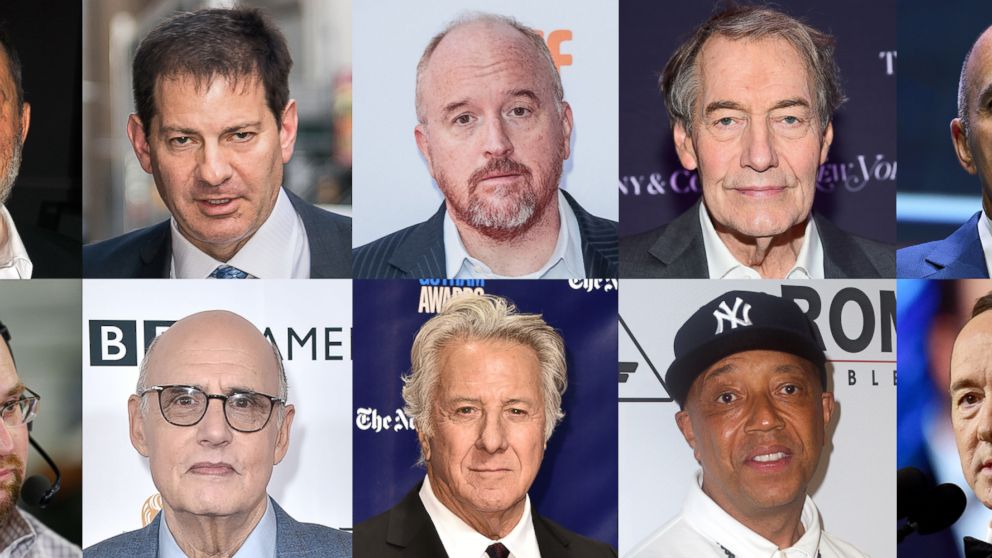 "I think overall they're probably a C or C minus," Bryan H. Reber, a professor in crisis communication leadership at the University of Georgia, told ABC News of the statements. "Some are coming out quickly and doing sort of half apologies, which is not really satisfying."
Reber, who worked in public relations for 15 years, said the key to successfully responding to a communications crisis is to not make it about yourself, but to accept responsibility and offer some type of solution.
He pointed to the statement issued by Spacey in early November as a particularly bad response. Spacey tweeted the statement shortly after actor Anthony Rapp accused him of making a sexual advance toward him more than 30 years ago, when Rapp was 14 and Spacey was in his twenties.
Spacey said he did not remember the incident, but apologized to Rapp for "what would have been deeply inappropriate drunken behavior."
Spacey, according to Reber, made the situation worse by making it about himself when he confirmed his sexuality and also failed to fully acknowledge the victim.
The Publicity Agency founder Glenn Selig is a crisis communications expert currently representing Rick Gates, who recently plead not guilty on charges stemming from special counsel Robert Mueller's investigation into Russian meddling in the 2016 election.
Selig called Spacey's statement "one of the worst PR mistakes ever" as it appeared to conflate his sexuality with the allegations against him.
Spacey's statement could have been a tactic of deflection, according to Selig, who added that Weinstein appeared to use the same tactic in his initial statement.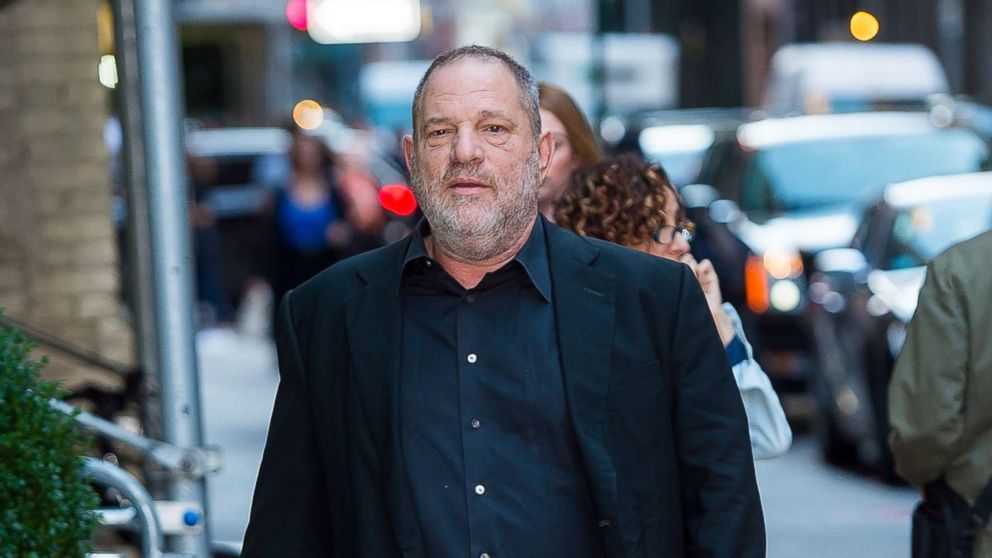 "I am going to need a place to channel that anger, so I've decided that I'm going to give the NRA my full attention," Weinstein, who has denied allegations of sexual misconduct, wrote, in part, in an October statement issued after a New York Times report that cited multiple allegations of sexual misconduct against the movie producer.
Weinstein went on to note in his statement that he had been working on "organizing a $5 million foundation to give scholarships to women directors at USC" to be named after his mom.
"Harvey was the first and maybe he thought that tactic might be effective. It obviously wasn't," Selig said of Weinstein, who was later fired by his namesake production company. "You have to know what's coming out at you and what's going to become public."
One factor high-profile figures should use in deciding how to respond to allegations is understanding people's perception of them in the world and whether they stand a chance in fighting the allegations, experts say.
"It's to be expected [the statements] are different when you're talking about people because they are all public personas and each one has a pre-existing reputation and the way the public sees them," Reber said. "The tone of the statement has to reflect that public persona and that's very different for Lauer versus Halperin versus Weinstein."
The majority of statements issued in recent weeks from men accused of sexual misconduct share one thing in common, experts say: they use "yes, but" -- clauses that may reflect their beliefs, but also may have been designed to protect them from legal exposure and may leave their statement appearing insincere.
"In a general sense, there seems to be an admission there was wrongdoing that happened but that it was not exactly what people said it was and that leaves doubt in there," Selig said. "The attention should be on the individual who was allegedly harmed, not the accused. It really shouldn't be about them anymore."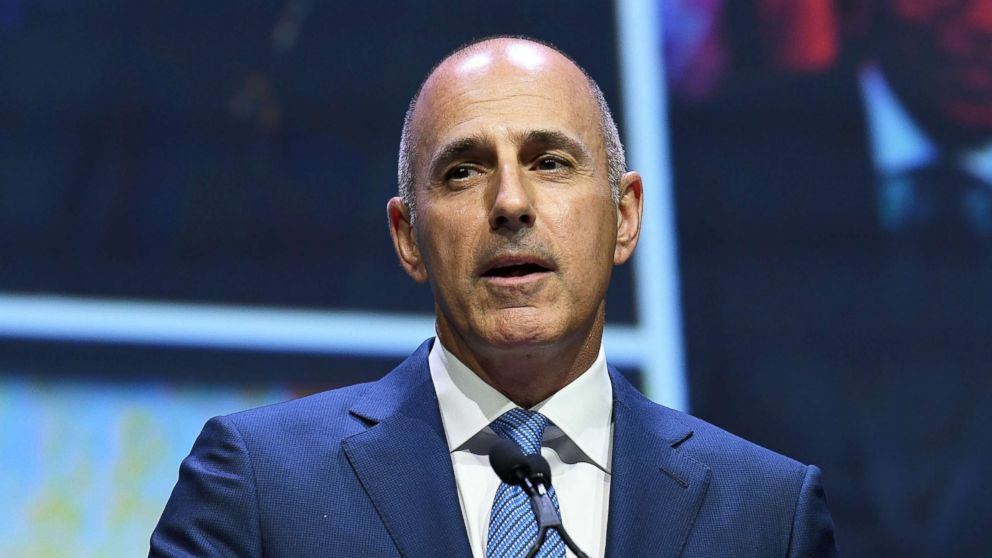 Selig said doubting the accusers' stories -- like Russell Simmons' "her memory of that evening is very different than mine" and Charlie Rose's "I always felt that I was pursuing shared feelings ..." -- does not empower the accusers.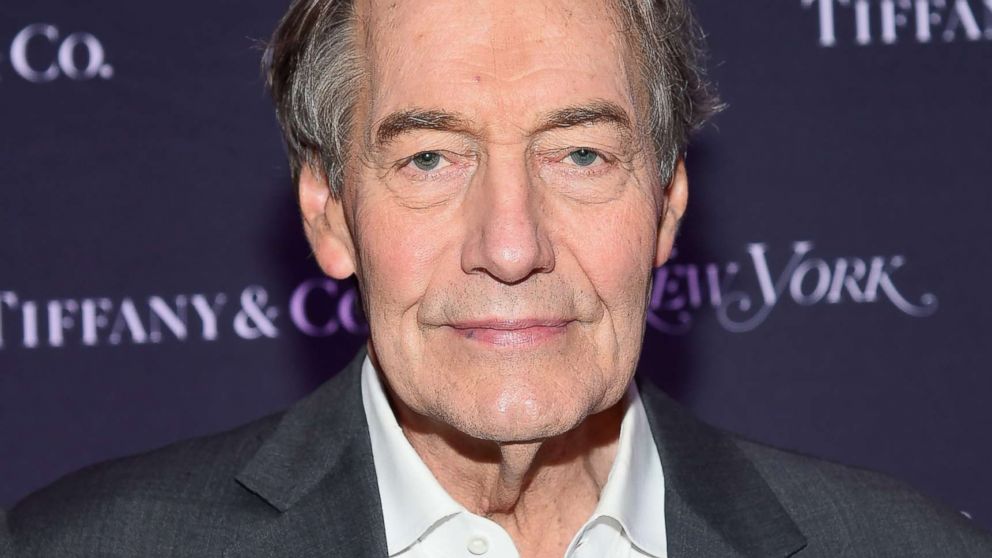 "My recommendation would be a statement that would reflect ... not just, 'Woe is me. I'm embarrassed. I'm sad,' but, 'It's good that these people have finally been able to get some airing of what's happened to them so the public knows and I'm going to take steps now to be a part of the solution or find out what's wrong with me,'" Selig said.
He added, "I think sometimes less is more and the goal is to be as authentic as possible."
Reber predicts students in college courses like the ones he teaches at the University of Georgia will be studying the approach taken by public figures accused of sexual misconduct for years to come.
"I think whenever there is a wave of things like this –- and this is unprecedented actually –- there is a chance to say here are the ways different people handled things in such quick succession," he said. "And I think this will be a tremendous example when you talk about trying to represent people instead of organizations."