Aubrey Plaza and the Pistol Shrimps: Meet the Basketball Team Made Up of Actresses, Writers, Comedians, Models
Aubrey Plaza and the Pistol Shrimps are serious on the basketball court.
— -- The Pistol Shrimps aren't that great at basketball.
Their current season has been rough, and some of the players don't even know the fundamental rules of the game.
But somehow, some way, the Los Angeles recreational women's basketball team has inspired a podcast, garnered a massive online following, sells a line of merchandise and stars in a new documentary directed by Brent Hodge and produced by Morgan Spurlock called "The Pistol Shrimps."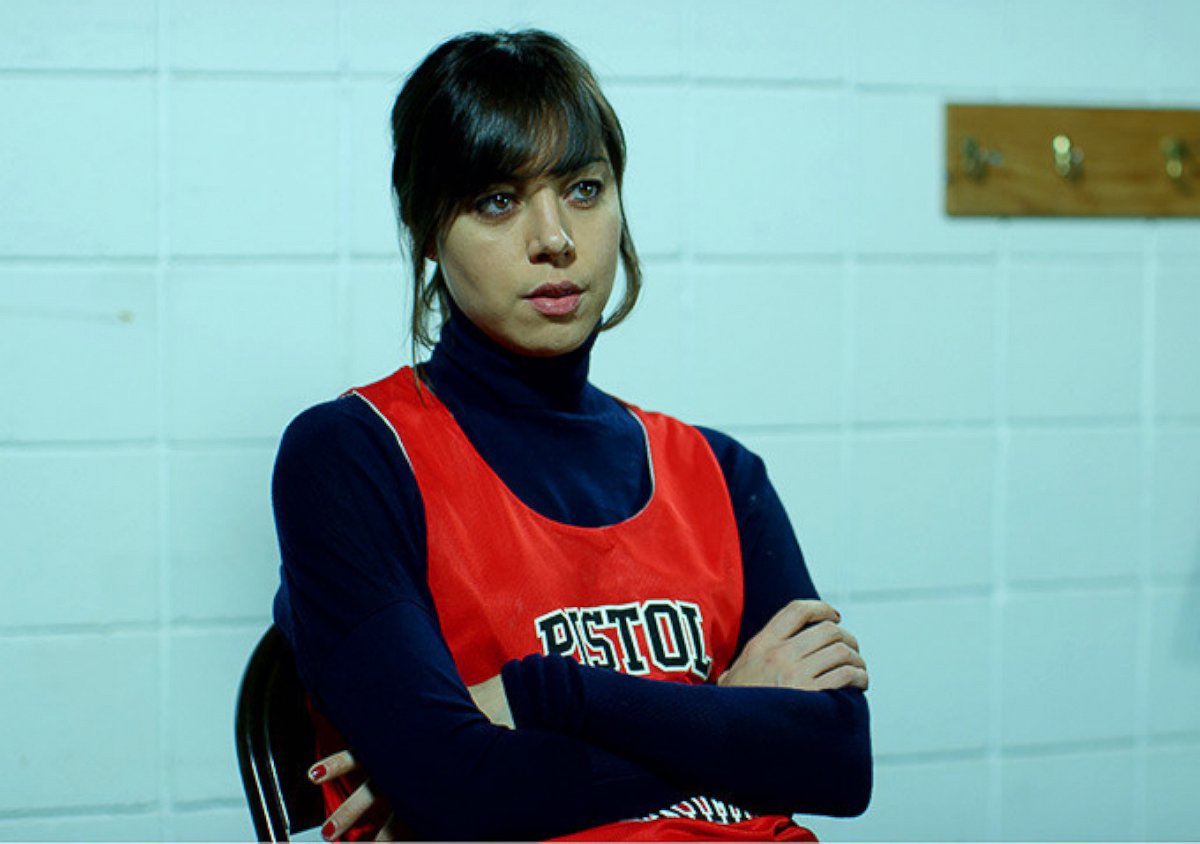 "We've just kind of been doing our thing and people have just been like, 'Oh, can we do something?' And we're like, 'Yeah, fine,' and then someone with a camera shows up and we're in Tribeca for the film festival," Maria Blasucci, who is the team captain and an actor and writer, told ABC News' "Nightline."
Amongst teams like the Kimmie Dribblers, the Lucille Ballers and the Travelling Pants, the Pistol Shimps stand out. It helps that their players are largely comedians, actresses, models and writers, including Aubrey Plaza, who starred in "Parks and Recreation" and the upcoming "Mike and Dave Need Wedding Dates."
"One time, this girl who I was defending, she asked me if I would take a picture with her after the game, and I said, 'If you give me the ball right now,' and she just handed it to me and I made a lay-up," Plaza told "Nightline."
Watch the full story on ABC News' "Nightline" TONIGHT at 12:35 a.m.
Plaza brought the team up in an interview on "The Tonight Show Starring Jimmy Fallon," and since then, their following has continued to grow.
"Talk shows are weird. Like, I never know what to say on those things and the questions are normally like, 'Well, what are you up to?' So I just talked about my basketball team and then I guess it went viral, as they say," Plaza said.
The Pistol Shrimps have revived the previously obscure and semi-defunct league, overseen by the L.A. Department of Recreation and Parks. People who don't normally like sports come to watch their games, and they even have their own dance team, led by Pistol Shrimp player Angela Trimbur, that performs at halftime.
"I came to the first game because I thought it was a joke ... because it was comedians. I just thought it was a weird improv show in a gym," Pistol Shrimps fan Patrick Fisackerly told "Nightline." "It's real. It's absolutely real. We care about this a lot."
With all the love on and off the court, Plaza has dropped some hints that could rock the Pistol Shrimps come next season.
"Since my injury in December, I've had a lot of time to think about my basketball career. ... I've decided to test free agency. I need to assess my options, and I'm going to sit with my family and think about, you know, what team is better for me," Plaza said.
Despite the potential blow to their lineup, the Pistol Shrimps remain nothing but positive.
"We have inspired a whole group of women around Los Angeles that were lacking something in their lives and now have an outlet for, I don't know, fun, sports, things that aren't involved in the industry," Pistol Shrimps player and comedian Molly Hawkey told "Nightline." "The first season there were seven teams. The second there were 12. The third season there were 24. Last season there were 26."
"Women want to get out there and do something fun with their friends, something physical that isn't drinking wine and watching a movie. You know, it's just to be told, 'It's okay to not be good at basketball. It's okay to just come out and have fun,'" Blasucci said.
But the women play to win.
"We're all very competitive," said model and Pistol Shrimp player Paisley Grey.
Blasucci agrees, "Everyone thinks it's like a joke. Like, 'Oh my God, some girls in the entertainment industry playing basketball,' and then they get here and realize we're for real."