— -- "Black Panther," which opens today, is the first, major big-budget film with a black director and a predominantly black cast.
One of the movie's stars, Danai Gurira, said the film both breaks barriers and sets a precedent.
"It's amazing," Danai Gurira, who stars as Okoye, told ABC News' "Nightline." "But it's setting a precedent that I think is going to be difficult to go back on, which is what's exciting."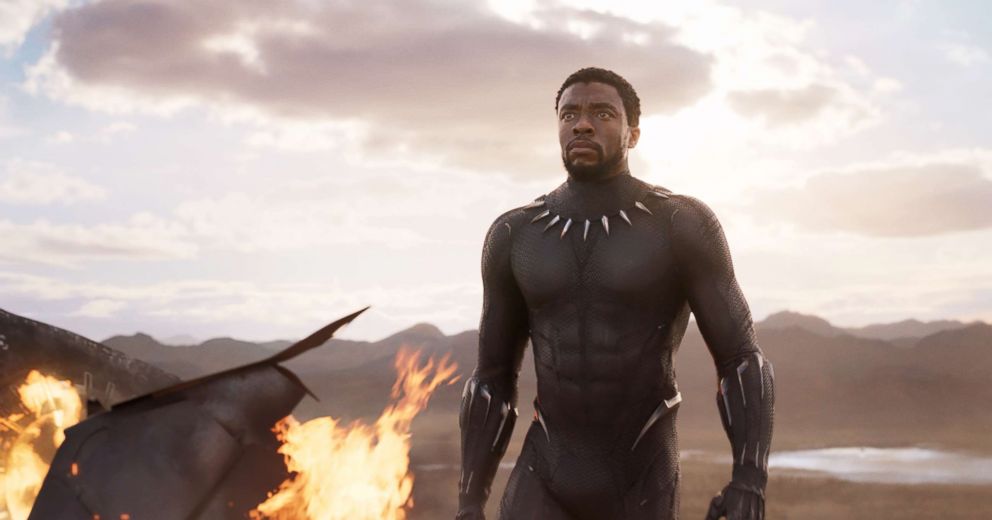 "What's fantastic about this film is that it's proving how universal a story told from the black perspective can be," said Gurira.
"That's what we look for as artists," Lupita Nyong'o, who plays Nakia, told "Nightline." "You know, you want to have a good time making a movie, and if that movie can change something in the world, then, you know, you want that too."
The Marvel film takes place in Wakanda, a fictional country nestled in southern Africa, where the landscape is lush, the technology unlike any on earth and its capital city a post-modern metropolis.
And everyone in Wakanda is black.
"[There's] a character from Africa, from this African nation who is smarter than you, who's richer than you, who's more technologically advanced than you," Marvel Cinematic Studios President Kevin Feige told "Nightline."
'Unexplainable' excitement over the film
"Black Panther" stars Chadwick Boseman as the titular character Black Panther, as well as King T'Challa, the leader of the nation of Wakanda. At his side is Gurira's character Okoye, the leader of the royal guardswomen, and Nyong'o's character Nakia, who is a spy and Boseman's love interest.
The movie is the story of King T'Challa, the educated warrior who ascends to the throne after his father is killed, a scene last seen in the Marvel film "Captain America: Civil War."
"There's obviously a thirst for something that this movie provides," Boseman told ABC News "Nightline" co-anchor Byron Pitts.
"The movie finished, and I looked over and [director Ryan Coogler] and I said, 'That's the best movie ever made,'" Feige said.
The film has attracted a near-frenzy around the country. Theaters sold out in minutes, and even Nyong'o tweeted that she was unable to get tickets.
Its advance-ticket sales have exceeded that of any other superhero movie ever.
Boseman called the film's presale success "unexplainable."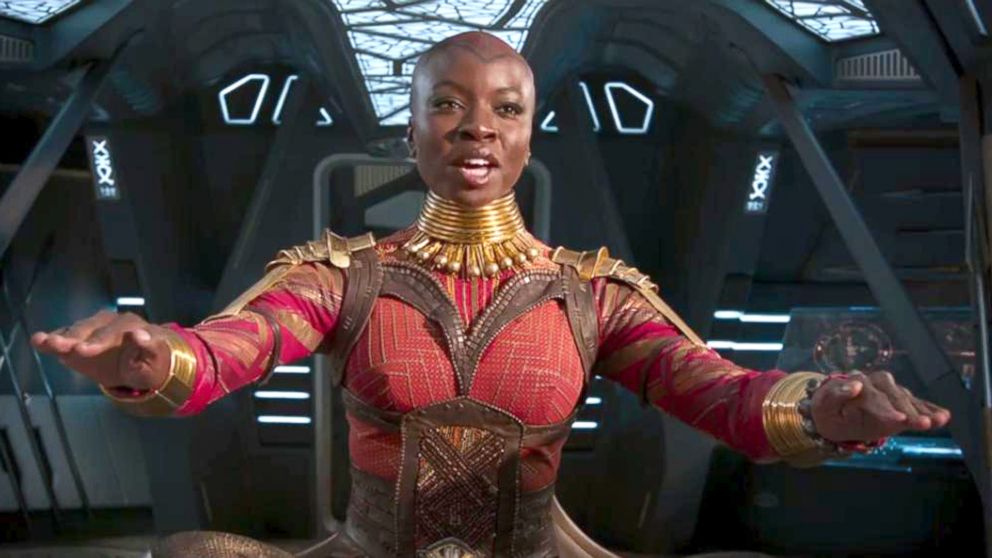 "There's obviously a thirst for something," Boseman said. "People are starved for the images that they see. You know, they can already see in the trailer, you know, kings and queens, and they see strength--"
"Spectacle, pride," added Nyong'o.
"Power, spectacle, intelligence, achievement, all those things. Kingdom. Like, that's something that is not normally seen for a movie that has this type of cast," continued Boseman. "They see their dreams. It's aspirational."
Director Ryan Coogler's personal 'Black Panther' connection
At the helm of the movie is director and writer Coogler, best known for his films "Fruitvale Station" and "Creed," both of which also starred "Black Panther" cast member Michael B. Jordan.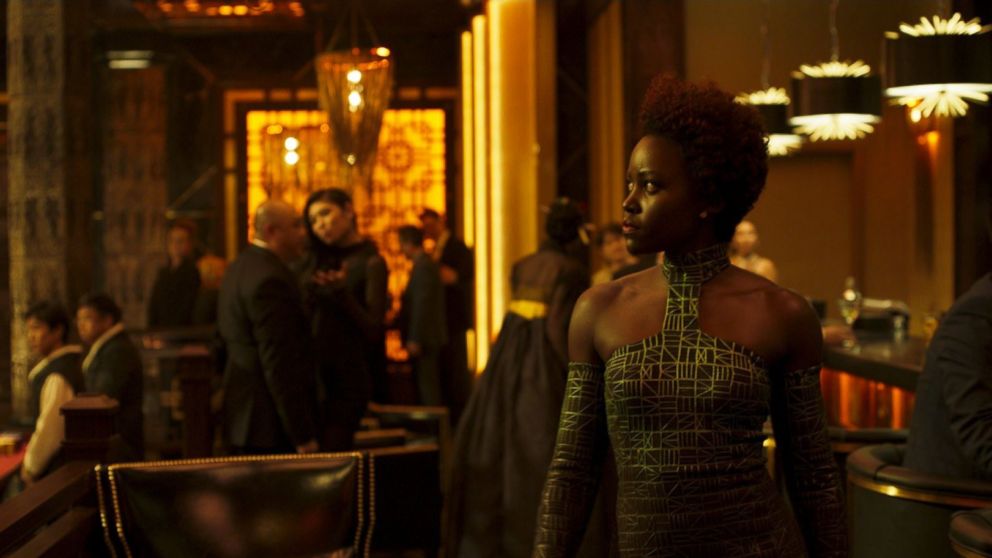 As a kid, Coogler, a Richmond, California, native, grew up reading comics.
When asked what he would say to his younger self about this movie, Coogler told "Nightline," "Look, you're going to see a movie about, you know, about people who come from where you come from, the continent of Africa. You know, you're going to see a movie about people from there who had a potential to be all things. Some of them are great, some of them aren't, some of them are good or bad, but they're all full-rendered."
Feige, who as Marvel Studios president has overseen its last 18 films, said there was an obvious appetite for a film like "Black Panther."
"Clearly you have that anticipation from an audience who have never seen themselves portrayed like this before," said Feige.
"I think that we are bringing in a culture that is not often portrayed in cinema. It is African culture, cultures of the continent of Africa," said Coogler. "This studio is proving that we have a film that that deals with African culture by a product of that, human culture."
"Black Panther" first appeared as a comic book hero back in 1969 and has had several iterations, all the way to the current one, which was written by author and journalist Ta-Nehisi Coates.
Feige said the goal was to stay true to what Marvel Comics co-creators Stan Lee and Jack Kirby boldly did with the character 50 years ago.
"I think you know circumstances in the world have changed drastically since we started working on this movie four years ago," Feige said. "This is very much the story Ryan [Coogler] started writing over two years ago. It was relevant then. It's more relevant here now."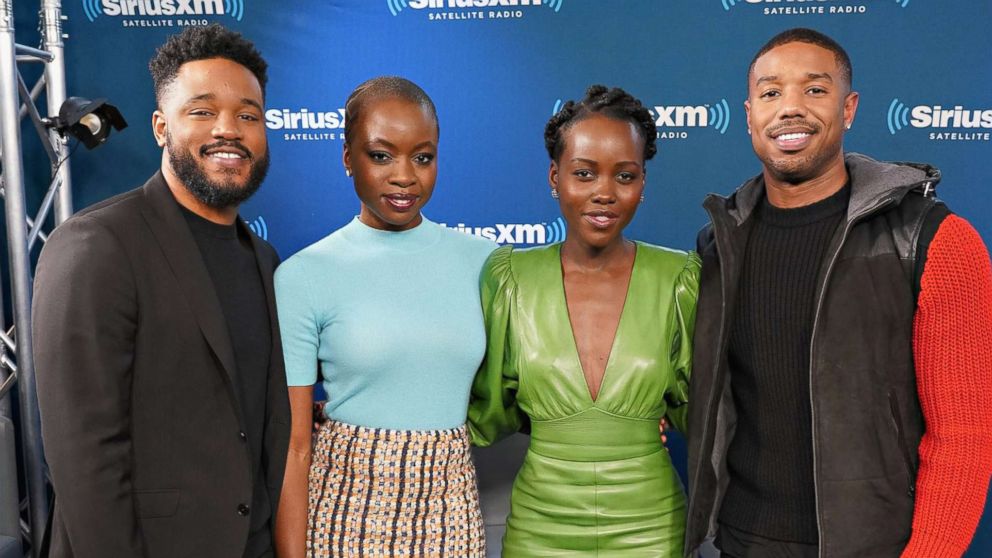 Chadwick Boseman's 'Black Panther' experience
As personal as the film was for the director, the actors, too, say they have a connection to it. Boseman said the "Black Panther" story had often not been far from his mind.
"That idea of Wakanda popped up in certain ways in my travels and in my readings," Boseman said. "So I had written certain notes about what a Black Panther movie would be like. And so, it just so happens that they ended up calling me to do it."
"He is that good," said Kevin Feige. "He'd portrayed Jackie Robinson. He portrayed James Brown."
Boseman attended Howard University, a historically black college.
"It shaped [my experience] in every way. The Howard experience is one where, you know, you see people of color from all -- you see the diversity of blackness," Boseman said. "You have everything possible in that experience. And so the weird thing about this is that I always thought that I would never have a black experience like that ever again. And here I am, now in this movie."
The role is a departure from Boseman, who rose to fame playing historical figures such as baseball player Jackie Robinson in "42" and singer James Brown in "Get on Up."
"Seeing me play those roles actually got me this role. I didn't have to audition for this. They just called me and said, 'Hey, do you want to do it?'" Boseman recalled.
Marvel executives were so taken with Boseman that they pulled a move they had never taken before and offered him the role without him having to audition.
"We got them on the phone, if not within hours, within days, and offered him the part, and he said, 'Yes,'" said Feige.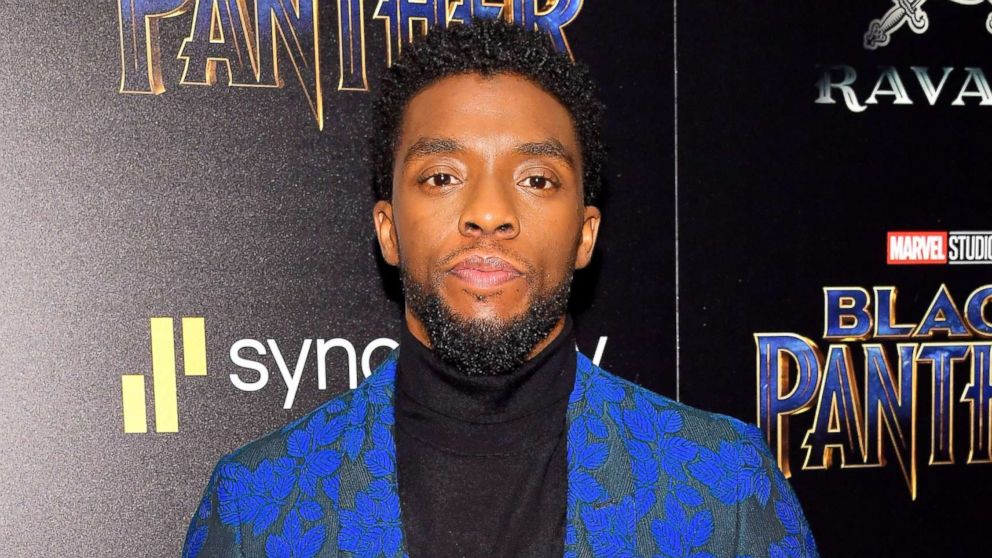 The leading women of 'Black Panther'
Perhaps some of the best scenes are stolen by the film's leading ladies, Nyong'o and Gurira.
In "Black Panther," Nyong'o and Gurira play characters who are strong, beautiful and able to protect not only themselves, but also the men in the movie.
"It's a real lesson for the real world, because the feminist struggle is not a struggle to strip men of their power. It's a struggle for equality, for us to be able to realize our own," said Nyong'o.
"What's also fascinating is -- yeah, absolutely, Wakanda forever, indeed, right? Like, if we could just get Wakanda to current life and how we live, it would be an amazing thing," said Gurira.
"In a sense, it shows us an idyllic gender relation situation, where the women are allowed to assume their power," Nyong'o said.
For Nyong'o and Gurira, who both hail from Africa -- Nyong'o from Kenya, Gurira from Zimbabwe -- there was something both familiar and unexplored in shooting the film.
"Wakanda was never colonized. And the post-colonial African, we function with the identity fragmentation of the fact that we will never know who we would have been if we were not colonized, what we would have done with our resources ourselves, our way. And Wakanda just represents this stunning portrayal of that exact question," Gurira said.
She continued, "The world sees this one skewed vision of the continent. So to get to portray that full gamut, and live in that pride, the pride that my character possessed around her people and her nation, it was very easy to digest for me."
"Another thing that was really important to me was the Pan-African nature of this film. The fact that this was a film for the first time, I feel, where the African and the African-American are in serious discourse with one another about how they belong together," said Nyong'o.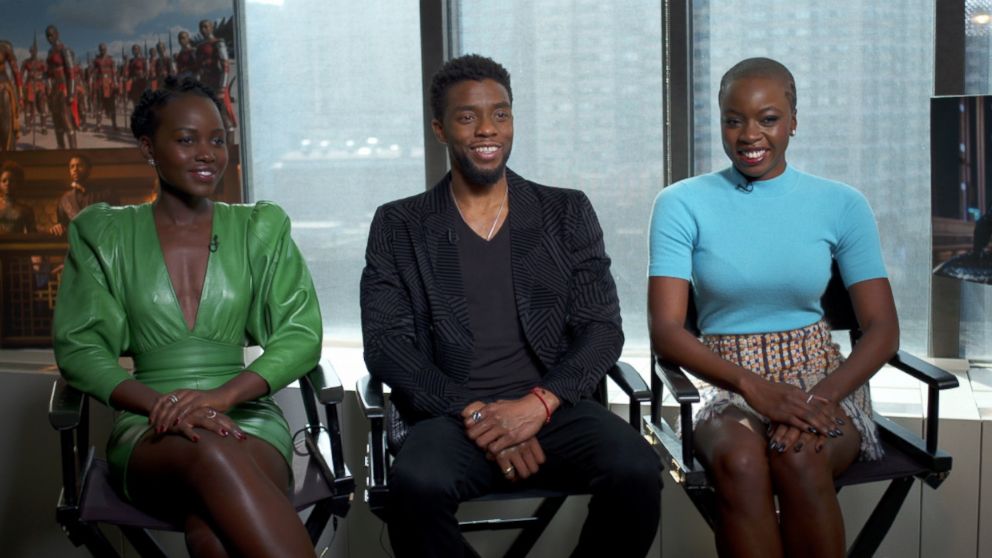 The message of 'Black Panther'
"Black Panther" doesn't shy away from the uncomfortable, making several statements on racism, feminism and inclusion.
For example, one of the film's characters shared a proverb saying, "In the times of crisis, the wise build bridges, while fools build barriers."
"I put that line into the script. That line is actually an African proverb," said Coogler. "The concept is you know the continent of Africa has many different tribes, many different factions. And the notion is it's better to talk to people and engage with them when things get bad as opposed to isolate and isolating yourself."
The film is poised to make box office history, currently tracking to gross over $150 million in its opening weekend.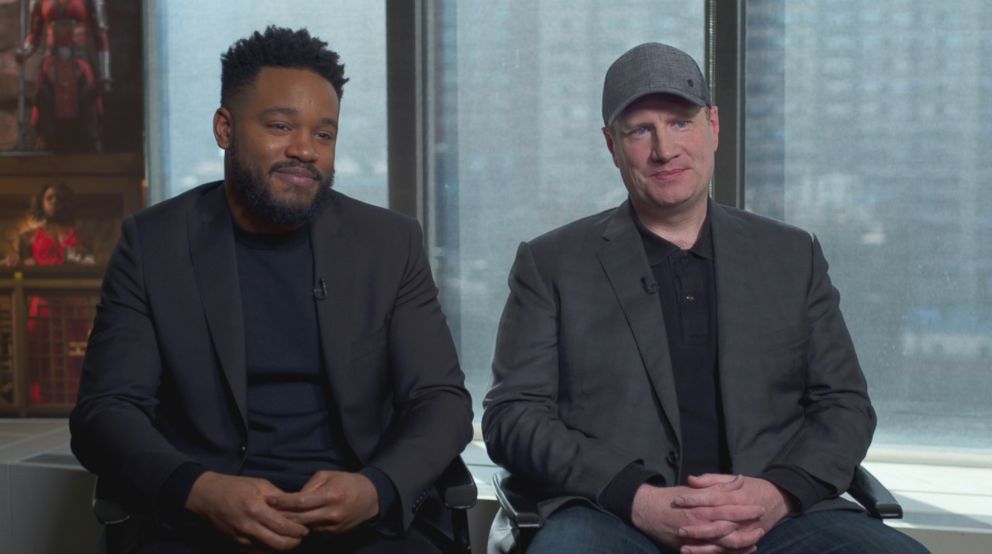 It's a trend that Coogler hopes will redefine how studios and consumers view the success that so-called "black films" can have.
"You look at what we're doing, what Sean Bailey and Tindle and Ava Duvernay with 'A Wrinkle in Time' [have done.] I mean it's exciting," Coogler said. "It's not lost on Ava and myself -- who's a friend of mine -- that these are rare opportunities that in the past people like us, you know, me coming from the Bay Area, her coming from Compton, haven't gotten those opportunities."
Both Feige and Coogler called "Black Panther" a universal story.
"I grew up loving comic books and in comic books there's not a black face to be found. As human beings, we are capable of identifying with other people who look like you. As a black man, we do it all the time in terms of pop culture," Coogler said. "No reason that it wouldn't work the other way around. You know our story is about a man who's taking on a responsibility that he does not feel ready for. You know I can't think of a more universal story goes through that. And I think hopefully all people will connect."
Watch the full story on ABC News' "Nightline" TONIGHT at 12:35 a.m. ET.
ABC News and Marvel are both owned by parent company Disney.