Bruce Jenner: When Did He Know
Jenner says he has struggled with gender identity since childhood.
— -- Bruce Jenner's earliest memories of feeling like he wanted to try something new came at about age 8 or 9. He remembers sneaking into his mother's or sisters' closet to dress up in their clothes while they were out.
"I marked the closet so when I put it back I could put it all back, everything back in the exact same spot so I wouldn't get caught," Jenner told ABC's Diane Sawyer in an exclusive interview that aired Friday in a special edition of ABC News' "20/20."
"And, at the time, I didn't know why I was doing it besides it just made me feel good," he added.
During the interview with Sawyer, Jenner referred to himself using male pronouns and ABC News has chosen to follow his lead, though he also referred to himself as "Bruce" and "her."
"I like her," Jenner said. "I look at it this way—Bruce always telling a lie. He's lived a lie his whole life about who he is. And I can't do that any longer."
For the first time in nearly 50 years, Jenner returned to the place where he grew up, Tarrytown, New York, with Diane Sawyer and recounted early memories of putting on dresses and wearing a scarf to hide his short hair.
"You have no idea, no idea, you don't know what's up ... and there's no place to get any information," Jenner said of growing up during the Eisenhower era before the birth of the Internet.
Jenner remembers envying the boys and girls who were comfortable in their own skin, while feeling like he was "stuck here in the middle."
The former Olympian described himself as a lonely boy then who is "still a lonely big boy" now.
"I don't socialize a lot, OK? I'm not like an outgoing person. I don't socialize a lot. ... I've never fit in," he said. "When you deal with this issue, you don't fit in."
In high school, Jenner was a star athlete -- MVP of the basketball, football and track teams. He went on to marry college sweetheart Chrystie Scott in 1972.
Jenner told Sawyer that Chrystie was probably "the first one to know" that he was transgender and struggling with gender identity, though Jenner "didn't go heavily into it back then" when explaining his feelings.
"I said 'These are my issues. This is what I deal with," Jenner said. "And they I think I do a little cross dressing, I do a little of this, a little of that, you know, 'it's going to be fine, we'll work all that stuff out.'"
Jenner made the 1972 Olympic team in the decathlon, but came in 10th place. Jenner returned to the 1976 Olympic Games in Montreal and won the gold medal for the decathlon, giving him the title of the world's greatest athlete.
After two children and seven years together, Jenner and Chrystie divorced. The Olympian then married songwriter and TV actress Linda Thompson, who had been Elvis Presley's girlfriend.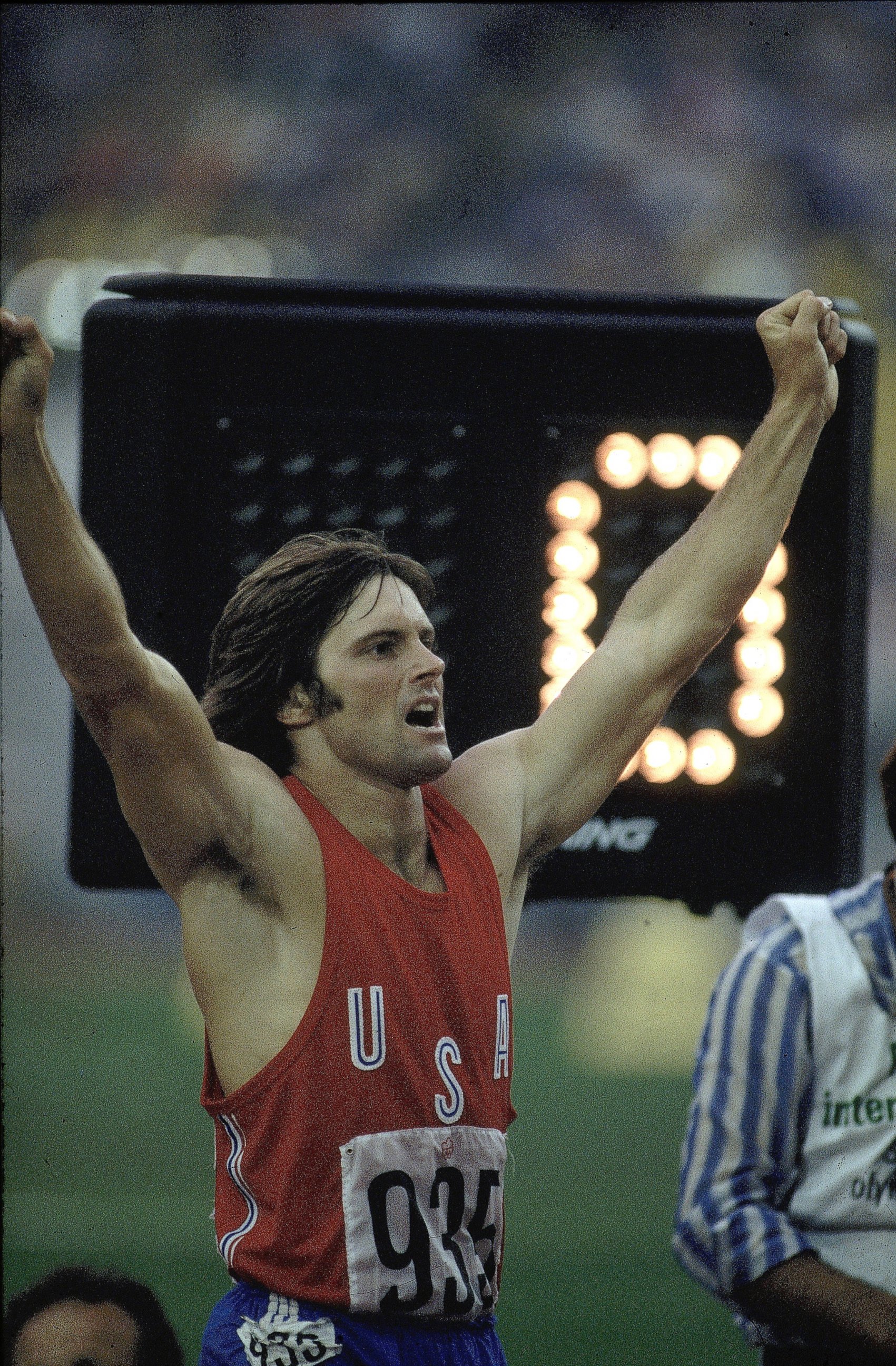 Jenner said he remained attracted to women, even while wrestling with his gender issues.
Jenner and Linda had two children together, Brandon and Brody, before splitting. The former Olympian fell into a deep depression and lived alone in a house in Malibu.
In the late 1980s, Jenner sought a therapist for the first time, and started taking hormones. By the early 1990s, Jenner remembers having breasts that were "a good solid 36B."
He also altered his face, getting surgery on his nose and electrolysis to remove his beard.
He continued to work as a motivational speaker and while the main event was arguably his addresses to the crowds, the travel that came with such engagements meant something else as well.
"I would walk off the stage and I would feel like a liar. I'd say 'You've just got no guts…'" Jenner said. "And then I'd literally go up into the hotel room, change [into women's] clothes, and walk around."
Around this time, Jenner decided to finally tell someone in his family what he was going through.
"I couldn't believe it," Jenner's older sister Pam Mettler said. "I didn't understand really what he was saying."
"When I drove home from that dinner that night, I cried the whole way. I could hardly see the road for the tears," Mettler said. "I guess the tears were for me – but they were for him mostly, the pain that he experienced as a child."
But the two didn't speak about it again for more than 30 years.
Jenner's life and career took a new turn when he met Kris Kardashian, who was going through a divorce. Jenner said Kardashian saw him dress as a woman, but "didn't say much" about it. Kris helped revitalize Jenner's career as a pop culture icon, and then came the enormous success of the family's reality TV show, "Keeping Up With the Kardashians."
"I had the story," Jenner said. "We had done 425 episodes I think, over almost eight years, and the entire run I kept thinking to myself, 'oh my god, this whole thing.' The one real true story in the family was the one I was hiding and nobody knew about it. The one thing that could really make a difference in people's lives was right here in my soul and I could not tell that story."
ABC News reached out to Kris Jenner for this report, but she declined to comment.
Sawyer asked Jenner if he was "fair" to the women he married.
"No, I wasn't as fair as I should have been," Jenner said. "I've apologized to everybody. I've done nothing but apologize for my entire life."
In a statement to ABC News, Jenner's first wife, Chrystie Scott said, "Someone who has lived 65 years of his life as the wrong gender has every right to live the last quarter of his life as his authentic self. I support him and so hope the world can too. I pray for his happiness for the rest of his journey."
Linda Thompson, Jenner's second wife, told ABC News in a statement: "Bruce has always had my loyalty, even if he wasn't aware of it. I support his courage and commitment to this new chapter of his life. My hope is that his transition will inspire others who struggle with their identities, and my prayer is that humanity has evolved and been educated enough to exercise kindness toward those we may perceive as 'different.'"
Jenner said that people "may learn to live with" hiding from their feelings "but it's never going away. ... This is basically who you are, and that's tough to change. For me, for 65 years, I've never been able to be myself, be who I am and it's never gone away."