— -- Celine Dion spent her final moments with her late husband, René Angélil, telling him not to worry any longer, the singer revealed to ABC News' Deborah Roberts in her first TV interview since his death in January from cancer.
The "My Heart Will Go On" singer revealed she lay with Angélil in bed after he passed away, even putting a robe on Angélil, who was also her manager the father of her three sons.
"You were worrying for my career. You were worrying for the children. You were worrying for everything. It's enough. Do you trust me? Please do. Trust me," Dion recalled saying. "The kids are fine. I'm fine. I promise you we're gonna be OK. Please leave in peace. I don't want you to worry."
Dion spoke to Roberts in Las Vegas, where she returned to the stage in February, just over one month after Angélil's Jan. 14 death. The singer said she used the movie "Up" to explain to her young children that their father was physically gone.
Watch the interview with Celine Dion tomorrow on "Good Morning America" at 7 a.m. ET, and watch even more on "Nightline."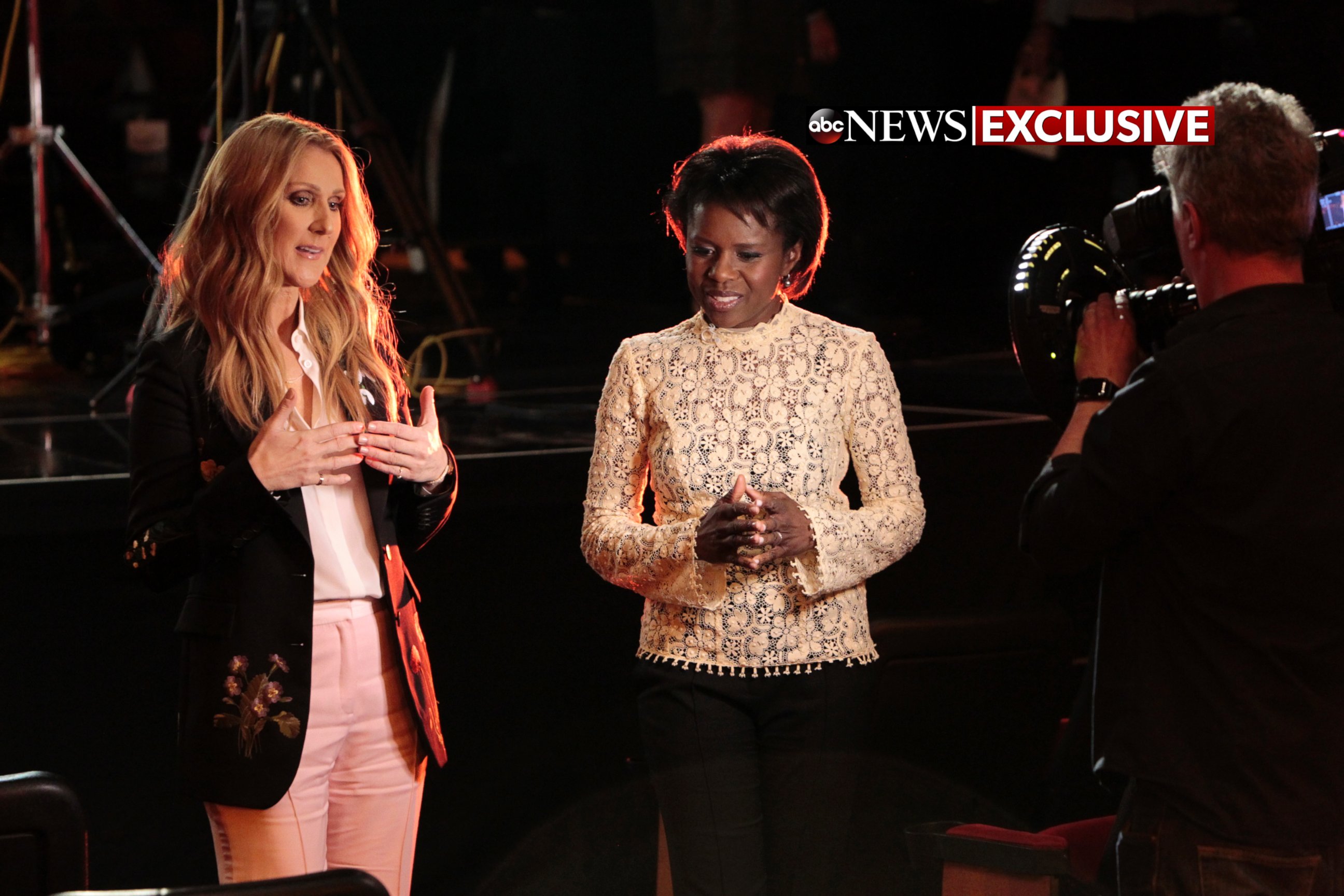 Dion, 48, told Roberts, "Before I told them that their dad was not there, I talked about when we, everybody, gets sick. Then I said, 'Do you remember the movie 'Up'?"
"It's one of our favorite," she said of the 2009 animated Disney movie. "'Oh,' they said, 'Yes, Ellie went up.' You know, she with the balloons. And I said, 'Well, yeah … You know, today Papa went up.'"
Angélil and Dion, who were married in1994, had three children together — 5-year-old twins Nelson and Eddy and 15-year-old René-Charles.
"The only thing I wanted is for them to say 'up,'" Dion said of asking her sons where their dad had gone. "Up is a good thing. Up is uplifting."
The singer said she took her sons outside, where they released balloons and what she called "pixie dust" into the sky.
Dion said she told the boys, "We're gonna say, 'Papa, we love you. Have a good up.' And we're gonna spread this, and it's gonna go to him."
Angélil was 73 when he died after a long battle with throat cancer.
Dion reinforced to her sons just how sick their father had been, in order to ease any potential fears, telling them, "Papa was very sick. He didn't have a sore throat. He did not have a bellyache. He did not have an earache. Do you remember Papa had a tube in his belly? Do you have a tube in your belly? Do you? I don't. That's really, really, really, really, really sick."
Watch the interview with Celine Dion tomorrow on "Good Morning America" at 7 a.m. ET, and watch even more on "Nightline."