— -- Charlize Theron and celebrity chef Geoffrey Zakarian shared step-by-step instructions for how to make the actress' favorite roasted squash salad on "Good Morning America" today.
The Academy Award-winning actress was whipping up her favorite autumn salad for guests at an event celebrating the 10-year anniversary of her Africa Outreach Project, which has raised millions of dollars for education and empowerment programs for African children. The goal of the project is to help prevent HIV infection, according to Theron, a South Africa native.
"I'm Charlize Theron and I am a special food correspondent today for all of you on 'GMA,'" the actress said from the kitchen of Zakarian's restaurant, Georgie, at the Montage Hotel in Beverly Hills. "This is a very special culinary experience for a good cause!"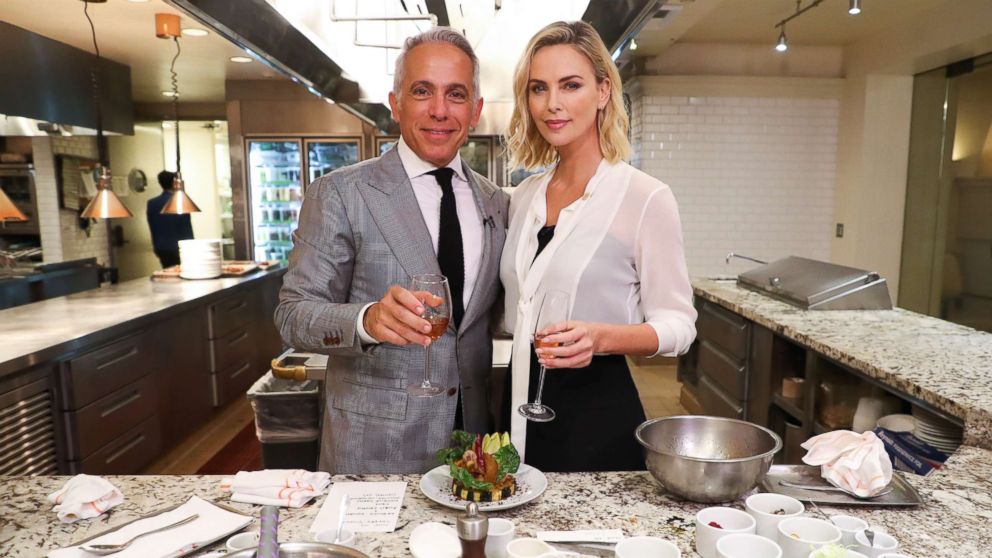 Zakarian, who rose to fame on "Iron Chef America," also shared some of his tips for making the salad at home, saying, "Squash is one of those things that you put it in the oven, if you cook it 50 minutes or 90 minutes, it doesn't matter."
Theron added, "You can't mess it up."
Zakarian said the salad has a "fall theme," but there are "no rules" to how it's made.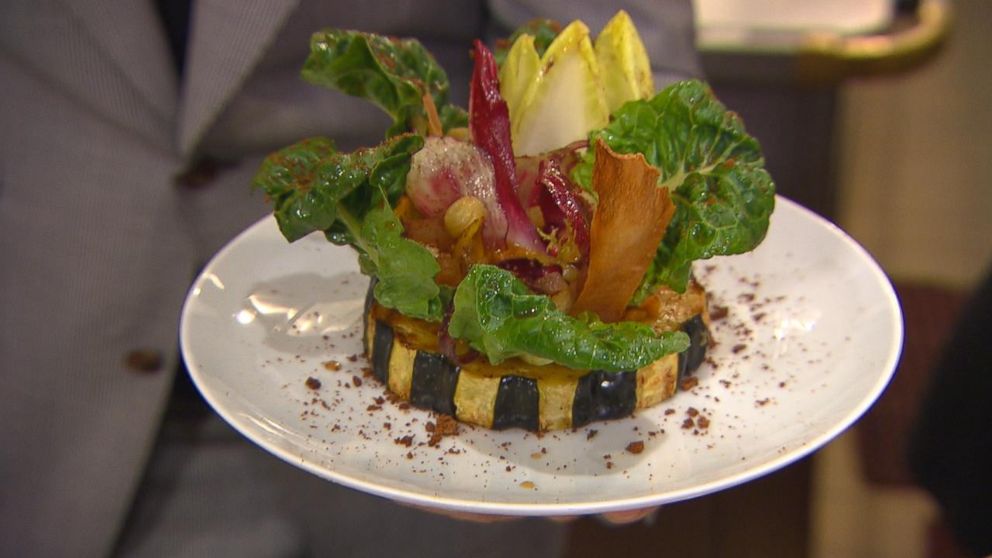 Full recipe for Theron's favorite autumn salad, from chef Geoffrey Zakarian:
Ingredients:
1 Roasted Acorn Squash
1/4 cups squash condiment (see instructions below)
4 endive leaves (red and green)
2 Radicchio
½ of a white Frisee
2 Market lettuces
4 Sliced Carrots
4 Sliced beets
4 Sliced radishes
2 Pickled Hen of the woods
1 Tbsp pickled raisins
1 Tbsp compressed apple dices
Ingredients for the garnish:
Fried Salsify and Parsnips
Pomegranate seeds
Micro herbs
Ingredients for the squash condiment:
1 Kabocha squash
1/2 cup rosemary garlic Oil
1 cup picked rosemary
1/2 cup olive oil
1 clove garlic
1 tsp lemon juice
Salt and pepper
Ingredients for the apple cider pomegranate dressing
1 liter extra virgin olive oil
1/4 liters apple cider vinegar
1/2 cup pomegranate molasses
7 ounces honey
0.4 ounces kosher salt
0.2 ounces ground white pepper
1. Prepare the roasted acorn squash:
Cut Acorn Squash into rounds, about ¾ inch. Season squash with rosemary garlic oil, salt, and pepper. Roast the squash at 350 degrees Fahrenheit for 12 to 15 minutes.
2. Prepare the squash condiment:
Cut the squash in half. Season squash with rosemary garlic oil and salt and pepper. Roast the squash at 350 F for 30 to 40 minutes depending on size. Cool roasted squash before moving to next step. Once the squash is cool. Scrape the flesh of the squash and set aside. Add Sherry vinegar to season the squash. Check seasoning for salt and pepper.
3. Prepare the other vegetables:
Wash and dry the greens, then set aside. Slice the carrot, beets, and radish paper thin.
4. Prepare the apple cider pomegranate dressing:
Weigh and place everything in a blender. Mix until well combined. Reserve in quarts.
5. Prepare the fried parsnips and fried salsify:
Slice parsnips and salsify paper thin.
6. Plating:
Place acorn squash on center of plate. Fill in the center of the squash with squash condiment. Dress and season veg with pomegranate apple dressing. Add the remaining veg planted on condiment. Garnish salad with fried parsnip and salsify. Sprinkle pomegranate seeds to finish.
Recipe courtesy chef Geoffrey Zakarian