It would be easy to trash the idea of a movie musical based on 9/11, to say it's too soon to put a rock-pop soundtrack and a finger-snapping cast to the most horrific terrorist attack the nation has ever suffered.
But, as the author Aldous Huxley famously wrote, "After silence, that which comes nearest to expressing the inexpressible is music." Consider how people still struggle to come to grips with 9/11 almost nine years after the tragedy itself, and "Clear Blue Tuesday," an indie rock musical drama that debuted in theaters Sept. 3, starts to make sense.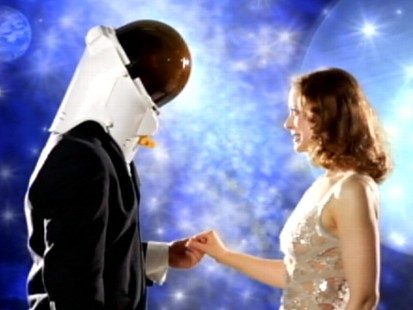 To be clear (no pun intended), the movie is
not
a 9/11 rock musical.
"That implies that we're singing and dancing as the towers fall, and that couldn't be further from the truth," said Elizabeth Lucas, who conceived of and directed the movie.
Indeed, "Clear Blue Tuesday" does not juxtapose rollicking guitar riffs against the backdrop of the World Trade Center. It takes place over the course of seven Tuesdays in September, starting on Sept. 11, 2001 and ending in 2007. It follows eleven men and women dealing with the aftermath of the terrorist attack -- how it affected their work, their relationships, their mental well being, and, in one case, their physical health.
9/11 itself is shown as an interruption in the morning routine of a harp player who hears a crash and looks up to see ash and paper falling from the no-longer-clear-blue sky. For Lucas, that moment serves as the starting point for the characters questioning their lives, just as a similar, smaller-scale tragedy inspired her to start developing "Clear Blue Tuesday" in 2006.
"I was hit by a cab while I was biking one day in New York City, and I had a few months to sit around and nurse my broken bones and think about what I really wanted to do as a filmmaker. That time started resonating, for me, back to 9/11, which was a tragedy on a much larger scale but also a catalyst for change," she said. "The thing I wanted to talk about was disaster as a catalyst for change in our lives. Ultimately the movie is about taking it in and letting go and moving forward."
Lucas spent the better part of 2007 assembling a cast of up-and-coming actors and actresses from Broadway and New York City's comedy circuit. They developed the film's characters, wrote their own songs and finally filmed the movie over the course of 19 days. The final product has an endearing, if amateurish, feel to it. The lyrics verge on schmaltzy, the music ranges from tinny pop to Def Leppard-esque rock, the dance routines stick close to the mainstays of high school musical theater.
This isn't a glossy "Glee"-like production. (As for the comparison between "Clear Blue Tuesday" and the hit Fox show, Lucas said, "'Glee is awesome, but this is not 'Glee.' We were finished before I even saw an episode of 'Glee.'") This film is more real. That's likely due to the fact that Lucas sought to cast people who had a personal connection with 9/11, none perhaps more so than Jan O'Dell, who was severely injured in the attacks and plays a version of herself in "Clear Blue Tuesday," spotlighting her own scars.
"I was hit, they say, though nobody knows, because I was knocked unconscious," O'Dell said. "All I know is the debris cloud was on me, it was swirling, it was brown, and I could see things coming at me and that was the last I remember. I was unconscious for a couple of hours and when I woke up, I was in a New Jersey medical center."