David Letterman and Lindsay Lohan Talk Sobriety, Prank-Call Oprah
Lohan had to chant Winfrey's name before Letterman relented.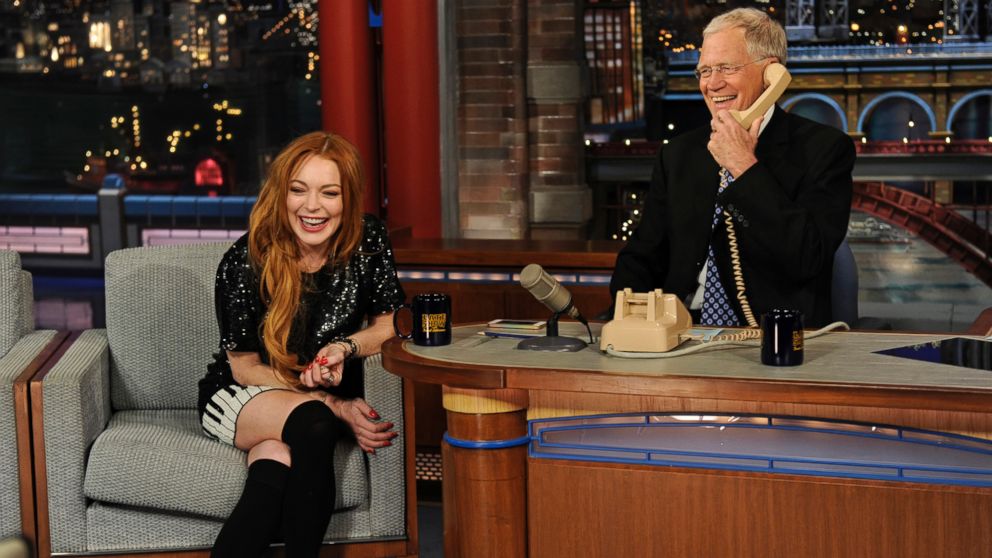 April 10, 2014 -- In her first appearance on the "Late Show With David Letterman" since leaving rehab, Lindsay Lohan commiserated with the host about sobriety, and prank-called the former child star's mentor Oprah Winfrey.
Letterman made a rare comment about his own struggles with alcohol, saying "I'm an alcoholic, I drank myself every night" and said to the actress, "It's so nice to have your control back, isn't it?"

Lohan nodded and said, "My life is in a good place."
The pair then talked about Winfrey, who produces "Lindsay," Lohan's OWN docuseries, and whom the actress sees as a mentor. At one point, Lohan asked, "Should we call Oprah?"
Letterman initially balked, but later relented after Lohan, 27, chanted "Op-rah! Op-rah!" and got the audience to chime in.
Lindsay Lohan Calls Upcoming Rehab Stint a Blessing
When Winfrey picked up, Letterman said in a high-pitched voice, "Yes, could I speak to Oprah Winfrey, please ?... Hi, this is Lindsay Lohan's secretary."
After Winfrey asked, "Who is this?" Letterman quickly broke character and Winfrey laughed. "Oh, my God. Very good, Dave," she said. "The David Letterman who's retiring?"
The trio then bonded over Lohan's recovery and their mutual love of meditation.
Winfrey and Letterman, who announced last week that he'll retire in 2015, are now friendly after years of feuding. The two buried the hatchet during Winfrey's 2005 appearance on "The Late Show."Their disagreement originally began around 1989, after Winfrey appeared on Letterman's former NBC talk show. At the time, she said she thought that Letterman had turned the audience against her.