"Duck Dynasty" star John Luke Robertson may be just 20 years old, but he also has a very important message he wants to get across to the young adults of his generation.
Robertson, who's juggling both college and married life, somehow found time in his crazed schedule to write a book out next month, "Young and Beardless: The Search for God, Purpose, and a Meaningful Life," and it's inspired by his wife Mary Kate and the hope that others will live their lives to the fullest.
Living 'Young and Beardless'
Robertson got engaged in October 2014 and tied the knot last July, which he says is vital in his writing and storytelling.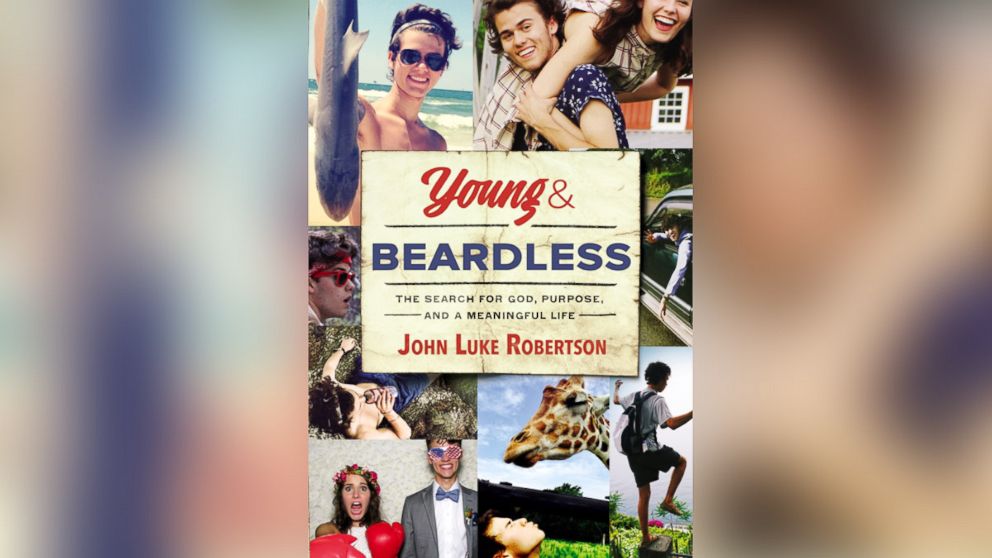 "Chronologically, the book starts right before we got engaged and then it ends when we get married," he told ABC News ahead of the book's May 17 release. "It really shows our whole story from late dating to engagement to the wedding. She really had a lot of influence on what I talked about and she put a lot in there for the younger female audience. I'm glad her influence got to be included."
Along with his personal love story, Robertson said he wanted to really target that 18 to 25 demographic.
"I think we have more opportunities and resources at our disposal than any other generation before us. And I think that a lot of the time, we waste all of that on Netflix," he said, laughing. "Our culture, you get respect by watching 25 hours of a TV show. I watch a lot of TV, but there is so much more we could be doing with our time."
He also wanted his book, which took about a year to craft, to be different from what you may have seen or read from other members of the "Duck Dynasty" clan.
"I thought I could put out a totally unique perspective that is different from what the rest of the family has shared about the show and about life," he said.
The goal for Robertson was to really forge his own path and not just do what the rest of his family has done.
"The family is successful now.... But that didn't happen till I was 15 or 16," he said. "The first half of my life, everyone had jobs and worked. They worked at Duck Commander, and it was successful, but not that successful. It was pretty local. My dad worked at a summer camp and my mom was an art teacher. Growing up in that kind of working environment, I learned my whole life to create and I saw my parents working to make their own mark. That compelled me to make my own mark."
And that's what he's working at while studying as a freshman at Liberty University in Virginia.
"I love college. We absolutely love it, we love our majors, we love our friends," he said of himself and Mary Kate. "We have to plan ahead pretty much everything we do, even being social with friends and everything."
Robertson is majoring in Camp and Outdoor Adventure Leadership, which he says is just "like summer camp."
"It teaches you how to run a camp," he explained. "We do business and non-profit law, but we also do camp games and survival skills."
In the long run, Robertson wants a quiet life with his wife, but "right now, it's pretty exciting, to be on TV and do shows. I'm open to 'Dancing With the Stars' or continuing TV, but I don't see myself doing that long term."
Being Married, a Reality Star and in College
Robertson and Mary Kate have been married about nine months now and he says juggling life isn't always easy.
"We always have dinner together, that's the staple. No mater what's going on, what we are doing, we always have dinner together ... [Also] at night, we do school work and whatever else we are working on," he said.
When asked about the best parts of being with Mary Kate, his answer was simple.
"Just being able to be with her everyday ... going to college with her, building a house and moving into a house with her, that's just been so fun," he said.
But "one of the hardest parts has been being with her all the time," he said, laughing. "When you are dating, you get into a fight, you can go to your separate houses and think about it. When you're married, where are you gonna go?"
As for starting a family, he's found a way to make his wife happy ... for now.
"I plan on waiting till after college. Mary Kate mentioned once about having a baby, so I got her a dog!" he explained. "That seems to be holding her at bay right now."
"Young and Beardless: The Search for God, Purpose, and a Meaningful Life" is out on May 17, but is available for pre-order now.