— -- "Duck Dynasty" star Willie Robertson was a vocal supporter of Donald Trump during his presidential campaign, even speaking at the Republican National Convention, but, in real life, his reality TV family was divided.
"We had lots of discussions behind the scenes," Willie Robertson's wife, Korie Robertson, said about not being a vocal Trump supporter.
In 2013, Willie and Korie Robertson were invited to the White House Correspondents' dinner. The couple told ABC News that much to their surprise, then-President Barack Obama asked to meet them backstage and told the "Duck Dynasty" stars he was a big fan of the show, even catching up on episodes while aboard Air Force One.
But when Willie Robertson decided to dip his toe into presidential politics last year and throw his support behind Trump, it created quite a stir, and the controversy hit surprisingly close to home.
"Literally up until Election Day we were having discussions," said Willie Robertson. "But, you know, I understand ... and I hate that the world, you know, America's so polarized now and so hopefully we can figure out a way to work together and, you know, figure some things out for our country."
The Duck Commander CEO said his family filmed "Duck Dynasty" in the run-up to the election and debates with crew members who did not support Trump would leave him feeling like he was "kind of taking on the world."
"You know, it's like you respect people, and try to love people, and help people, and that's who I was behind," he said of Trump. "And, you know, lo and behold, when I was behind him, I don't think anyone was at the time. That was pretty early."
Trump's tweets during the campaign were at the center of election-related discussions inside Willie and Korie Robertson's West Monroe, Louisiana, home.
"I did know his family and I do love his family and everything but I would be reading Willie his tweets every night and be like, 'OK, here's what he said tonight," Korie Robertson recalled. "It was just killing me."
And when it came time to cast her ballot in the November election, she said of her final decision, "A lot of prayer went into it. Let's just say that."
Now more than two months into the Trump administration, Willie Robertson acknowledges there have been "bumps in the road" for the new president but believes Trump will "find his groove."
"He's not a politician and so that's what I loved about him is that he's not a politician. He's not polished and he says stuff," Willie Robertson said. "And so, you know, I think he'll find his groove in there and hopefully, I hope he can work with Democrats."
He continued, "That's what I was most hoping for was that somebody can get in there that can work together. Not just, you know, post up on each side of this thing so, you know, we'll see."
The couple spoke to ABC News' Jesse Palmer about how their family is moving forward as their "Duck Dynasty" reality show comes to an end. The final episode of the hit show aired on March 29, 2017 and an episode of clips from the long-running series aired Wednesday on A&E.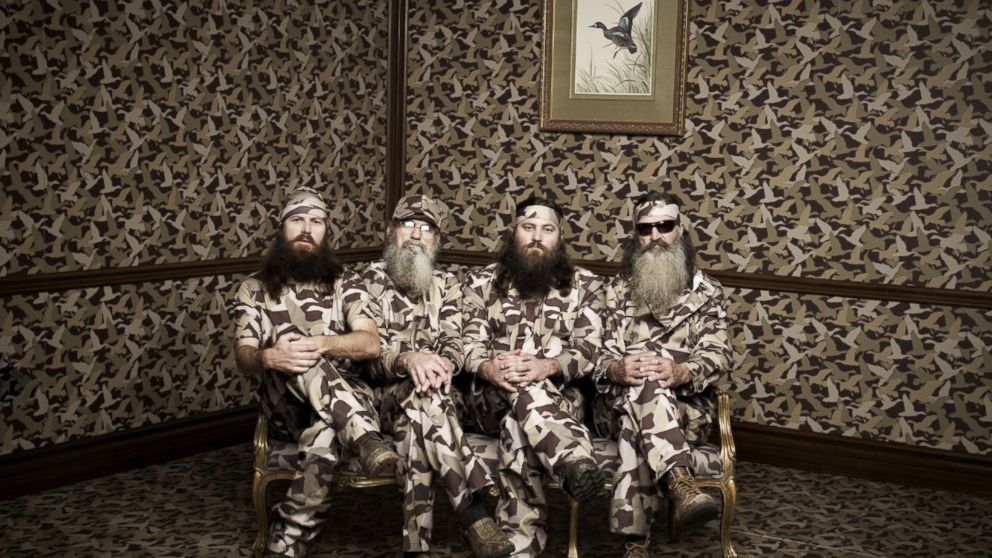 The show, which became the highest-rated reality show in cable TV history, made the Robertsons celebrities and turned their hometown, West Monroe, into a tourist destination.
The show began in 2012 as a behind-the-scenes look at the sprawling Robertson family, more than one dozen members in all, and their lucrative duck-call business.
The idea of turning the Robertson family into a reality show actually came from Korie Robertson.
"I looked at Willie and I was like, 'Your family could do this. Like, Y'all are weird. Y'all aren't normal,'" she recalled. "And he's like, 'What? This is totally normal.' I was like, 'No it's not.'"
The show dodged cancellation in 2013 when cast member Phil Robertson made anti-gay remarks and inflammatory statements about African-Americans in a highly publicized GQ magazine interview. The controversy did, however, result in his suspension from the show.
Despite the controversy, the family has turned their brand into a cottage industry, including a planned Duck Commander Experience addition.
"We had a small store now we have a bigger store," said Willie Robertson.
ABC News' George Constantino contributed to this report.