Ed Sheeran sings, plays guitar on stand during copyright infringement trial
A lawsuit involves "Thinking Out Loud" and Marvin Gaye's "Let's Get It On."
Ed Sheeran sang and played guitar on the witness stand Thursday during a copyright infringement trial involving alleged similarities between his Grammy-winning song "Thinking Out Loud" and the Marvin Gaye classic "Let's Get It On."
While testifying in Manhattan federal court, the musician briefly sang what he said were the song's original words, "I'm singing out now." Sheeran also played on his guitar the basic chord progression of "Thinking Out Loud," providing the jury with a fleeting concert.
The lawsuit, filed by the heirs of Gaye co-writer Ed Townsend, alleges that Sheeran took the rhythm, chord progression and other elements for his 2014 song "Thinking Out Loud" from the 1973 soul classic "Let's Get It On" without permission.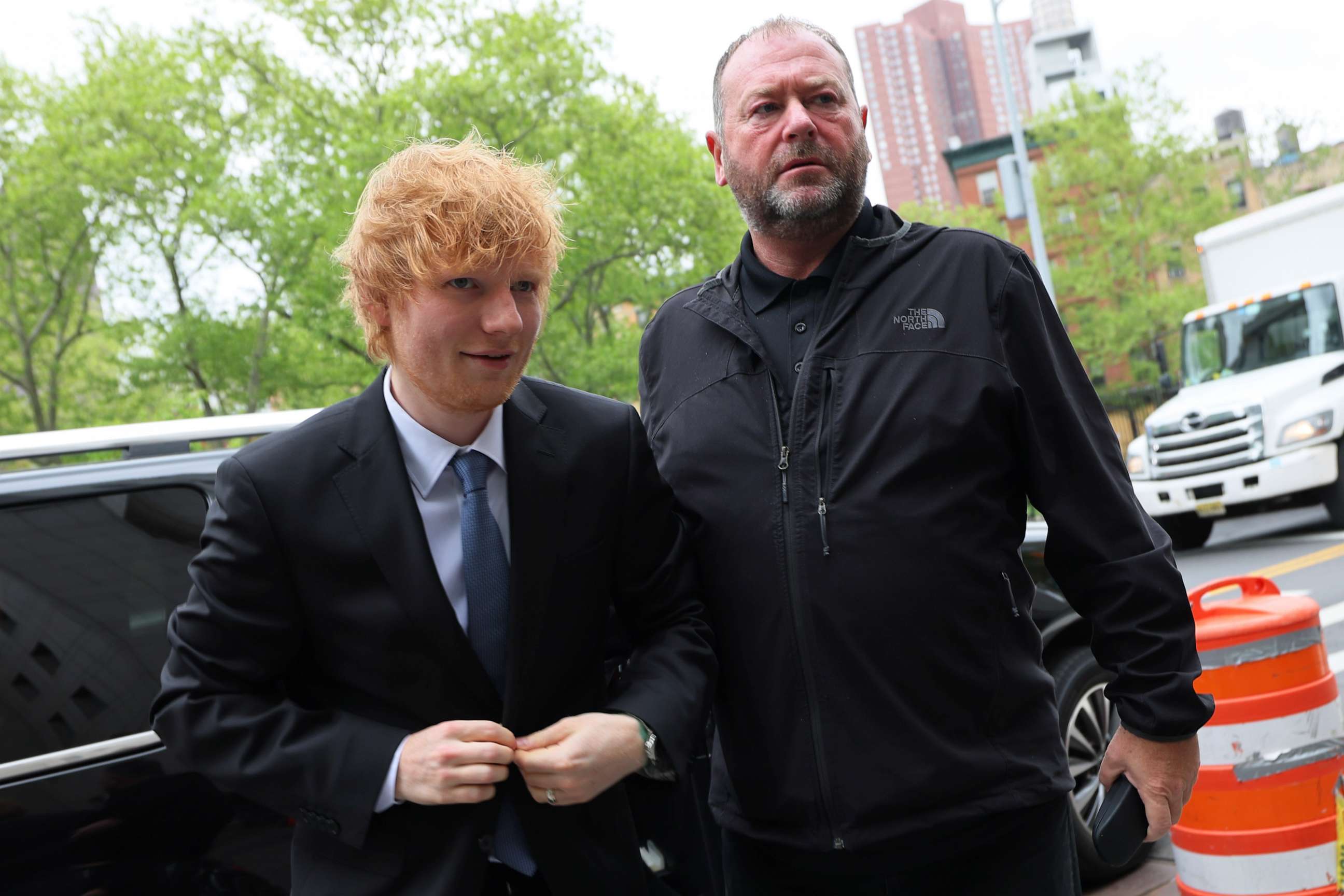 Sheeran testified Thursday that he writes most of his songs in a day, suggesting under questioning by his attorney, Ilene Farkas, that he did not stop to think about copying elements from "Let's Get It On" when he composed "Thinking Out Loud," as alleged by Townsend's heirs.
Sheeran co-wrote "Thinking Out Loud" and a number of other songs with singer-songwriter Amy Wadge.
"We sat guitar to guitar," Sheeran told the court. "We wrote together quite a lot."
Sheeran and Wadge wrote "Thinking Out Loud" in February 2014 at Sheeran's home, he said. His grandfather had just passed away and his grandmother was stricken with cancer, and Wadge also had family members who were ill, he said. Sheeran said love at an advanced age inspired the song.
He recalled coming out of the shower and hearing Wadge in another part of the house strumming chords.
"I remember thinking we have to do something with that," Sheeran said.
Sheeran said it took "really not that long" to write.
"Amy definitely started strumming the chords," Sheeran said. "It's a collaboration."
Court has adjourned for the week, with Sheeran scheduled to resume testifying in the trial on Monday.
The trial comes after Townsend's heirs sued Sheeran, Warner Music Group and Sony Music Publishing in 2017.
Sheeran previously won a 2022 copyright infringement case involving "Shape of You," while Gaye's heirs, who are not involved in this current lawsuit, won a case in 2015 against Robin Thicke and Pharrell Williams involving "Got to Give it Up."