— -- The 69th Primetime Emmy Awards were handed out Sunday night, capping off another exciting season of television.
The big winners of the evening were Hulu's "The Handmaid's Tale," which took home the award for outstanding drama series, among a total haul of eight Emmy awards. "Big Little Lies," an HBO limited series that earned 16 nods, tied with an additional eight total wins.
Host Stephen Colbert set the night's tone with a musical number that kicked off his monologue, "Everything's Better on TV." It featured some of our favorite TV shows, including "This Is Us," "Veep," "Brooklyn Nine-Nine" and "The Handmaid's Tale."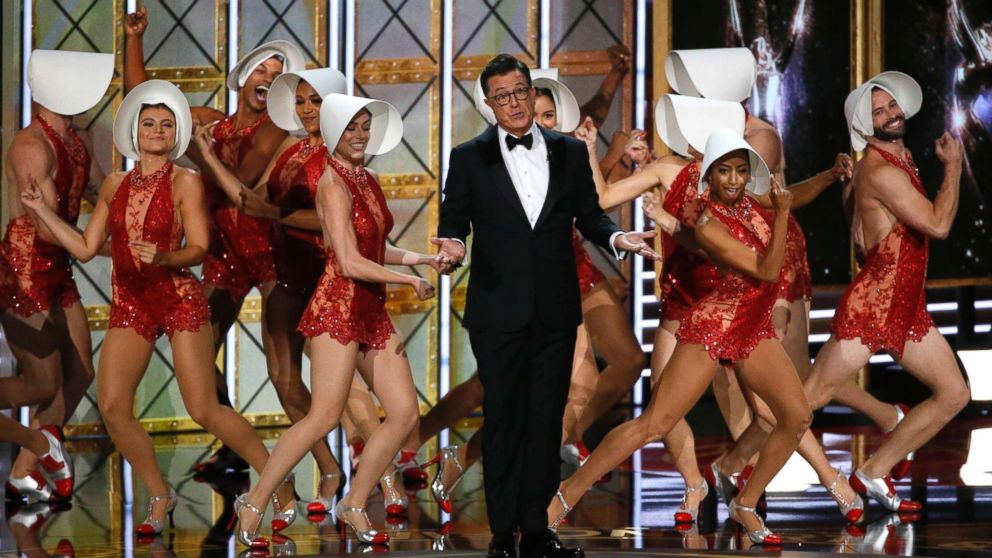 The most shocking moment of Colbert's monologue was an assist from former White House press secretary Sean Spicer. Not only did it get "Veep" star Anna Chlumsky out of her seat, it had Melissa McCarthy — who often parodied him this year on "Saturday Night Live" — to smirk.
Spicer, who resigned from his post in July, made light of a tense moment from his first White House briefing, telling the audience, "This will be the largest audience to witness an Emmys — period."
The Emmys get political
The evening, which often referenced politics, got even more political when Alec Baldwin accepted his Emmy Award for his impersonation of Donald Trump on "Saturday Night Live," which was nominated for an epic 22 awards.
"I should say, at long last Mr. President here is your Emmy," Baldwin said onstage, referencing the fact that Trump tweeted back in 2014 that the awards show was "dishonest."
The Emmys make history
Donald Glover
Another man named Donald made history Sunday night: Donald Glover became the first black director to win the award for outstanding directing for a comedy series, for his FX show, "Atlanta."
He said his award "really belongs to Hiro Murai," the director who helped create music videos for his rap persona, Childish Gambino. "He had the eye for the show first. He's really amazing. Thank you," Glover said onstage.
He also went on to win the award for outstanding lead actor in a comedy series, for his role as Earnest 'Earn' Marks, an ambitious yet struggling Atlanta resident who wants to make his cousin a famous rapper.
"It feels like a dream," he said backstage of his wins. "I'm glad I was able to make history, but that's not what I was trying to do. I was just trying to make the best product. I believe the people deserve quality and when they taste it, they see their own value, and they don't ask for less. So I just want to make a really good show."
Sterling K. Brown
The "This Is Us" star was the first black actor to win the outstanding lead actor in a drama series category in two decades.
During his acceptance speech, which was sadly cut short, Brown, 41, recognized the moment. "19 years ago, Detective Frank Pembleton as impeccably played by Andre Braugher — it is my supreme honor to follow in your footsteps," he said.
Lena Waithe
Lena Waithe also made history after penning the "Thanksgiving" episode for "Master of None." On Sunday night, she became the first black woman to be nominated and win for comedy writing. The episode tells Waithe's real-life coming out story.
"My LGBTQI family," she said, when accepting her award, "I see each and every one of you. The things that make us different, those are our superpowers ... Every day put on your imaginary cape and go out there and conquer the world."
Julia Louis-Dreyfus
The "Veep" star made history tonight, becoming the first performer to win six Emmy Awards for the same role, as Selina Meyer in the HBO series.
Previously, she was tied for the record with Candice Bergen and Don Knotts, who won five Emmys for their roles on "Murphy Brown" and "The Andy Griffith Show," respectively.
"This ... continues to be the role of a lifetime and an adventure of utter joy," Louis-Dreyfus, who's been nominated for 24 Emmys in her career, said when accepting the award.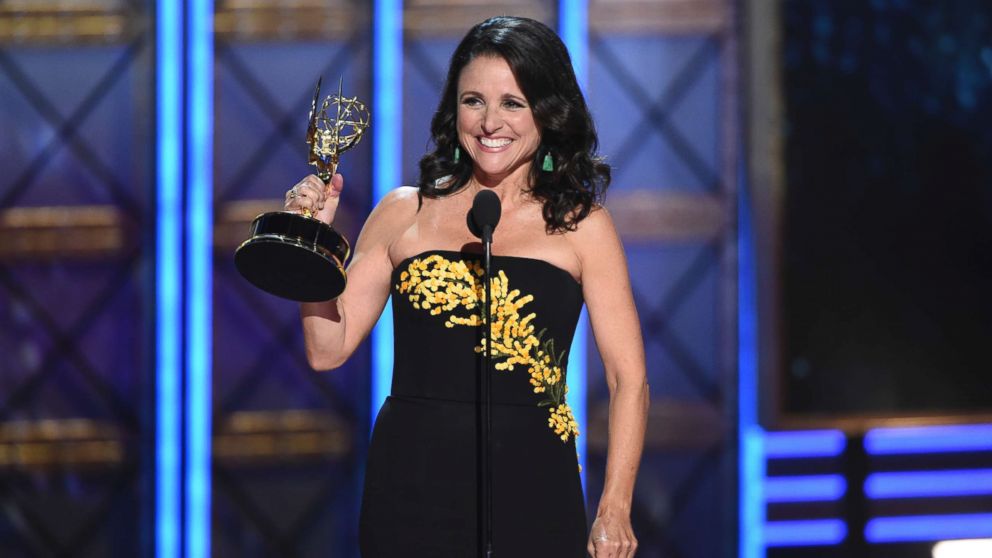 The Emmys have a reunion
Jane Fonda, Lily Tomlin and Dolly Parton received a standing ovation from the Emmy Awards' audience when they walked out onstage to present the award for outstanding supporting actor in a limited series or a movie.
Parton said the onetime co-stars have been "waiting for a '9 to 5' reunion ever since we did the first" film.
Fonda said, "Back in 1980, in that movie we refused to be controlled by a sexist, egotistical, lying, hypocritical bigot."
"And in 2017, we still refuse to be controlled by a sexist, egotistical, lying, hypocritical bigot," Tomlin said to thunderous applause.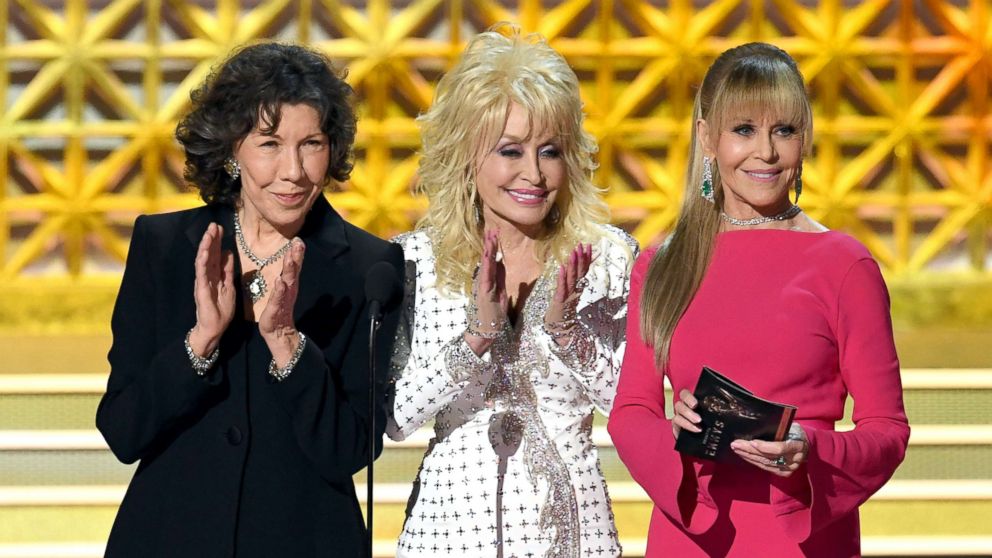 The Emmys remember
"Hamilton" star Chris Jackson performed a moving tribute to remember the actors, and those who helped create our favorite TV shows, who passed away this year.
After being introduced by Emmy Award winner Viola Davis, Jackson — who has composed songs for "Sesame Street" — then sang a cover of Stevie Wonder's classic, "As."
Those remembered during the segment were Glen Campbell, Nelsan Ellis, Zsa Zsa Gabor, John Heard, Gwen Ifill, Adam West, Don Rickles, and Mary Tyler Moore, among others.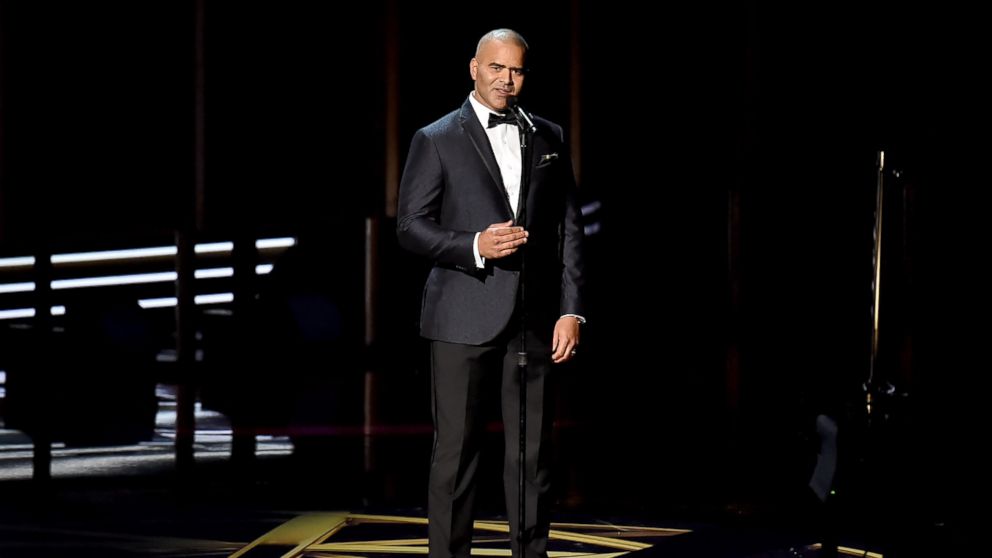 "The Handmaid's Tale" takes top prize
After nabbing an impressive 13 nominations, "The Handmaid's Tale," took home the evening's top prize for outstanding drama series.
Before that, star Elizabeth Moss also took home the award for outstanding lead actress in a drama series. The actress clearly couldn't hide her excitement, dropping two F-bombs during her speech that were muted by CBS, which aired the awards show.
"You can be kind and a f------ bad---," she said, concluding her speech.
Producer and writer Bruce Miller accepted the top prize on behalf of the cast and crew. After many thank-yous, he closed out his speech by giving a directive not only to his cast but also to the entire viewing audience: "Go home, get to work. We have a lot of things to fight for."