Grandmaster Flash says 'The Get Down' depicts hip-hop's early days by starting in the disco
The hip-hop pioneer explains why the Netflix series starts in the disco era.
— -- In 1977, the term "hip-hop" didn't exist.
The Sugarhill Gang's "Rapper's Delight" wouldn't push past the Top 40 mark on the charts — becoming a first for the genre — for another two years. Blondie's "Rapture" wouldn't play on MTV until four years later, and it would be another 17 years before Shawn Corey Carter, better known as the reigning king of hip-hop Jay Z, had his breakout rhyme on Big Daddy Kane's "Show and Prove."
Before hip-hop became a multibillion-dollar industry, the burgeoning musical genre was simply referred to as "the get down" — a term created by Grandmaster Flash. Joseph Saddler is the name his parents gave him back on the humid island of Barbados 19 years before 1977.
That's the year "The Get Down," a new Netflix series centered on the birth of hip-hop, begins.
The man who would become a hip-hop pioneer and renowned disc jockey grew up coveting his father's extensive record collection. Thanks to those records, Grandmaster Flash inherited a love for vinyl and all the forgotten ways the music, etched into it, could be manipulated.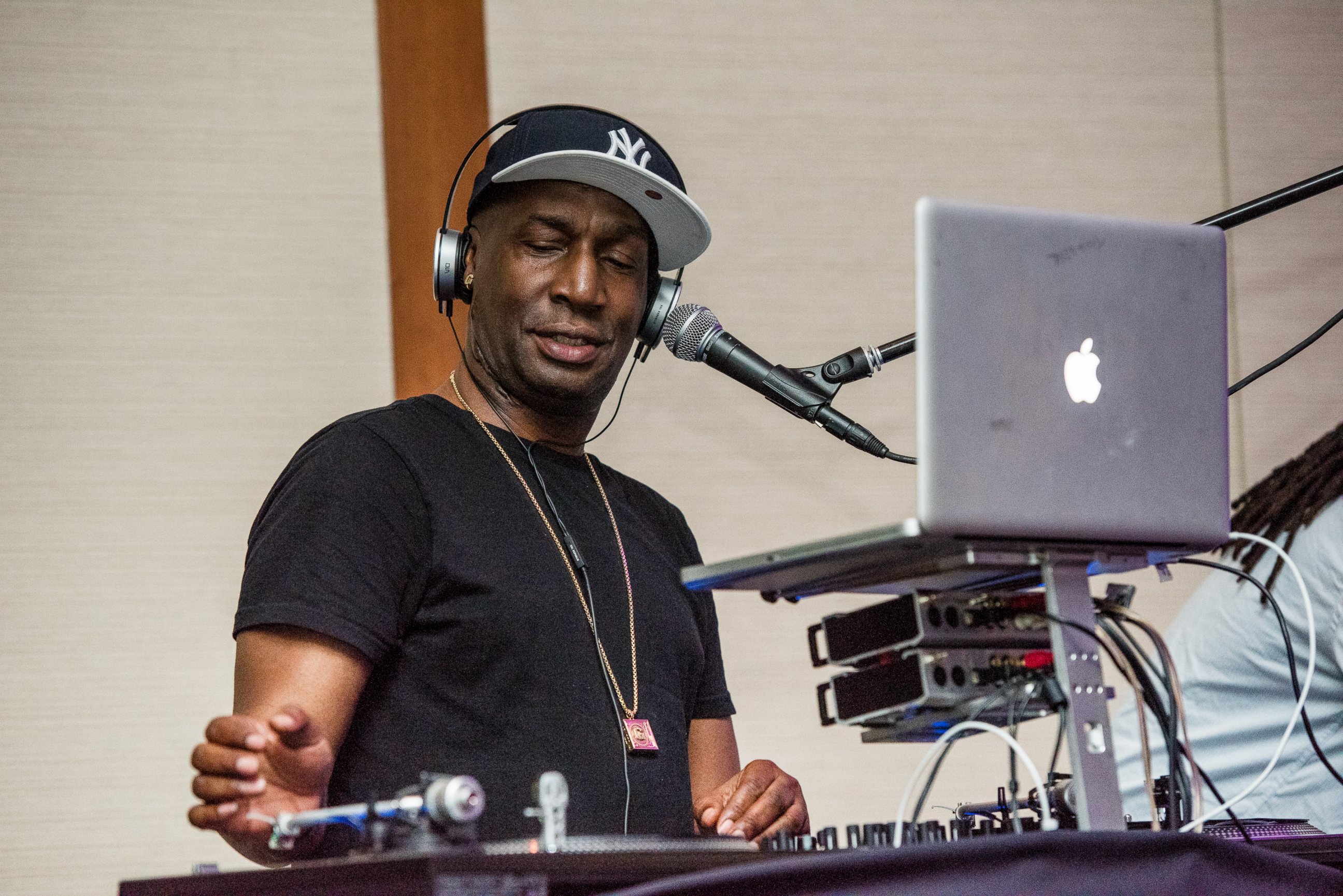 In the South Bronx, where Grandmaster Flash moved with his parents, hip-hop wasn't even played in the neighborhood nightclubs that mimicked Studio 54. In 1977, when the Bronx was known more for corruption, poverty, fires and gang violence, the world-famous disco was opening its doors only a borough away in Manhattan.
It was a place where frat brother owners Steve Rubell and Ian Schrager wouldn't dare let the likes of Flash and his teenage friends party. A place that wouldn't allow the bass-heavy rhythms that would later become hip-hop. Instead, Thelma Houston's "Don't Leave Me This Way" and Brick's "Dazz" filled the disco's four walls.
Flash, now 58, feels comfortable sitting in a disco today, wearing a white t-shirt with the word "Grandmaster" on it. It's partially covered up by his black suit jacket. On his head is a black fitted cap, which has seemingly replaced his signature Kangol cap. The letters "G" and "F" in bold are beside a lightning bolt.
He has returned to the disco — albeit a faux discotheque — thanks to Baz Luhrmann, a man he had never even heard of before the Australian film director emailed him. But he knew of the director's films, "Romeo + Juliet" and "Moulin Rouge!," and that recognition beget the start of their relationship.
Luhrmann has built a disco inside a 150,000-square-feet soundstage in Glendale, Queens, that would make the now-closed Studio 54 look wanting. Floor-to-ceiling crystal curtains hang against the walls, which are uplit red and blue. In the corner sits a leopard-print couch, draped with a Versace-style black and white rug. White peacock fan-back chairs take their natural place beside a white marble statuette that looks as if it belongs in the Accademia di Belle Arti di Firenze right beside Michelangelo's David.
It's at the disco that "The Get Down" starts. The series, which premieres Friday, follows a young poet, Ezekiel "Books" Figuero, played by actor Justice Smith, as he steps into his musical future with the help of his crew and DJ Shaolin Fantastic, played by "Dope" actor Shameik Moore.
Flash, an associate producer of the series, told ABC News it made perfect sense that the series starts here as many don't realize how hip-hop draws on disco as well as other types of music.
"What's really strange, is that people will say, 'Well Flash, do a deejay hip-hop set,'" Grandmaster Flash said. "And I'll go from pop, rock, jazz, blues, funk, disco, R&B, alternative, Caribbean."
"And they'll say, 'Is that a hip-hop set?' I'll say, 'Yeah!' And they'll say, 'Well, how is that?'" he said. "And I say, 'Because the drum breaks, the 'get down' parts that we [used], come from these different genres of records.' This is how it was created."
Flash said that during the toddler days of hip-hop, it was all about finding that one "hot record" to create a beat over which an emcee — or rapper — would rhyme.
"Who found [The Shadows' instrumental] "Apache"? Who found Bob James "Take Me to the Mardi Gras"? Who found [British rock band FM's] "Indiscreet"? All these songs are different genres of music. So when people say hip-hop, I include all these genres of records," he added.
His search for sounds is not limited to the United States. "Some of these records came from Japan, some of them came from Germany, some of them came from England, Holland, Amsterdam. These records came from around the world," he said.
In "The Get Down," Flash, played by actor Mamoudou Athie, makes Shaolin search all over the Bronx for one rare record. The scene isn't unlike what the real Flash made aspiring deejays go through decades earlier. "If they wanted to get close to me there were certain things they had to do," he boasted.
"You had to know who Queen was. You had to know who Thin Lizzy was. You had to know who The Incredible Bongo Band was. You had to know who Babe Ruth was," he said. "You had to know all these different genres of music before you even thought about touching a deejay set. If you didn't know these things then you would have a very short-lived career."
Flash said he wasn't "policing" who became a deejay but instead ensuring the hopefuls had "street credibility."
"If your collection was limited, you [weren't] gonna get no real audience," he continued. "It was a constant digging and going into the record shops and trying to find that drum break. And it never was necessarily about black music or white music or foreign music. It was just music."