— -- Oh Lucille, what will you do next? Jeffrey Dean Morgan's bat-wielding character on "The Walking Dead" has just about everybody on edge. This weekend will mark the big mid-season finale of the show.
Morgan stopped by "Popcorn with Peter Travers" and talked about what it's like playing Negan, the show's bad guy. Sadly, Negan's "sidekick" Lucille (the bat) was noticeably absent.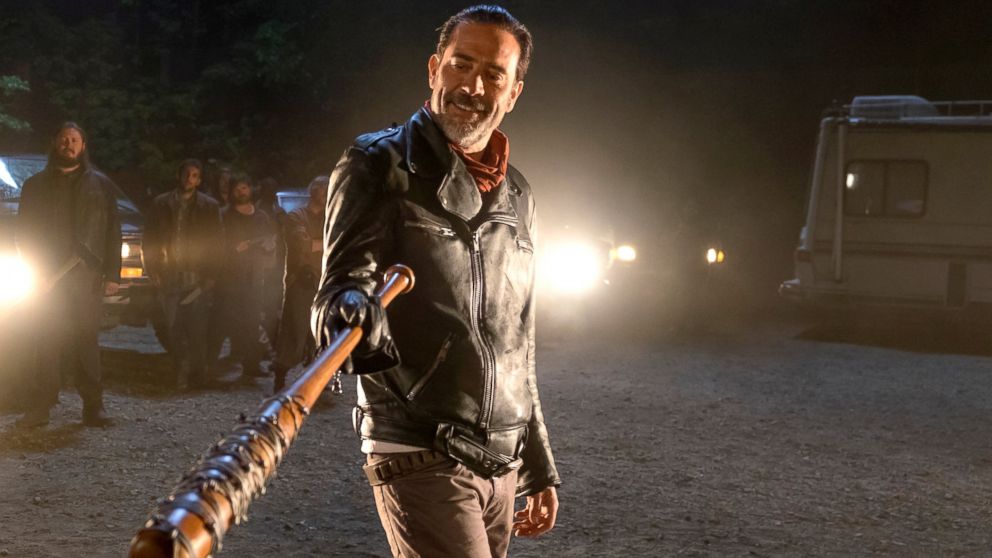 Life With Lucille
"I do appreciate the fact that everybody kind of thinks that I walk around with her," Morgan said. "I do on set. She's never far from me. But unfortunately they're not letting me just take her on the talk show circuit. I don't know why," he joked.
But apparently there is a reason.
"There's like a whole team that handles Lucille," Morgan said. "I refer to her as 'her' of course. It's a little bit of a love affair going on between myself and Lucille. And she's in a foam case. I grab her and boom, there's Negan. She does a great deal when kind of influencing where I go with my character."
A team of handlers and a special case may seem a bit over-the-top for a bat, but it doesn't stop there. Morgan revealed that there are actually several versions of Lucille -- stand-ins, if you will -- if needed.
"Yes, she's got stunt bats," Morgan, 50, told Travers. "There's a bat that we use that's a fiberglass core that's more of a foam. It still hurts like hell."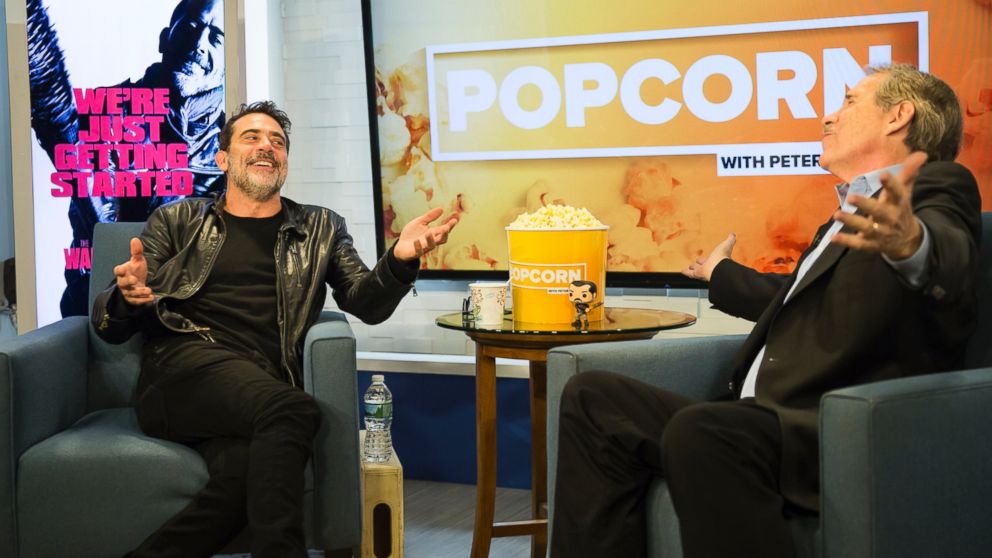 Being the New Bad Guy
Morgan, who has been with the show for a year now, said it took a bit of time for the other cast members to accept him. He joined the fray after "The Walking Dead" had already been on AMC for six seasons.
"I think me coming in initially was a shock to the system. Not only for the show but for some of the cast mates who are so close to each other," said Morgan. "It's not the writers or the creators of the comic. It was somehow put on me. I was the bad guy. So that took a little time of me being on set kind of joking around in between takes. But it worked out great and I'm really close with them now. And I've been accepted to be part of the family."
Working Opposite Andrew Lincoln
Morgan shook things up when his character was brought in to go head-to-head with Andrew Lincoln's Rick Grimes.
"For Andy, he's worked six years in creating this character that was in control and kind of this balls out guy – the manliest of men," Morgan said. "And to have his character kind of ripped out from under him, I know it's been hard for him. I know he gets frustrated with it. And I feel for him as an actor because this is something he's worked on so hard. But at the same time I think he relishes the fact that he's getting to do something new and show a different side of Rick and being this vulnerable at the mercy of Negan, a complete 180 from what he's been doing."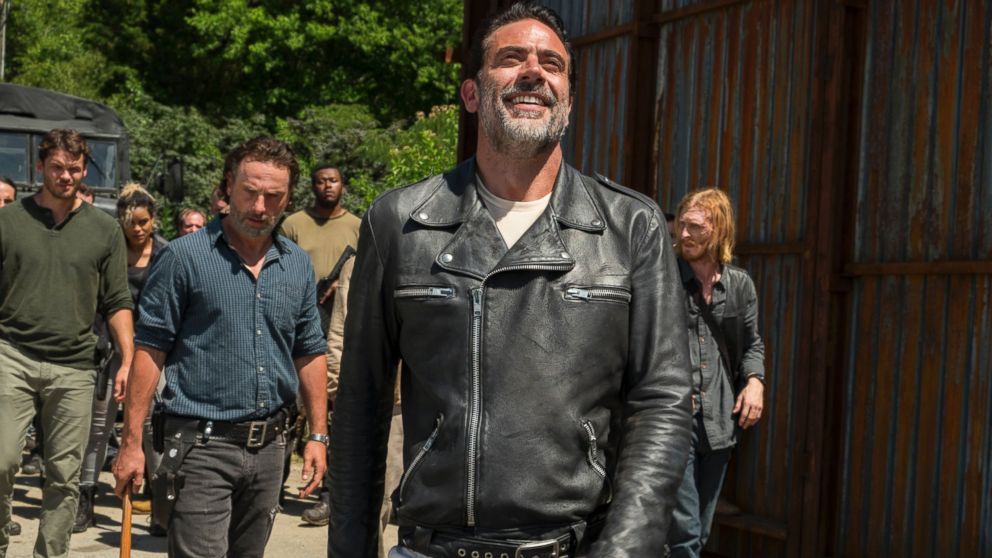 Morgan added, "I know I'm hitting him. And in between takes if he's off in the corner swearing or screaming, he's very much into character. So if they say 'cut' and I hear him off in the corner screaming at the top of his lungs, you know swearing, with the f-bombs going, I smile to myself. Because I know that I'm doing my job as an actor. And then when the day is over, I give him a huge hug, I love him. He's the No. 1 on the show. And he is truly the leader of this band of folks that is such an incredible family. And it all stems from him."
His "Bromance" With Norman Reedus
Morgan has also started an off-camera "bromance" with co-star Norman Reedus.
"I spend a lot of time with Norman. Not only do we live next to each other in Georgia, but we both have this big affinity toward motorcycles," said Morgan. "And we spend a lot of time on the roads. It's kind of a great way to unwind and we have that in common. So I talk to him daily."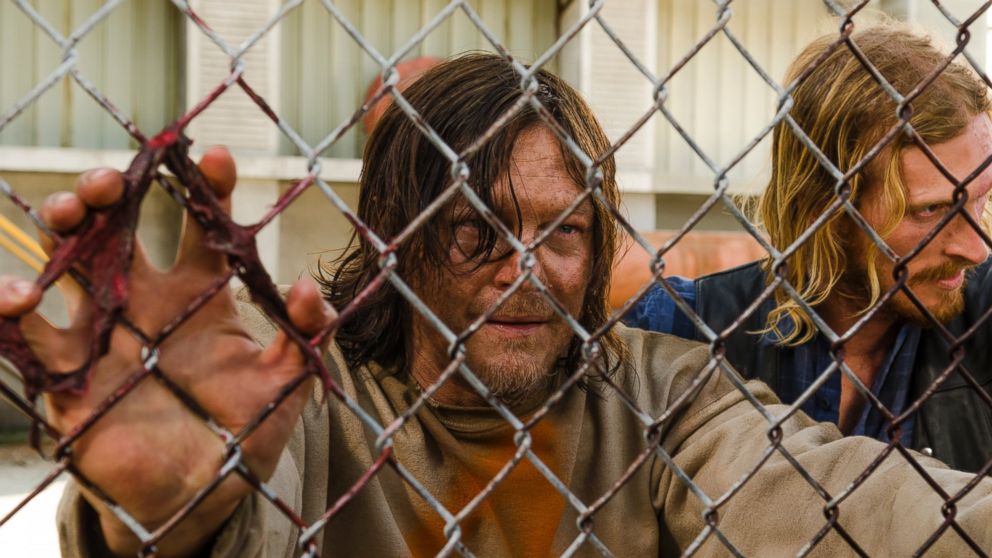 He told Travers he got his first taste of "Walking Dead" fandom when he started to spend time with Reedus.
"That guy can't go anywhere," Morgan said of Reedus. "And I've never seen anybody that has more patience or love for fans than him. It's crazy. We go to a gas station in the middle of Alabama, and this is a true story. There were no cars anywhere. And within one second of being there, the person in the gas station will say Daryl Dixon's here, and there's 50 cars converged on the gas station in the middle of Timbuktu. And he will do a picture and autograph with every one of them. I'm like Norman, keep your helmet on, we've got to get out of here."
Download the all new "Popcorn with Peter Travers" podcast on iTunes, Google Play Music and Stitcher.
Little Negan
Morgan said his 6-year-old son has even joined in on "The Walking Dead" mania.
"He's never seen the show but he's a big fan of Negan. So he dresses like Negan just about every day with a red scarf. And he made a homemade (Lucille), you know the bats they giveaway at baseball games. He sanded the lettering off it, the Atlanta Braves lettering off of it, and drew barbed wire on it himself. And he's little Negan," Morgan said.
Be sure to watch the full interview to see more of Morgan talking about "The Walking Dead," and about his roles on "The Good Wife" and "Grey's Anatomy."