Jennifer Lawrence Opens Up About 'Hunger Games' Ending, Amy Schumer and Speaking Out on Hollywood's Gender Pay Gap
Actress spent the day with ABC's Diane Sawyer to talk about her life has changed
November 12, 2015, 9:28 AM
— -- At just 25 years old, Jennifer Lawrence is already a major force to be reckoned with.
The Oscar winner has captured the hearts of many with her powerful leading roles on-screen, and her fearless, tell-it-like-it-is attitude off-screen.
The final installment of "The Hunger Games" series "The Hunger Games: Mockingjay Part 2" premieres Nov. 20, and Lawrence already has another movie on the way called "Joy," out this Christmas. For "Joy," which tells the story of a struggling housewife who invents a miracle mop and turns her life around, Lawrence reunited again with co-star Bradley Cooper and director David O. Russell -- the same team behind "Silver Linings Playbook."
Ahead of the "Hunger Games" premiere, Lawrence spent the day with ABC's Diane Sawyer, two Kentucky women from the same town of Louisville, to enjoy some barbecue, practice archery and talk about how she has evolved over the years.
Below are a few things the actress revealed about herself in the interview.
1. Jennifer Lawrence Was a Cheerleader and Oboe Player in Middle School
Lawrence joked that she was also voted "Most Talkative" in school two years in a row.
"Pretty hard to get," she said, laughing.
2. She Struggled with Being a High-Energy Kid
Growing up, Lawrence said she was very high-energy and had a flair for the dramatic. Her brothers nicknamed her "Nitro," and she loved to play dress-up and get into character. While she struggled some times, she said she eventually realized being different was a gift.
"I didn't know that I was an actor," Lawrence told Sawyer. "I just knew that I was weird and different and I knew that I was smart … I would think something and then feel it and now I know what that is and now I can channel that at work."
3. She Was Discovered at Age 14
At one point, Lawrence said she told her parents she had to become an actor, so she and her mother took a trip to New York City, just the two of them, when she was 14 years old. They were only there a few days when she said a photographer walked up to them in Union Square and asked to take her photo.
"My mom gave him her number because we didn't know that was potentially dangerous and creepy, and then he called and said, modeling agencies wanted to meet with me," Lawrence said. "And I had made up my mind in the cab ride, 'Well, I'm only going to sign with modeling agencies if they'll let me act,' which came out of nowhere."
Even now, Lawrence said she likes being in involved in the negotiating process of her career.
"I like the business part of my job," she said. "Controlling your stock, if you will, and being in control of that. I love acting, that's the only part of my job that I love, but all of it's a business."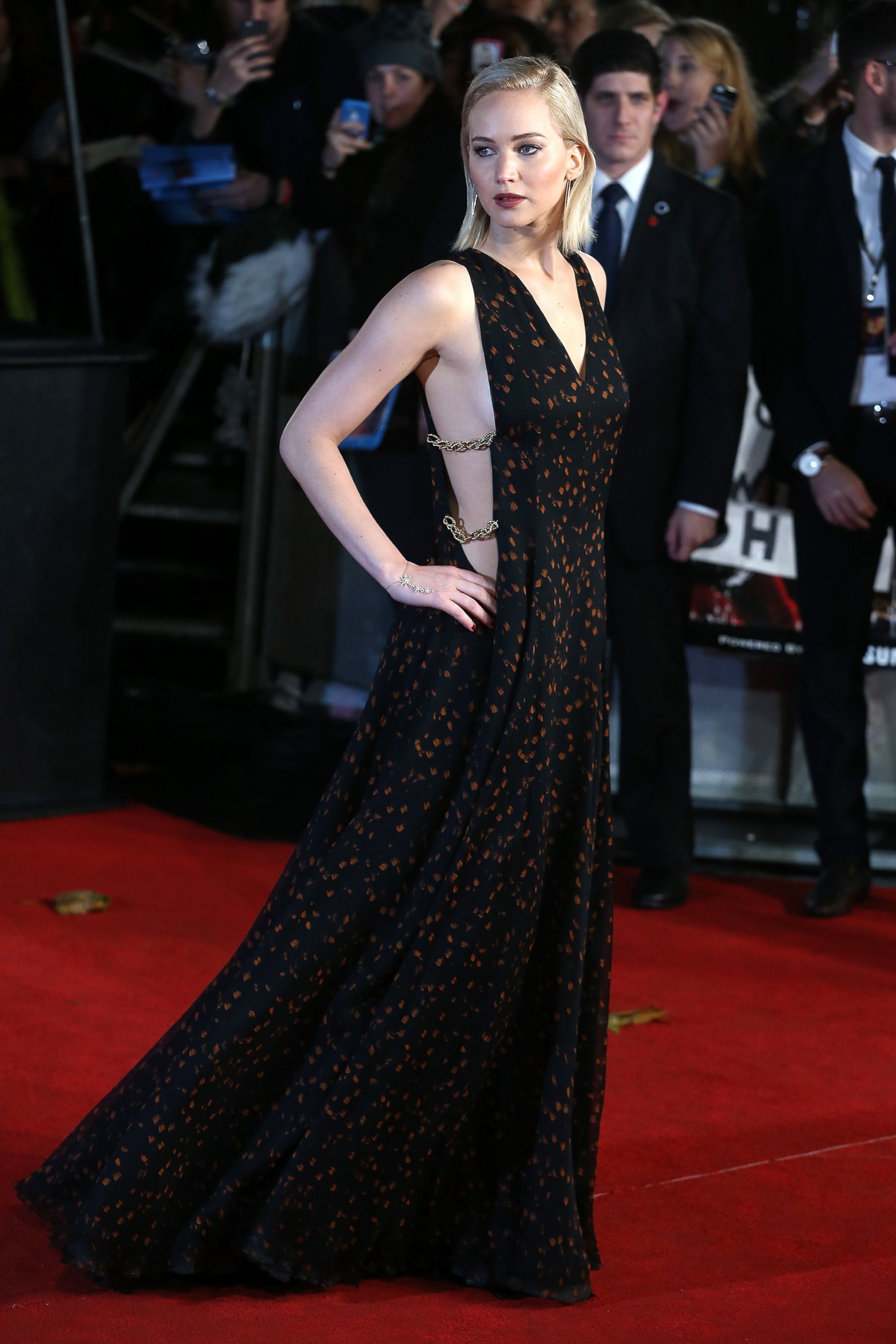 4. Jennifer Lawrence Used to Dress Up and Pretend She Was a Private School Student
Lawrence didn't attend high school so she could pursue modeling gigs and eventually acting. She earned her GED, but she said that she used to get dressed up and pretend she was a high school student.
"This is so embarrassing, but I would dress up like I was in like private school when I was living in Santa Monica," she said. "I was 16 and I would put on high socks and I was like, 'yeah, I go to school.'… because I just wanted to be a student."
6. She's Glad She Spoke Out About Hollywood's Gender Pay Gap
In an op-ed posted online in October, Lawrence wrote she discovered that she and "American Hustle" co-star Amy Adams were getting paid much less than their male co-stars Jeremy Renner, Christian Bale and Bradley Cooper. The actors' pay was released publicly after Sony Pictures Entertainment was hacked in 2014.
"My question to myself was why am I not asking for it?" Lawrence told Sawyer. "And I think I know I have always kind of carried a habit of submissiveness with the idea that it makes me more likeable."
Many of her co-stars and other actors have since come out in support of her message.
"I felt like I had had to say something because we need to talk about it," she said. "On average women are paid 21 percent less than men... We can ask for the same exact thing that men do and we do have ... we do face the reality that we do get judged more. If we're harsh we get judged more... It's just something that is intrinsic and I would love to see change."
7. Jennifer Lawrence Isn't Sure Marriage Is For Her, But Motherhood Is
"I don't really plan on getting married. I might. I definitely want to be a mother. I don't really imagine getting married anymore," Lawrence said. "I don't feel like I need anything to complete me. I love meeting people, men, women, whatever, I love people coming into your life and bringing something."
8. She Says She and Amy Schumer Are Protective of Each Other
Jennifer Lawrence and Amy Schumer have become fast friends. They were seen dancing together on top of Billy Joel's piano during a performance of "Uptown Girl" at a concert at Chicago's Wrigley Field in August, and Lawrence said she laughs "out loud every single day" when she's with Schumer.
"I didn't know Amy six months ago and she brings something to my life that's so special," she told Sawyer.
Recently, the two gal pals have been talking up a new movie they said they are writing together with Schumer's sister. As they have become friends, Lawrence said they look out for each other.
"We both have a kind of protection over each other," Lawrence said. "She's older than me so she has the natural kind of protectiveness that comes with just being older than somebody. I've been famous longer than she has so I feel a certain protectiveness in that sense and we both are incredibly blunt and opinionated."
9. Her Favorite Fan Was an Extra on the First 'Hunger Games'
Lawrence was just 21 years old when she met a young girl on set in the first installment of "The Hunger Games" series. She was a burn survivor with scars all over her body.
"She said, 'I love my body, and I love myself because I'm the "Girl on Fire,"' and it made her feel strong and brave," Lawrence told Sawyer. "I just started crying because she gave me such a gift."
"I'm just acting," she added, "But if a character or a story, even if it's made up, can make somebody feel that way or can change the perception on how they feel about themselves, then that is beautiful."
Get real-time updates as this story unfolds. To start, just "star" this story in ABC News' phone app. Download ABC News for iPhone here or ABC News for Android here.