It looks like a group of teens known as the Hollywood Hills Burglar Bunch nabbed a lot of loot from their famous victims.
Among the allegedly stolen items police found during a search of the homes of five teens -- all young women -- and a man accused of masterminding an elaborate, technology-aided scheme to rob celebrities like Paris Hilton, Lindsay Lohan and Orlando Bloom: dozens of pieces of diamond and gold jewelry, multiple designer handbags, high heels, bottles of perfume and an undisclosed number of laptops.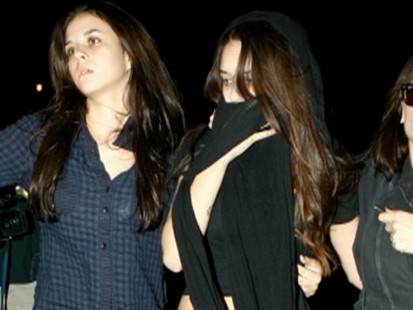 According to search warrants obtained by ABC News, police also seized seven containers with "green and brown mushroom caps and stems," multiple bottles of medication, including Lexapro, Clonazepem and Oxycodone, two pistols and a shotgun.
It is unclear from the search warrants whether the drugs and firearms came from the celebrities' apartments or the suspects' residences.
The five young women and a man were arrested nearly two weeks ago for allegedly lifting millions in cash, art and jewelry after they used the Internet to learn the layouts of the targeted homes, when the stars would be out at parties, and even what jewelry they would be wearing.
A major break in the thefts, which had been going on for months, came when a security camera at the home of MTV reality star Audrina Patridge captured clear images of the burglars in the act, police said.
Rachel Lee, 18, was arrested in Las Vegas, while Courtney Ames and Alexis Neiers, both 18, Diana Tamayo, 19, and Roy Lopez Jr., 27, were arrested in the Los Angeles area, police said. They were all arrested Oct. 22 and booked on charges of residential burglary, with bail set at $50,000 each, according to a statement from the Los Angeles Police Department.
Lee, Ames and Neiers have been released after posting the $50,000 bail.
Another man, Nicholas Prugo, 18, was charged Oct. 20 with two counts of residential burglary in connection with break-ins at the homes of Lohan and Patridge, ABC News' Los Angeles affiliate KABC-TV reported.
LAPD spokeswoman Rosario Herrera told The Associated Press that she didn't know whether the five suspects arrested Oct. 22 have any links to Prugo, who allegedly stole $170,000 worth of designer jewelry and clothes from Lohan and Patridge.
'Hollywood Hills Burglar Bunch' Allegedly Stole Millions from Stars
Investigators carrying out search warrants in the case recovered numerous items of property "stolen during a series of burglaries committed at the residences of well known celebrities," according to an LAPD statement released late last month.
Four of the suspects reportedly attended the Indian Hills High School for troubled teens in the wealthy Los Angeles suburb of Agora Hills.
Paris Hilton personally thanked the LAPD after the arrests for recovering much of the $2 million worth of jewelry that was stolen from her home in December.
Close to $500,000 worth of jewelry and cash was allegedly stolen from the home of "Pirates of the Carribean" star Orlando Bloom during a burglary in July.