Why JFK Refused to Let Sammy Davis Jr. Perform at White House
JFK refused to let Davis perform at White House after his interracial marriage.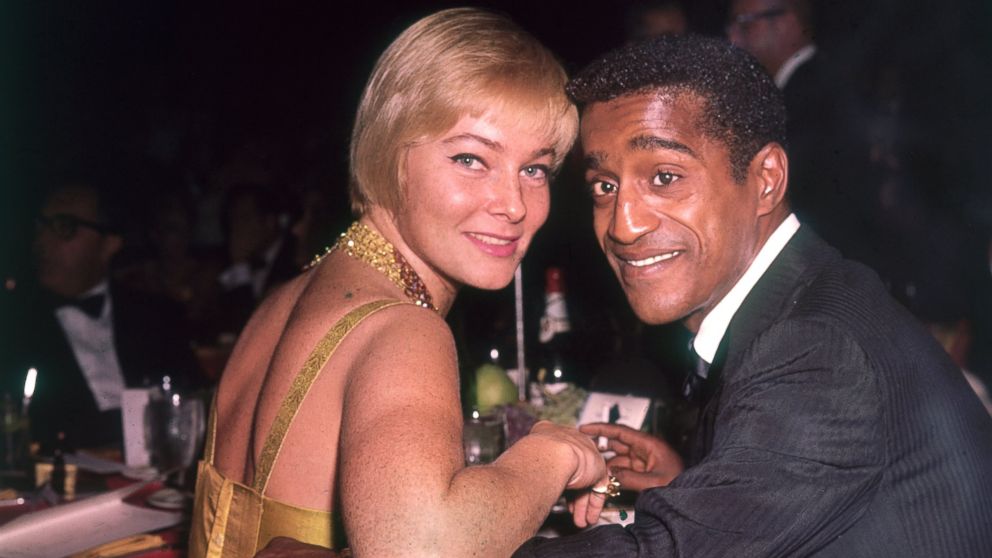 April 18, 2014— -- intro: Sammy Davis Jr. was at the height of his stardom in 1961 when he and close friend Frank Sinatra campaigned to elect President John F. Kennedy, but after Davis married Swedish actress May Britt, Kennedy refused to let him perform at his inauguration, Davis' daughter claims in a new book.
The entertainer's daughter with Britt, Tracey Davis, reveals the Kennedy snub and more in her new book, "Sammy Davis Jr.: A Personal History with My Father," based on conversations with her father in his final months before he died in 1990.
The book details how Davis overcame racism and bigotry to sing, dance and act his way to the top of a career that spanned six decades and included 40 albums, seven Broadway shows, 23 films and countless nightclub and concert performances.
Keep reading for more revelations from the book.
quicklist:title: Talent Shielded Davis from Bigotrytext: At the tender age of 3, Davis joined his father Sammy Davis, Sr., and Will Mastin to perform on the vaudeville stage as the Will Mastin Trio. His father put him in black face and claimed he was a 44-year-old dwarf known as Silent Sam, because it was illegal for performers under 16 to be on stage. Because of their skin color, they were forced to stay in colored boarding houses while on the road, but Davis' father told him they did that because other people were jealous of their act. "Somehow in my naive sheltered world, I believed it," Davis said in the book. "All I knew was when the Will Mastin Trio got onstage, people laughed, clapped, were entertained. Talent earned us respect." Added Davis, "Talent was my only weapon."
quicklist: title: How Davis Survived Racism in the Armytext: While in the Army, the 17-year-old, 5-foot-6, 120-pound entertainer was repeatedly beaten and humiliated by the white soldiers in his unit until a sergeant named Williams taught him how to use his talent and not his fists to fight racial ignorance. "Sergeant Williams was my savior," Davis said in the book. "I owe him my life. He tempered all the humiliation I felt from my unit. He distracted me from all my rage, all my anger. I wouldn't have survived the army without him." Davis' daughter writes that Williams taught the entertainer, who had never attended school, how to read and write.
"With all the racial tension I endured, I never turned around and hated right back," Davis said in the book. "There was always some white guy like Sergeant Williams or Frank Sinatra, who helped me back up."
quicklist:title: The Davis and Sinatra Friendshiptext: Davis and Sinatra became friends from the moment they met in 1941 at the Michigan Theatre in Detroit when the Will Mastin Trio stepped in as an opening act for the Tommy Dorsey Orchestra and Sinatra. The star's daughter wrote that the two bonded over a sandwich between shows. "Nobody but Frank Sinatra could have put Sammy Davis where he was," Davis said in the book. "Sinatra, first of all was never a racist kind of guy. He cared about everybody being equal. When Frank said, 'This guy's great," they all paid attention."
quicklist:title: Kennedy Snubs Davistext: But not even Sinatra's friendship could get Davis into Kennedy's inauguration. When Davis married the glamorous blonde Swedish actress, Britt, in 1960, it not only made headlines, it inspired death threats and demonstrations and forced Davis to hire 24-hour armed guards. Though Davis had campaigned tirelessly, alongside Sinatra, to get Kennedy elected, his daughter wrote that after his interracial marriage, which at the time was forbidden by law in 31 states, her father's name was dropped from the list of entertainers at the president's inaugural party hosted by Sinatra.
Britt and Davis would split seven years later. Though their daughter says she was the love of his life, Davis couldn't give up chasing stardom and was hardly ever home.
quicklist:title: How Davis Lost an Eye and Became a Jewtext: In 1953, Davis struck up a friendship with comedian and host Eddie Cantor, who gave him a mezuzah. But instead of putting it by his door, as a traditional blessing, Davis would wear it around his neck as a good luck charm. The only time he forgot it, one night in 1954, he crashed his car on a way to a gig in California. Davis' face hit the steering wheel, fracturing the bones in his face and leaving his left eye dangling from his socket. He was forced to get an artificial eye and learn how to find his balance on stage again. After much soul-searching about his life up to that point, he decided to convert to Judaism. Later he would joke about being the only "black, Puerto Rican, one-eyed Jewish entertainer" in the world.