— -- News broke today that Justin Bieber had been arrested late last week in Canada and charged with dangerous driving and assault.
Pictures and statements from Bieber's attorney, Brian H. Greenspan, show that the pop singer was once again with his on and off again flame Selena Gomez riding together on an all-terrain vehicle before the incident that resulted in his arrest.
Read: Justin Bieber Arrested for Dangerous Driving and Assault in Canada, Authorities Say
"Justin Bieber and Selena Gomez' peaceful retreat in Stratford this weekend was unfortunately disrupted by the unwelcome presence of the paparazzi. This has regrettably resulted in charges of dangerous driving and assault," Bieber's lawyer, Brian H. Greenspan, told ABC News.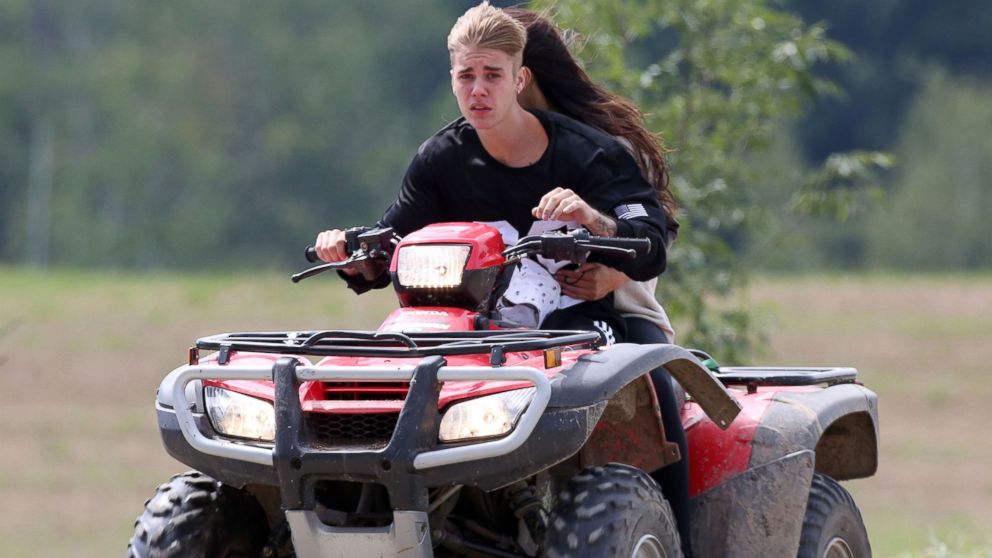 The question most fans and those who have followed the couple's up and down relationship since it began in late 2010 is "Are they back on?"
Well a week ago, Bieber posted a photo to Instagram with Gomez and even today, Bieber posted a picture, which he took down, that had him lifting a girl in the air, who looks like his former flame and captioned it "A rainy dream."
A request for comment from both Gomez's and Bieber's rep was not immediately returned to ABC.
If the duo are back together, this would mark the latest time the two have rekindled a romance that first ended two years after they started dating in November 2012. Since then, it's been a rocky road to say the least. Here's a look back at the times they have called it quits and then gotten back together.
November, 2012 - First Split
Reports broke that the couple had split because they were apart too much and the distance really got in the way.
"It's not easy, but the relationship needed to end" a source told People magazine.
December 2012 - Back On
Almost as quickly as the two split, they got right back together as Huffington Post and other outlets posted pictures of the two together and reports of them dining out in Beverly Hills and even holding hands.
January 2013 - Bieber Addresses Another Split
While on the cover of the February Billboard magazine, Bieber tweeted the cover and said "tried to be honest." In the interview, he said about the split, "I'm not in the happiest place that I've ever been. I'm trying to get through what I'm going through. Like I said, I have my really close friends to cheer me up and keep me going."
He continued, "There's so many rumors. People say I call Selena every day and she won't pick up the phone or I'm chasing her down, and these are all fake stories."
March 2013 - Gomez Talks Split
While on the "Late Show with David Letterman," Gomez told the host she made Bieber cry.
"The last time he was on, he and I got into a conversation and he said something and then I said something and then he said something and then I said something and I made him cry," Letterman said.
Gomez burst out laughing before quipping, "Well then that makes two of us." She added that she was single.
April 2013 - Back On Again?
On April 24, 2013, Bieber posted a topless photo of himself apparently back together with Gomez, her arms wrapped around him. The retro black-and-white pic shows Bieber hard at work on his computer, with Gomez giving a funny look at the camera. MTV screen shot the pic.
"You've been makin music for too long babe come cuddle," Bieber captioned the clip.
July 2013 - #Heartbreaker
Bieber posted yet another photo with Gomez and captioned the pic, "#heartbreaker." Fans were elated that it seemed the two were back together yet again.
January 2014 - Questionable
Earlier in the month, Bieber posted a loving pic with Gomez captioned, "Love the way you look at me."
But when he was arrested for an alleged DUI on Jan. 23, the singer was riding in a car with a model he had been spending time with. A few weeks earlier, Bieber was also filmed while sleeping in a random girl's hotel room. There was no confirmation that the two were anything other than friends.
March 2014 - "Look Like Boyfriend and Girlfriend"
"Most elegant princess in the world," Bieber captioned a picture of Gomez at the Vanity Fair Oscar party.
Also while in town for South by Southwest later that month, Gomez and Bieber began a weekend together with a private breakfast/lunch together at Don Pepe's McAllen Mexican restaurant in Texas. Don Pepe's manager Raul Mares said, "They look like boyfriend and girlfriend."
They also spent hours later at Action Dance Studio in McAllen, and Bieber posted a sexy video of the two dancing, before taking it down.
May - July 2014 - Single and Ready to Mingle
During the summer, Bieber wasn't seen with Gomez for months and had been flirting with various models and celebrities via social media. One Instagram post was sent to a beautiful girl in a dark gown, captioned, "I see you In that Dolce Dress. Glad u had fun. :)"
He also posted a picture with another gorgeous model, captioned, "Dinner for 2 ;)"
August 2014 - Will It Last?
Just last week, Bieber posted a picture hanging with Gomez. And now the two were spending time together in his native Canada. If they are back together, will it last for a while?