— -- Two retired women who took it upon themselves to investigate the unsolved slaying of their former high school teacher, Sister Catherine Cesnik, are hoping a new Netflix documentary about the nearly 50-year-old case brings some kind of resolution.
"The Keepers" tells the story of those who said they survived sexual abuse at the hands of a priest who was the school chaplain, and the belief among many that Cesnik was killed because she was about to expose the alleged abuse.
Gemma Hoskins and Abbie Schaub, who were students at the old Baltimore city school when Cesnik died, appear in the Netflix original. In an interview last week with ABC News, the women shared how they came to be involved with the true crime series, which premiered May 19.
"...They want to hear what (we) have to say."
"For me, I've had a lot of ups and downs in my life, and I feel like this was actually the reason why I was put here [on Earth]," Hoskins told ABC News. "The series is released, everybody knows who I am in the whole world; they want to hear what [we] have to say."
A secret exposed
While Cesnik, a Roman Catholic nun, was teaching at Archbishop Keough High School in the late-1960s, two of her colleagues – the Rev. Joseph Maskell and another priest, a teacher -- were allegedly sexually abusing girls at the school and trafficking them to strangers for sex.
Maskell denied all the allegations before his death. The other priest, the Rev. Neil Magnus, died before facing any public allegations.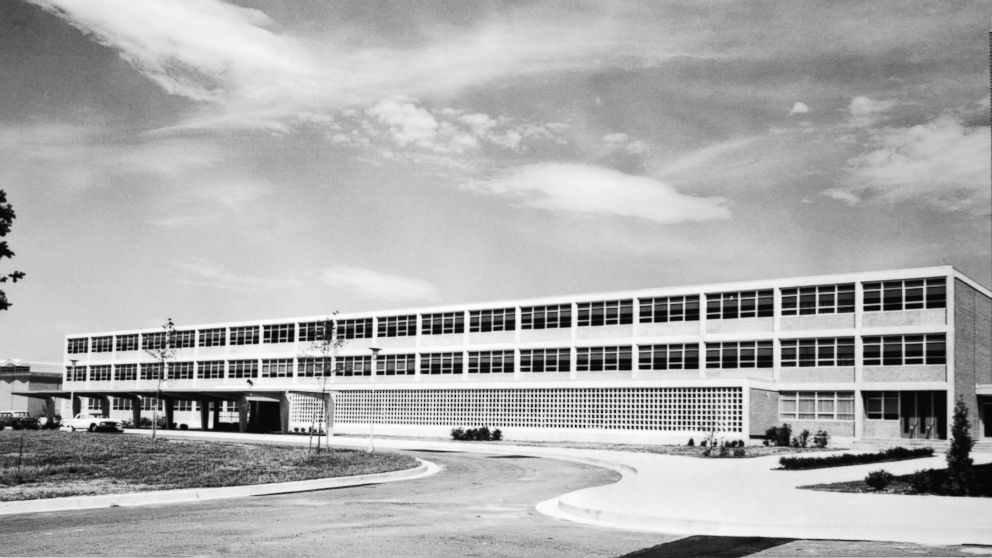 Two other former students -- Jean Wehner and Teresa Lancaster -- were students at Keough at the time and alleged years later that Maskell had sexually abused them. The women filed a $40 million civil lawsuit against Maskell in the mid-1990s, which was dismissed under the statute of limitations.
Wehner and Lancaster also appear in "The Keepers." Wehner, the first to come forward to Baltimore City police in 1992 with allegations of sexual assault, also alleged in the same year that Maskell showed her Cesnik's body in the woods before it was discovered. No one has been charged for the alleged abuse or for the killing of Cesnik.
"She put her life down for her girls."
Police first questioned Maskell in 1994 in connection to the then-25-year-old killing because of Wehner's allegation that he had showed her Cesnik's body. But detectives noted inconsistencies in Wehner's account and police had no reason to question Maskell further after that interview, according to a police timeline on Cesnik's case.
During one of her interviews in "The Keepers," Wehner said that, as a teen, she confided in her teacher, Cesnik, about her being allegedly abused by Maskell.
Hoskins said it wasn't until the 1990s that she became aware of the rumors that someone had killed Cesnik because she may have threatened to expose the alleged abuse.
"The faculty and the students just kept their mouths shut; who wanted to be next?" Hoskins continued, adding that she knows of three students who say they complained to Cesnik as early of 1968.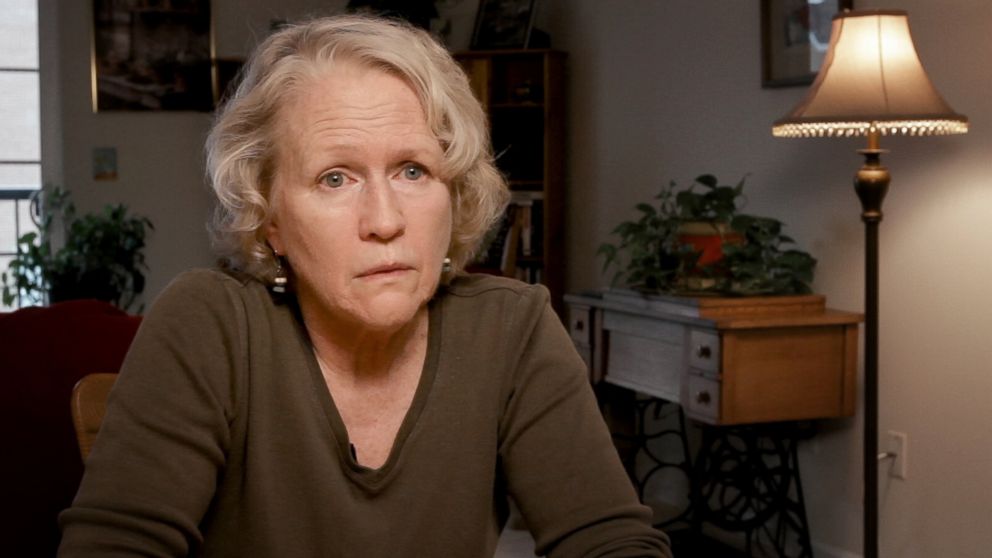 "They went and confided in her and told her what was happening to them. Knowing [Cesnik], I would put my money that she would try and do something about it. She made the ultimate sacrifice. She put her life down for her girls."
A beloved teacher is slain
Neither Hoskins nor Schaub knew of the alleged abuse when they were students at Keough, only becoming aware of it after Wehner and Lancaster, who were originally not identified by name, made their allegations.
Hoskins and Schaub were English and drama students of Cesnik's, who was 26 at the time of her death. An autopsy attributed her death to a skull fracture caused by a blow to her left temple with a blunt instrument.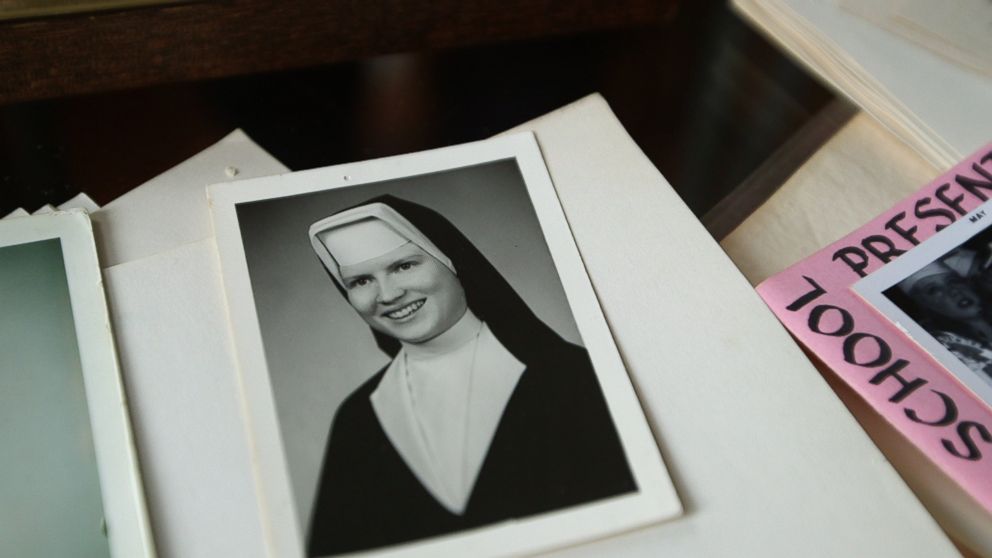 Cesnik was reported missing Nov. 7, 1969, after leaving her apartment in the city. Her decomposed body was found at a dumping area in Baltimore County two months later.
Cesnik's death brought both grief and fear to her students and religious community, Schaub and Hoskins said.
"Most of the nuns in that building were old; some were kind of scary. But not Cathy," Hoskins recalled. "She was a breath of fresh air in that school. She walked in the classroom and I was just blown away. I was fascinated with her teaching. She had really high standards and would make us work hard. But we'd say, 'Make us work harder because we love you.' It was just enchanting to be in her presence. We couldn't get enough."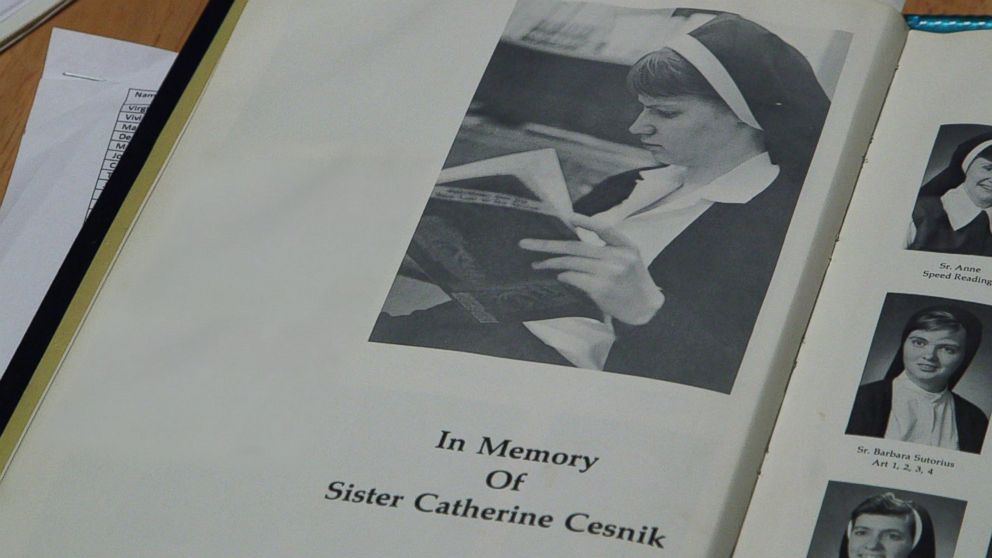 Schaub said the young nun, "was just one of the charismatic sort of people that you run across every now and then. She was bright, engaged with life, enthusiastic, young. Just a pleasant to be around."
A cold case brought back to life
Schaub and Hoskins graduated and went their separate ways. Hoskins became a teacher and Schaub went into nursing.
Schaub said it was a 2005 article published in the Baltimore City Paper titled, "Who Killed Sister Cathy?" written by Tom Nugent, that brought the case "back to life" for her and Hoskins.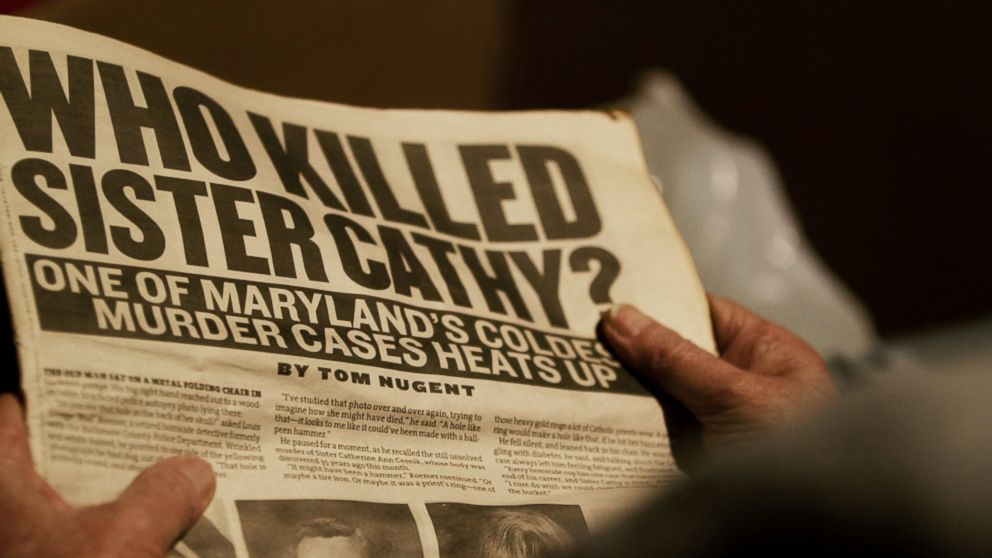 But it wasn't until 2013 when, Hoskins said, she was contacted by Nugent, who asked whether she would put a note on Keough's alumni page asking whether former students had information on any abuse. Hoskins said many other women came forward with allegations of abuse, and that she and Schaub were "dumbfounded" by the responses.
""We never suspected anything, never."
"We never suspected anything, never," Hoskins added. "Four of the women who I know of as survivors, they were my classmates, they were my friends."
Hoskins, 64, and Schaub, 65, soon helped create both private and public online communities where alumni and alleged victims were encouraged to share their experiences. After hearing rumors that Maskell could have possibly been involved in Cesnik's killing, Hoskins and Schaub developed the Facebook page, Justice for Catherine Cesnik and Joyce Malecki.
Malecki was a 20-year-old Baltimore resident whose body was found days after Cesnik was reported missing. It is unknown whether Malecki's killing was related to Cesnik's.
Hoskins said they naturally fell into the roles of investigators in trying to find out what happened to Cesnik.
In November 2014, Hoskins said she received a call from film producer Jessica Lawson Hargrave, who approached her about a documentary on Cesnik that would be directed by Ryan White. That documentary would be titled "The Keepers."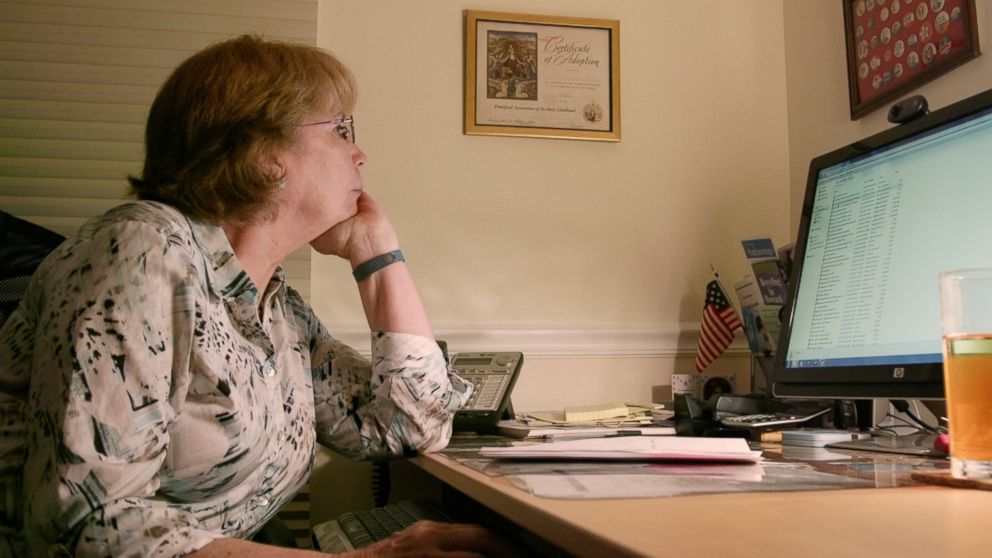 "A few weeks later I met them in Lansdowne [Baltimore County] and [alleged victim] Teresa Lancaster came with us and I spent the day showing them where everything happened: Keough, St. Clement's rectory [where Maskell lived], Cathy's apartment and where her body was found," Hoskins said.
Since "The Keepers" became available last month to Netflix members worldwide, Hoskins said it brought the case back into the spotlight.
"The release of the series meant that many more Maskell survivors have come forward," Hoskins said of the allegations. "That's a double-edge sword. They are coming forward and sharing their story. At the same time, it's horrifying that there are so many more now."
The church reacts
In response to "The Keepers," the Archdiocese of Baltimore added a frequently asked questions page to its website, where it states that there is no report by Cesnik to the archdiocese about allegations of abuse by Maskell. The page also says that the archdiocese did not know of sexual abuse allegations against Maskell prior to 1992, something "The Keepers" challenges in the series.
The archdiocese also has a section titled, "About Joseph Maskell," offering information and a brief timeline on where the priest served until 1994.
The church removed him from the ministry that year after the second alleged victim, later revealed to be Lancaster, came forward to accuse the priest of abusing her when she was a student in the late-'60s and early-'70s, Sean Caine, a spokesman for the Archdiocese of Baltimore, told ABC News.
The archdiocese said it learned in 1996 that Maskell was living in Ireland.
"[Maskell was removed] because the Archdiocese of Baltimore has a policy and practice for zero tolerance when it comes to anyone who is credibly accused of abusing a minor," Caine said.
Caine added that the archdiocese attempted on two occasions to reach Maskell in Ireland after learning from a bishop there that he was seeking employment. Caine said the archdiocese unsuccessfully tried to persuade Maskell to return to Baltimore so it could attempt to restrict his access to minors.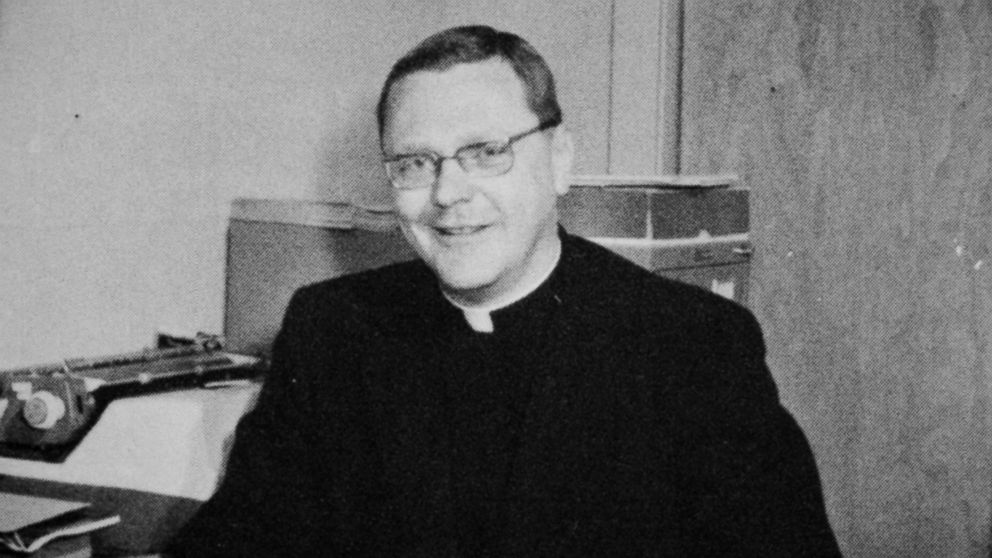 As for "The Keepers," Caine said the archdiocese feels the series is "fairly misleading" in suggesting that the archdiocese knew of abuse allegations well before 1992. "The Keepers" challenges the archdiocese's claim that 1992 was the first time it had heard of abuse by profiling accuser Charles Franz, who said he was abused by Maskell in 1967 and it was reported by his mother, which the church denied.
"[T]here was no contact with anyone who was connected to abuse by Maskell before 1992 when Jean Wehner came to us," he added. "We wouldn't want anyone to misunderstand us not believing or supporting the victims because we certainly do, nor would we want anyone to think that we are defending the actions of Joseph Maskell.
"While we feel the need to defend ourselves against the suggestion [in 'The Keepers'] that there was some kind of cover up, we also in the same breath have to accept that a priest of our archdiocese abused a lot of kids and that's a sad, and painful truth and one that we've long tried to apologize for and will continue to."
Caine continued, "We certainly supported the overall aim of ['The Keepers'], which was to call the public attention to the murder of Sister Cathy Cesnik and to shine a light on a dark period in the Catholic Church."
A mystery remains
Meanwhile, the Baltimore County Police Department told ABC News that the Sister Catherine Cesnik case continues to be one of their most active cold homicide cases.
"The case remains open and active; detectives assigned to the case continue to review the file, interview witnesses and pursue leads," a spokeswoman wrote in an email. "We have received a number of calls since the documentary aired, but so far they have not led to any break in the case."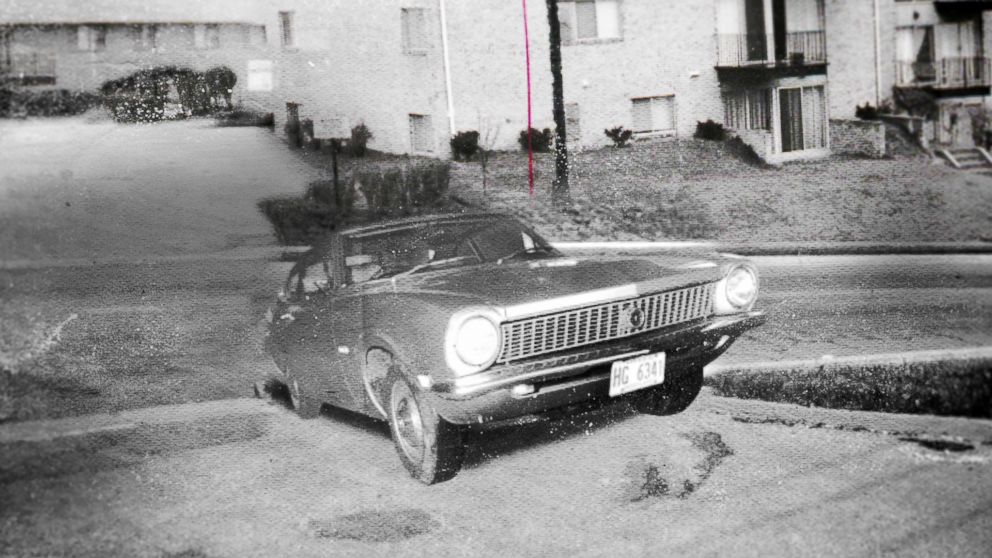 On its website, the department offers a timeline of Cesnik's death and the case involving allegations against Maskell, who died in 2001.
In February of this year, three months before "The Keepers" aired, Maskell's body was exhumed from a cemetery to obtain DNA. The sample taken from Maskell's body did not match DNA from the scene where Cesnik's body was found, according to the police department's news release.
"I'm not going to sit down, shut up and go away."
Schaub said of Maskell, "I think that he left nothing but pain behind him and I think it's best that he not be able to do that anymore."
"I'm very pleased with the attention the topic is getting nationally and internationally and people are talking about the issues of hidden abuse of children and that makes me feel like maybe all this was worthwhile," she added. "We got into this to figure out who hurt Cathy and it got turned around as it went on. The abuse, the issues of clergy, I'm very pleased to see this addressed."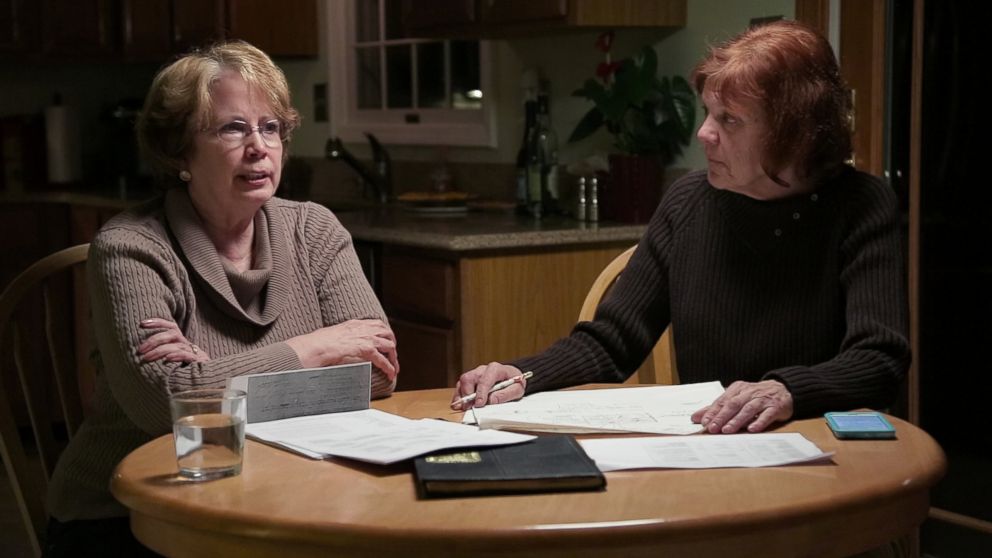 Hoskins agreed that "The Keepers" shined a light on Cesnik's killing, as well as testimonies from victims of the alleged abuse.
"It took a horrific and salacious time and events and presented it with dignity and integrity and everybody involved in it feel the same way," she said.
"My other goal is to push for priests to be mandatory reporters of abuse. Everybody in the world now believes them and I don't know what the result of this is going to be, but I'm not going away. I'm not going to sit down, shut up and go away."