— -- Grammy winners, country music Hall of Famers, actors, singers and songwriters and the mayor gathered on Monday at the Ascend Amphitheater in Nashville to memorialize the dozens of people who lost their lives less than 24 hours earlier at a country music concert in Las Vegas.
"This is the kind of city that will wrap its arms around you, and that is exactly what we're here to do tonight," the evening's master of ceremonies, actor Charles Esten, said as he began.
The Grand Ole Opry's general manager, Sally Williams, hinted at the grief artists like Las Vegas performers Jason Aldean, Jake Owen and Chris Young will be bringing with them when they return home from the Route 91 Harvest Festival.
"Over the next couple of days, Nashvillians who were on site last night will be returning home," she said. "It will be our responsibility to reach out and hold them up, as they process what happened. Embrace them, listen to them and love them."
On Sunday night, alleged shooter Stephen Paddock fired into the festival crowd from his hotel room on the 32nd floor of the Mandalay Bay Resort and Casino, killing 59 people and wounding more than 500. Police said Monday night that 23 guns were found in Paddock's hotel room and 19 were discovered in his Mesquite, Nevada home. Multiple loaded high-capacity magazines were also found in the hotel room, law enforcement sources said earlier on Monday.
"Thank you for the opportunity to come and lift up 58 families who lost somebody last night," said Vince Gill, referring the number of deaths at the time, before singing his classic, "Go Rest High on That Mountain."
"Honored to be here as a voice for the innocent," he added. "May we never lose our voice ... may we never lose our voice for innocent people."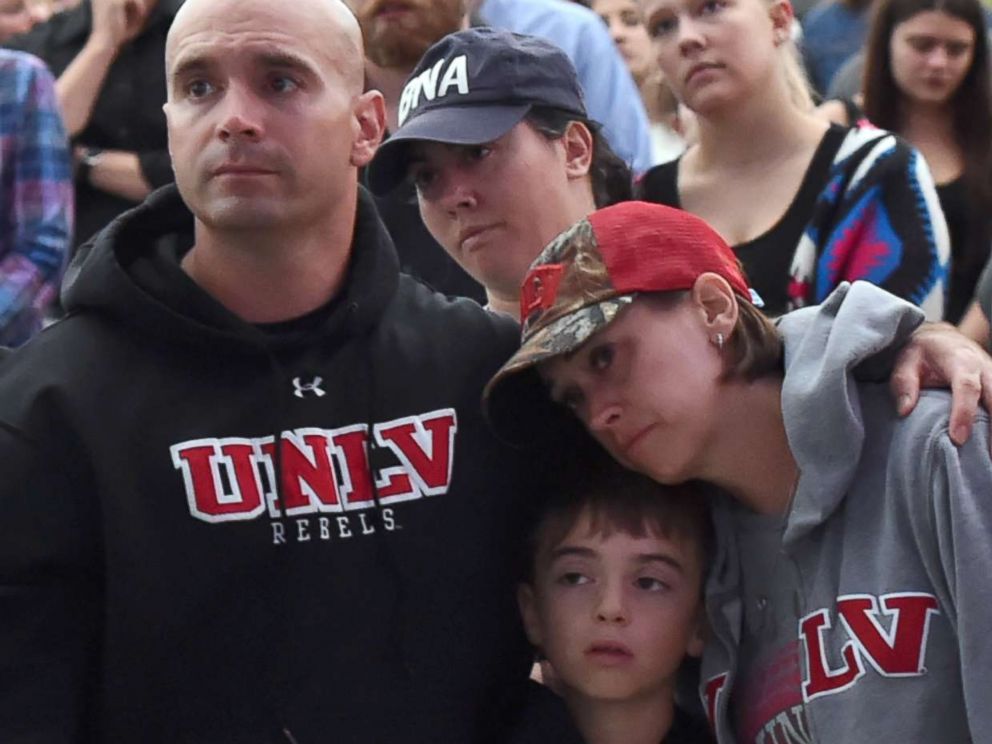 After Gill's song, his wife Amy Grant joined him onstage, urging the crowd to lean over and touch the person beside them, before leading a prayer.
Nashville Mayor Meghan Barry expressed her sadness that this was the second Monday in a row when she'd led a vigil after a mass shooting. Last week's vigil followed violence at a local church that killed one and injured seven.
"Death visited two places where people were simply doing the things that give life meaning and give life joy," she observed.
Australian superstar Keith Urban led into an emotional version of Simon and Garfunkel's "Bridge over Troubled Water" with a very personal story.
"Our 9-year-old, as I was driving her to school this morning, said to me, 'Dad, you seem quiet," Urban said, referring to Sunday Rose, his oldest child with actress Nicole Kidman. "I said, 'Yeah, really there was a lot of people killed last night.' And she said, 'Did you know any of them?' And I said, 'Not that I know of.' And then she said, 'Well then why are you so sad?' I said, 'Well, first of all, these were innocent people, horrifically taken."
He went on to express why an unfathomable tragedy like this hits the country music community especially hard.
"They're like family," Urban said of the fans who lost their lives at the outdoor concert. "It's the one thing about country music that's always been at the center of it, in that it is community. It's about community. And so I did know those people, in that way, and it just really hit me."
Grammy winners Alison Krauss and The Cox Family closed the Nashville Vigil for Las Vegas, offering rarely sung verses of the classic hymn "Amazing Grace."