Kim Kardashian West says she wasn't concerned about her "reputation" when she decided to work with President Donald Trump on criminal justice reform because her "issues have always been more about the people."
The reality show star-turned-activist shared her thoughts about criticism she has received — and might continue to receive — on "The View" on Friday for working with Trump to free Alice Marie Johnson from prison and promoting bipartisanship with him on prison reform.
Johnson is a 63-year-old grandmother who was serving a life sentence plus 25 years for a nonviolent drug trafficking case when Kardashian met with the president about her in May 2018. One week later, Trump commuted Johnson's sentence.
"I definitely was aware [of the potential criticism], but for me, any of my issues have always been more about the people and not about the politics," Kardashian said, responding to a question from co-host Meghan McCain on "The View."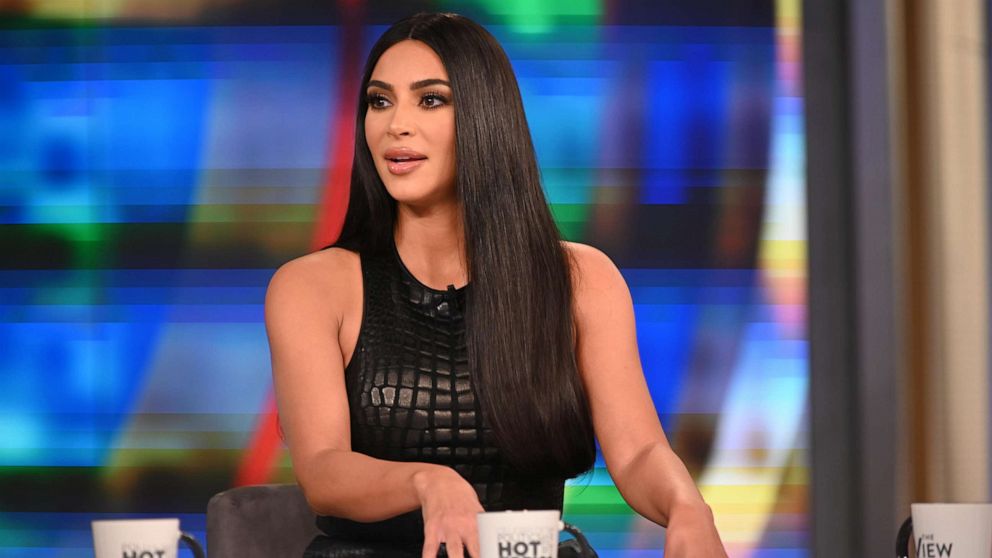 "For me to think that I couldn't go and speak to the man that has the power to change people's lives because of some opinions I may have of certain policies and issues to me felt very self-centered that I was more worried about my reputation than saving someone's life," Kardashian added. "I put that all out the door and I thought, 'You know what? I'm going to choose [Alice Marie Johnson] over my reputation.'"
Though Johnson remains a convict, she is no longer serving her life sentence and is now modeling for Kardashian's new shapewear line, SKIMS.
Kardashian told "The View" co-hosts that she felt like she "had an open opportunity" to help others.
"From the president going from being really harsh on his stance on prison reform to changing and actually signing the First Step Act and getting that bill passed was amazing."
The First Step Act, which was passed last year, stands for "Formerly Incarcerated Reenter Society Transformed Safely Transitioning Every Person" and it aims to provide prisoners who exhibit good conduct with a shortened sentence as well as programs to reduce recidivism.
Instead of attending New York Fashion Week parties, Kardashian elected to stay in and continue her legal studies as she preps to take the bar exam in 2024, she told "The View" co-hosts. Democratic prison reform advocate, attorney, and co-founder of #cut50 Van Jones sponsors Kardashian's participation in Reading law, which is a method that allows one to take the state bar exam as an alternative to law school after studying law under a judge or practicing attorney. California, Vermont, Virginia and Washington are currently the only four states that permit this alternative method to obtaining a law degree.
"We meet 18 hours a week in the offices and I have to study [for] tests every month, and it's like there's no way around it," Kardashian told "The View." "I have to take the bar. It's not the easy way out because you can do it that way. If anything, you'll save a lot of student loans, so I recommend people do it this way if they want."
Sunny Hostin, co-host of "The View" and a senior legal correspondent and analyst for ABC News, apologized to Kardashian for previously being critical of the process by which she chose to enter the legal profession.
"I've looked into it, and with the crushing student debt, I think it opens up an avenue to so many people," Hostin told Kardashian. "My kudos to you for doing the work that it takes, because I've spoken to Van about it as well, and I'm really happy for you because you're doing the work and prison reform is really important."
Proud of her accomplishments, Kardashian told "The View" about how impressed her teachers have been with her progress after taking her monthly exams.
"They'll look at me after and say, 'If you weren't sitting right here in front of my face I would totally think that you were cheating, because I've never seen someone get so high on these tests,'" Kardashian said.
"It inspires me. I was not a college person. I did not like school. I love this. I'm obsessed," Kardashian continued. "Everyone's partying [for] Fashion Week, going to every amazing party and I'm sitting home in my room...studying and reading and preparing for this big contract test I have, and I love it. I have no FOMO of not being out at these parties."
Kardashian's newest clothing line, SKIMS, received criticism for its original name, "Kimono," which some accused of appropriating Japanese culture. After renaming the line, Kardashian ultimately decided to cover the old name on her shapewear with a fabric label in an effort to not waste the fabric and material.
Kardashian said on "The View" that she "always loved and respected Japanese culture," and "changed the name right away."
Every episode of ABC's award-winning talk show "The View" is now available as a podcast! Listen and subscribe for free on Apple Podcasts, Google Podcasts, TuneIn, Spotify, Stitcher or the ABC News app.