7 Lesser Known Hollywood Siblings
Aniston's half-brother AJ and other lesser-known Hollywood siblings.
September 20, 2013, 2:03 AM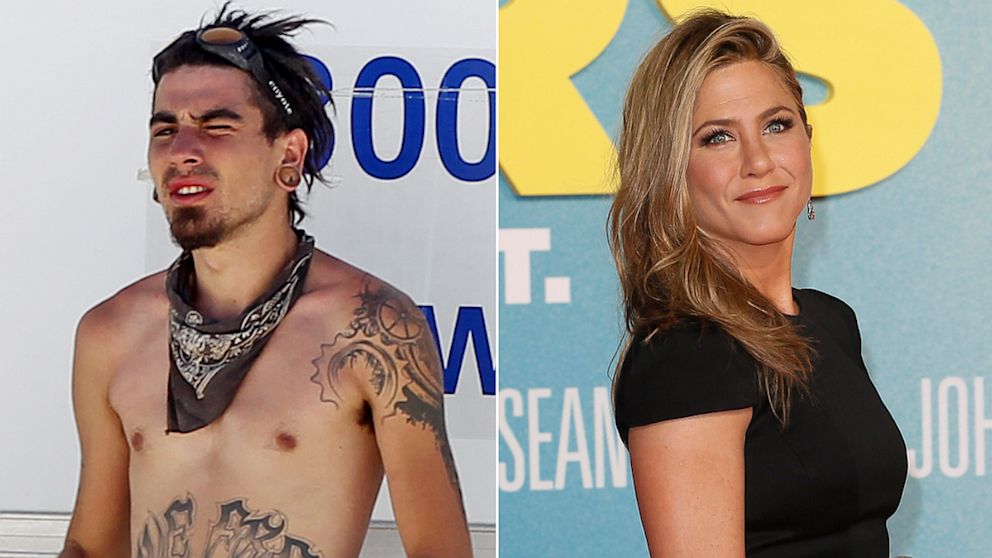 Sept. 20, 2013— -- intro: If you had no idea Jennifer Aniston has a half brother, you are not alone.
Alex John Aniston hasn't been photographed publicly since he was a clean-cut 14-year-old at the 2004 Hollywood premiere of his celebrity sister's film "Along Came Polly."
When cameras caught up with him nine years later at the anything-goes Burning Man festival in the Nevada desert, AJ -- as he is known -- looked the polar opposite of his polished older sister. The 24-year-old son of Aniston's father, "Days of Our Lives" star John Aniston, and his second wife, actress Sherry Rooney, was punked out with a mohawk hairstyle, tattoo-covered body and Mad Max-inspired outfit.
Asked for a comment about his sister, AJ told the U.K.'s Daily Mail, "It's been happening since middle school [people asking about Jennifer]. It's been a pain in my ass for years. No comment."
For her part, Jennifer Aniston has said nothing about her younger brother, who described himself to the Daily Mail as a "travelling artist," and has never appeared in public with him.
Not every star keeps their siblings under wraps. Click through to see if you recognize these lesser-known siblings of Hollywood celebrities.
quicklist:title: Doug Pitttext: Brad Pitt's look-alike younger brother Doug Pitt stepped out of his famous brother's shadow last year when he appeared in a viral video for Virgin Mobile in which he spoofed his ordinary Joe life in Missouri by taking viewers on a tour of his home. "This is Doug Pitt," the video begins. "The second-most-famous Pitt in his family." The brothers first stunned fans with their uncanny likeness in 2004 at the premiere of "Ocean's Twelve." The younger Pitt is the owner of ServiceWorld Computer Center in Springfield, Mo., where he lives with his family.media: 20308822
quicklist:title: Aimee Osbournetext: Jack and Kelly Osbourne's older sister Aimee may not be as well known as her famous younger siblings after declining to participate in the family's MTV reality show. But, the aspiring singer and actress has no regrets. "I'm not some weirdo depressed daughter that's afraid of the world and locks herself in her room all day. I just didn't choose to do the show," she once told MTV. "I want to be a singer, and I felt if I'd stayed with the Osbournes and done the whole thing I would have been typecast right away. [Mum] was hurt and we definitely had a tough time with disagreements. I'm more reserved and my private life is very important."media: 20308264
quicklist: title: Charlie Murphytext: Eddie Murphy isn't the only funny one in his family. His older brother Charlie Murphy, 54, is also a comedian and actor, best known as a cast member on "Chappelle's Show." He collaborated with his famous brother on the screenplays for "Norbit" and "Vampire in Brooklyn" and starred alongside him in "Harlem Nights." Today, Charlie, who shares more than a passing resemblance to Eddie, 52, still appears on television and in comedy clubs.media: 20308176
quicklist: title: Elizabeth Olsentext: No, Olsens are really triplets. But Elizabeth Olsen, the younger sister of the famous Olsen twins, Mary-Kate and Ashley, is quickly making a name for herself. Now 24, the New York University graduate exploded onto the big screen with her 2011 debut "Martha Marcy May Marlene." She has since starred in "Silent House" and "Liberal Arts" and is starring in four films this year.media: 20308381
quicklist:title: Antonia Kidmantext: Nicole Kidman's look-alike younger sister Antonia Kidman is no stranger to the screen. While Nicole is an Oscar-winning actress on the big screen, Antonia is a well-known TV presenter and newscaster in their native Australia. The 43-year-old is also the mother of six children and often writes about her family life.media: 20309385
quicklist:title: Jake Paltrowtext: He may be the lesser-known sibling, but Gwyneth Paltrow's younger brother Jake Paltrow, 37, is also in show business, though he sticks to being behind the camera. Like his father, Bruce Paltrow, Jake is a director, having mostly directed episodes of "NYPD Blue" and a 2006 indie film called "The Good Night," which starred his big sis.media: 20308524