Sometimes real-life headlines are too good to be true.
At least that's what Lifetime thinks.
"Who Is Clark Rockefeller?," which aired this weekend, is the story of a man who conned his wife and everyone around him. The made-for-TV movie stars Eric McCormack, formerly of "Will & Grace," and is the most recent original movie to be based on real-life events.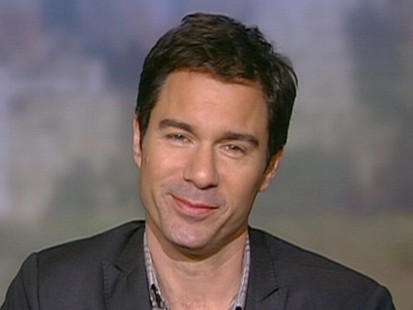 Later this month, Lifetime will show "Amish Grace," based on the schoolhouse slaughter in a Pennsylvania Amish town in 2006.
While Lifetime has always used reality as fodder for its original movies, recently the number of "based on a true story" movies has grown. And viewers have responded, making Lifetime movies a multimillion-dollar industry and Lifetime and the Lifetime Movie Network the No. 1 and No. 2 women's networks, respectively.
Tanya Lopez, Lifetime Network's senior vice president of original movies, strongly believes that their formula of turning real-life events into movies is working.
"I think that real-life events make great movies in general," Lopez said. "You can look at the [theatrical] movies that did well this season. Take the 'Blind Side' as an example. Audiences love movies based on real-life events and women love them too, and they have since the inception of the TV movie."
Lopez's department hears between 400 and 500 movie pitches a month. But why are people so interested in these "based on a true story" films?
"I think people are drawn to these movies because they are drawn to the idea that they can watch the train wreck of somebody else's life," Lopez said, "or because they are going to be inspired by somebody else's story and then say I can take that into my life and inspire myself."
Below are the two newest Lifetime movies:
Clark Rockefeller was widely seen as the longest running con in FBI history. He had five known aliases and impersonated a Pentagon adviser, talk-show host and heir to the Rockefeller family.
In Lifetime's newest adaptation, Eric McCormack plays Clark Rockefeller whose real name is Christian Karl Gerhartsreiter. McCormick said he chose the role because of the story's subject matter.
"The character was fantastic," McCormack said. "He almost seemed fictional, and as it turns out, he was."
The movie focuses on Rockefeller's life with wife Sandra Boss, played by "ER's" Sherry Stringfield. Rockefeller first meets Boss, a Harvard graduate, millionaire and partner at management consulting firm McKinsey & Co, after moving to Boston and embedding himself in the city's high society. The couple soon marries and has a daughter, Reigh.
Boss stayed under the spell of Rockefeller for 12 years before becoming suspicious. When Rockefeller couldn't provide identification as to who he said he was, Boss started divorce proceedings. Despite the settlement agreement, which gave Boss full child custody, Rockefeller kidnapped his daughter and went on the run for a week before he was arrested by the FBI Aug. 2, 2008.