— -- Disney's newest animated feature film, "Moana," features highly anticipated original music from "Hamilton"'s Lin-Manuel Miranda.
As a self-proclaimed Disney aficionado, Miranda said that writing music for a Disney score was a dream come true.
"I must've seen that thing three times in the theaters. I remember calling in sick from school on the day it came out on VHS -- so that I could be the first to get it. So, yeah, that was a life-changer, 'Little Mermaid,'" Miranda told "Good Morning America"'s Lara Spencer.
It was the calypso rhythm from "Under the Sea" in "The Little Mermaid" that really inspired him to start writing music.
"I just remember when that song started, like, this feeling of almost vertigo," he said. "That was like the most contemporary thing I'd ever heard in a Disney score. I just couldn't believe what was happening. And it just made the bottom of the ocean feel like the coolest place on earth."
Fast forward to the present, Miranda worked with co-directors Ron Clements and John Musker, the duo behind Disney classics "Aladdin," "Hercules" and none other than "The Little Mermaid."
"When I interviewed for the job, I started with, 'You guys are the reason I'm sitting here,'" Miranda explained. "Ron and John -- I love that their names rhyme -- are responsible for some of our childhood memories."
Miranda worked with his co-writers Opetaia Tavita Foa'I and Mark Mancina to create Polynesian-influenced music featured throughout the film.
"The thing that the directors really imparted to me was this is a part of the world that almost never gets represented onscreen, the Pacific Islands, so we want to honor them. We want to make a movie they can be proud of and that they can point to with pride," Miranda said. "And so it was always sort of going back to that, and there is a story trust of people from the Pacific Islands we'd show every screening and play every song for to really make sure we got it right, that we weren't, like, 'OK, here's some stuff from this culture, and here's a movie,' but really making sure the themes of the movie resonated -- with that part of the world."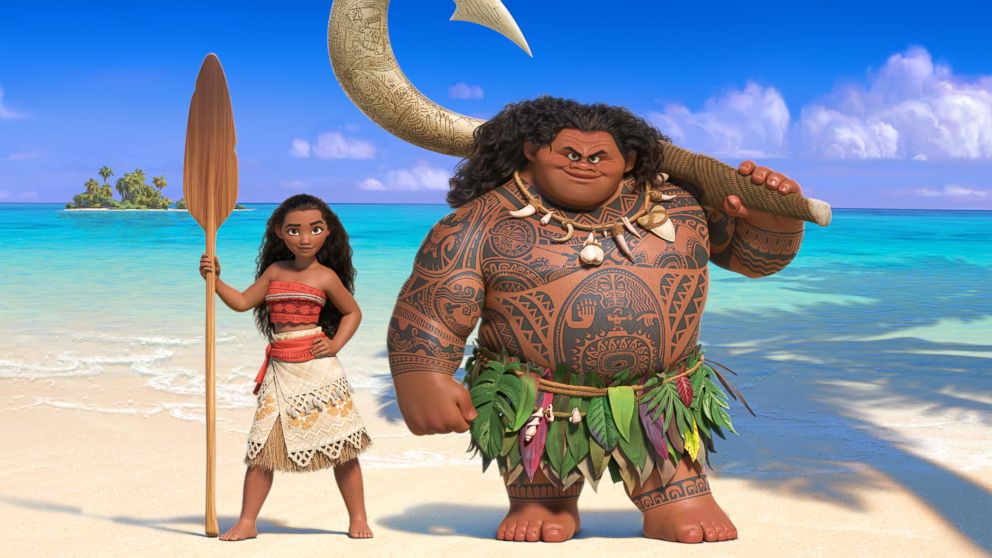 The award-winning composer, lyricist and performer found out he got the "Moana" job on the same day he found out he and his wife, Vanessa, were expecting a child.
"It was, like, a life-changing week," Miranda said.
Lin's son, Sebastian, turned 2 on Nov. 10. Throughout the composing process, Sebastian has been by his dad's side.
"He's seen me working to rough demos of the animation, and he calls it "agua," Lin explained. "So, he's like, 'Dada, agua.' He points at my computer. He wants to watch agua."
"That'll be the first time I take him to a theater," Miranda added.
The movie is now in theaters.
Disney is the parent company of ABC News.