Dan Brown fans don't know much about his long-awaited new novel "The Lost Symbol," other than they can't wait to get their hands on it.
Today the book will finally be available in stores and as e-books online. Details about the novel by the author of the blockbuster "The Da Vinci Code" have been spare since April when The Knopf Doubleday Group, a division of Random House, Inc., announced its release.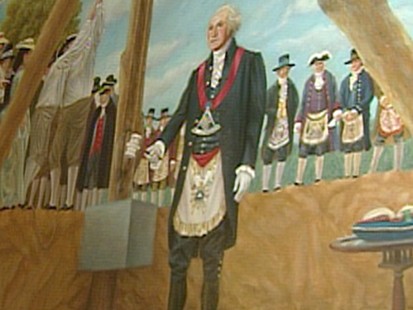 In an interview this morning on NBC's "Today Show," Brown told Matt Lauer that "The Da Vinci Code" is a tough act to follow.
"There's plenty of pressure," Brown said. "You're following up 'The Da Vinci Code.' You want to make sure you hit it out of the park."
The book, which took six years to complete, took Brown to Washington D.C., often undercover, to do research.
"I've gone to D.C. many times and taken tours, just regular tours, with a baseball cap on and just let that sort of be my first experience," Brown said. "And, then, I may decide, you know, I can set a scene here."
Brown said he does his best work at 4 a.m. and if he's suffering from writer's block, will put on gravity boots like Richard Gere wore in the movie "Gigilo" and hang upside down.
"The boots are a trick because not only do they increase circulation in your head, but you think differently upside down," he said.
And up until yesterday, when reviews of the strictly-embargoed book appeared in The New York Times and The Los Angeles Times, the veil of secrecy cast on "The Lost Symbol" appeared airtight, because it seemed impossible to get anywhere near the estimated five million copies that have been printed so far.
Book dealers worldwide have been protecting the novel with high-level security last seen during the release of the latest Harry Potter installment.
Amazon's chief executive, Jeffrey P. Bezos, wrote in a letter to customers that the yet-to-be-released books were being kept under "24-hour guard in its own chain-link enclosure, with two locks requiring two separate people for entry."
Patricia Bostelman, the vice president of marketing for Barnes and Noble, told ABCNews.com that the company's employees have been made "very clear of the security on the title."
"Throughout our supply train and our distribution chain we have very, very clearly articulated the procedure for keeping them secured until the moment we're allowed to release them," said Bostelman, who declined to elaborate on the company's security measures.
Dan Brown's Fans Use Clues To Learn About 'The Lost Symbol' Plot
And fans learned quickly not to count on information from the publisher, which besides from positing several cryptic clues on Twitter and Facebook and the release of the book jacket's artwork, left much to the imagination of Brown's fans.
But if there are any readers who are up for a challenge, it's Brown's.
The clues provided by Doubleday quickly became fodder for discussion on blogs and additional clues on NBC's "Today" show as well the summaries in yesterday's reviews have cast at least a little bit of light on what readers can expect from the 528-page novel.
Robert Langdon, the professor of iconology who has appeared in his best-selling books "The Da Vinci Code" and "Angels and Demons," is back for "The Lost Symbol," which takes place over a 12-hour period in Washington, D.C.
According to LA Times' Nick Owchar, Langdon, on a mission to find a "legendary Masonic treasure," solves countless "puzzles, analyzes paintings and reveals forgotten heroes." All this even while he is chased by "special ops squads" and a "bizarre killer" kidnaps his longtime mentor, Peter Solomon.
Owchar, who didn't disclose how he obtained his embargo-breaking copy of the book, describes the opening scene in "The Lost Symbol" to be as dramatic and bizarre as that of "The Da Vinci Code."
Langdon, according to Owchar, arrives at the Capitol building under the guise that he is to give a speech, only to find a "severed hand marked with Masonic tattoos."
The villain in the novel, the same person who presumably led Langdon to the Capitol, is Mal'akh, which means "angel" in Hebrew, according to Owchar.
"The reason we read Dan Brown is to see what happens to Langdon: We want to know if he will overcome slim odds to uncover Mal'akh's motives and a cunning plan that, while not involving a vial of antimatter, is a major threat to national security," writes Owchar.
Dan Brown's "The Lost Symbol" Destined For Success
While the information fans knew before today was scarce if not confusing, retailers are confident that "The Lost Symbol" will garner as much fame as its forerunners did.
"He creates just a wonderful puzzle in the kind of array of topics that people find captivating," said Barnes and Noble's Bostelman.
The secrecy around "The Lost Symbol" has of course helped feed the frenzy around the book's release. Bostelman said that "tens of thousands" or pre-orders were placed by customers for the book.
Similarly, "The Lost Symbol" has spent 148 days in the top 100 list of bestsellers on Amazon.com as of yesterday.
Jane Dystel, the president of literary agency Dystel & Goderich Literary Management in New York City, said that while Brown's writing style might not be all that impressive, his ability to engage his audience is.
"He's not Shakespeare, but who cares?" said Dystel. "He tells a great story."
Dystel said that she's happy Brown's book is getting customers back into bookstores, one of many businesses that have been hurt by the recession.
"I'm very excited," said Dystel. "Brown is going to bring a lot of people in [to stores}."
"I think this book will be enormously successful," she added.
Louisa Ermelino, the book review editor at Publisher's Weekly, said the mystery in the plots is what attracts readers.
"It's a puzzle and everyone loves a puzzle," said Ermelino. "It's that mystery and that insider feeling."
"When people read "The Da Vinci Code" everyone was talking about it," said Ermelino. "He sold 81 million copies and so now naturally everyone is waiting for that to happen again."