The making of 'La La Land': Why it's important to modern cinema
"La La Land" netted a record 14 Oscar nominations.
February 21, 2017, 9:43 AM
— -- Creating nostalgia for nostalgia's sake has resulted in success for films in recent years, but this year's hit "La La Land," with 14 Oscar nominations, took a different, more complex approach, choosing to honor the past while placing it in a contemporary environment.
The original musical centers on jazz pianist Sebastian (Ryan Gosling), who falls for aspiring actress Mia (Emma Stone) while they try to make their dreams come true in Los Angeles. Both Stone and Gosling, who earned Golden Globes last month for their performances, received nods from the academy for best actor and best actress.
While a majority of critics and moviegoers fell in love with "La La Land," its accolades may feel too generous to some. Regardless, it is evident this reimagining of old Hollywood gives life to the thought-extinct cinematic experience.
Here's what it took to make a classical movie on a modern landscape:
Writing the script, 2010
Director Damien Chazelle wrote the script for "La La Land" in 2010. His college roommate, Justin Hurwitz, began composing the music at the same time.
Chazelle told Vulture that the only differences between the original script and what's onscreen is the budget and age of the two leads. Originally, Chazelle and Hurwitz pitched it with a budget of $1 million. The film cost $30 million to make.
They used Chazelle's similarly themed 2009 movie, "Guy and Madeline on a Park Bench," to pitch the idea, they told Vulture.
It took six years for anyone to say yes.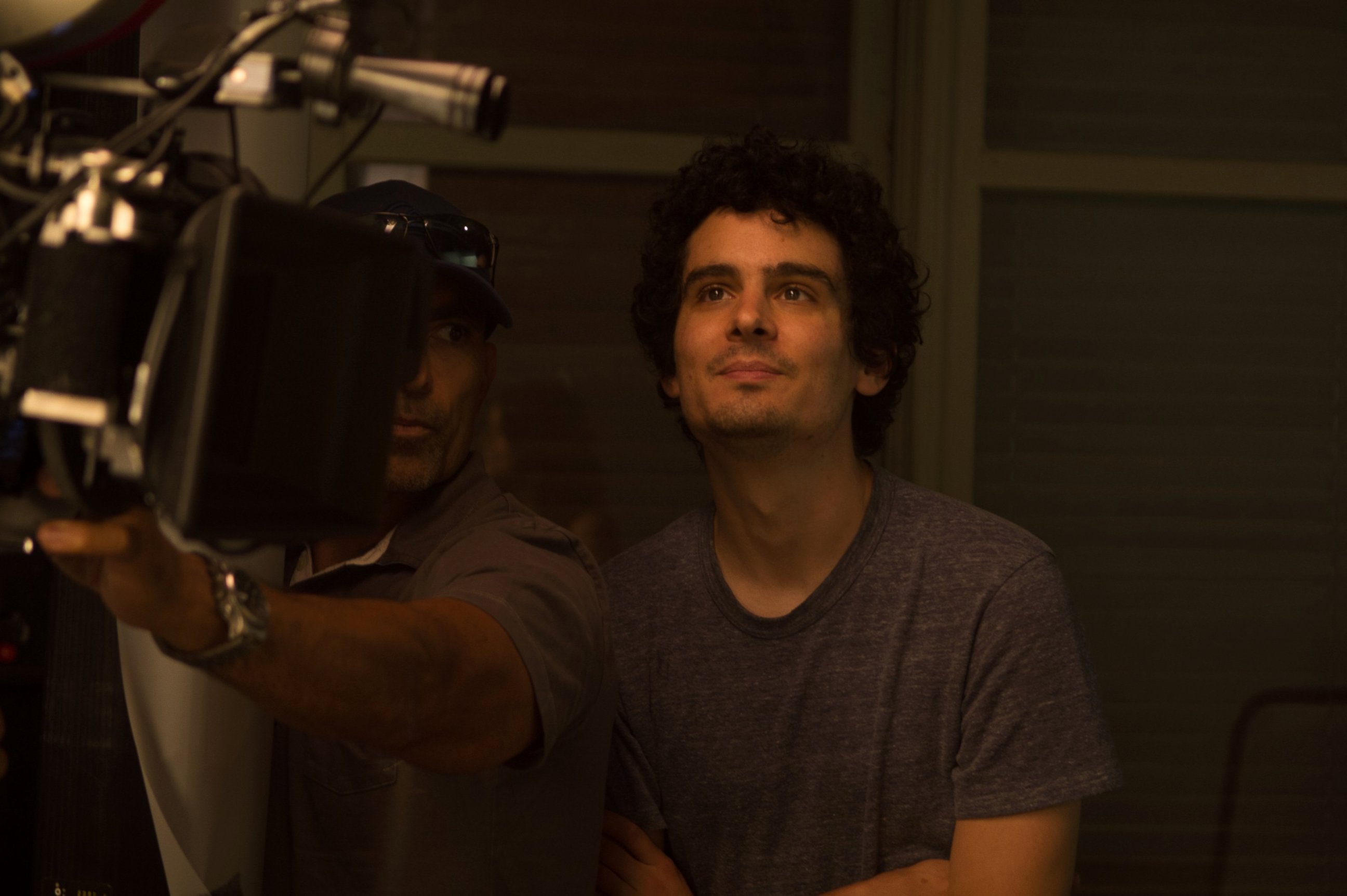 Getting it financed, February 2015
With "La La Land" stalling, Chazelle turned his attention to a new project, "Whiplash."
Initially, he couldn't get that film financed either, so he decided to make part of it into a short, Chazelle told Vulture.
The short got into Sundance and won the jury award, which attracted enough attention to get the feature version of "Whiplash" financed. The independent film, budgeted at just over $3 million, follows a talented drummer (Miles Teller) who enrolls at an elite conservatory with an abusive instructor (J.K. Simmons).
The movie was released to great acclaim, and it won three Oscars in 2015, including best supporting actor for Simmons. Its success gave Chazelle his pick of projects — and he chose "La La Land."
Preproduction, May 2015 to August 2015
For about three months, Chazelle and his stars used a group of warehouses to prepare in Los Angeles' Atwater Village, according to The Hollywood Reporter.
Gosling practiced piano in one area, while Stone worked with dance choreographer Mandy Moore (not the singer) in another.
Gosling said he spent two hours a day, six days a week, learning to play the songs in the film. When filming started, Hurwitz said, Gosling could play every sequence without using a hand double or CGI.
"The piano was something that I always wished I had time to learn. In what other job is it a part of your job to just sit in front of a piano for three months and play?" Gosling said in a Lionsgate featurette on the making of the film. "It was really one of the most fulfilling preproduction periods I've ever had."
Another cast member who had to learn to play an instrument was Grammy winner John Legend. Though a singer and pianist, he didn't know how to play the guitar before filming.
"Ryan and John joked that it was all part of my master plan to cast John Legend but deprive him of his normal instrument and give that one to Ryan," Chazelle shared in the featurette.
Hurwitz had the challenge of reorchestrating the music, using the film's classic theme and Gosling and Stone's modern voices.
"It couldn't feel like a music track turned on. It couldn't feel glossy," he said. "Ryan and Emma have those kinds of voices. Emma's voice has this lovely breathiness to it, and Ryan's has this great gravel to it," Hurwitz said.
In total, Hurwitz reworked the music for about year before anything was shot.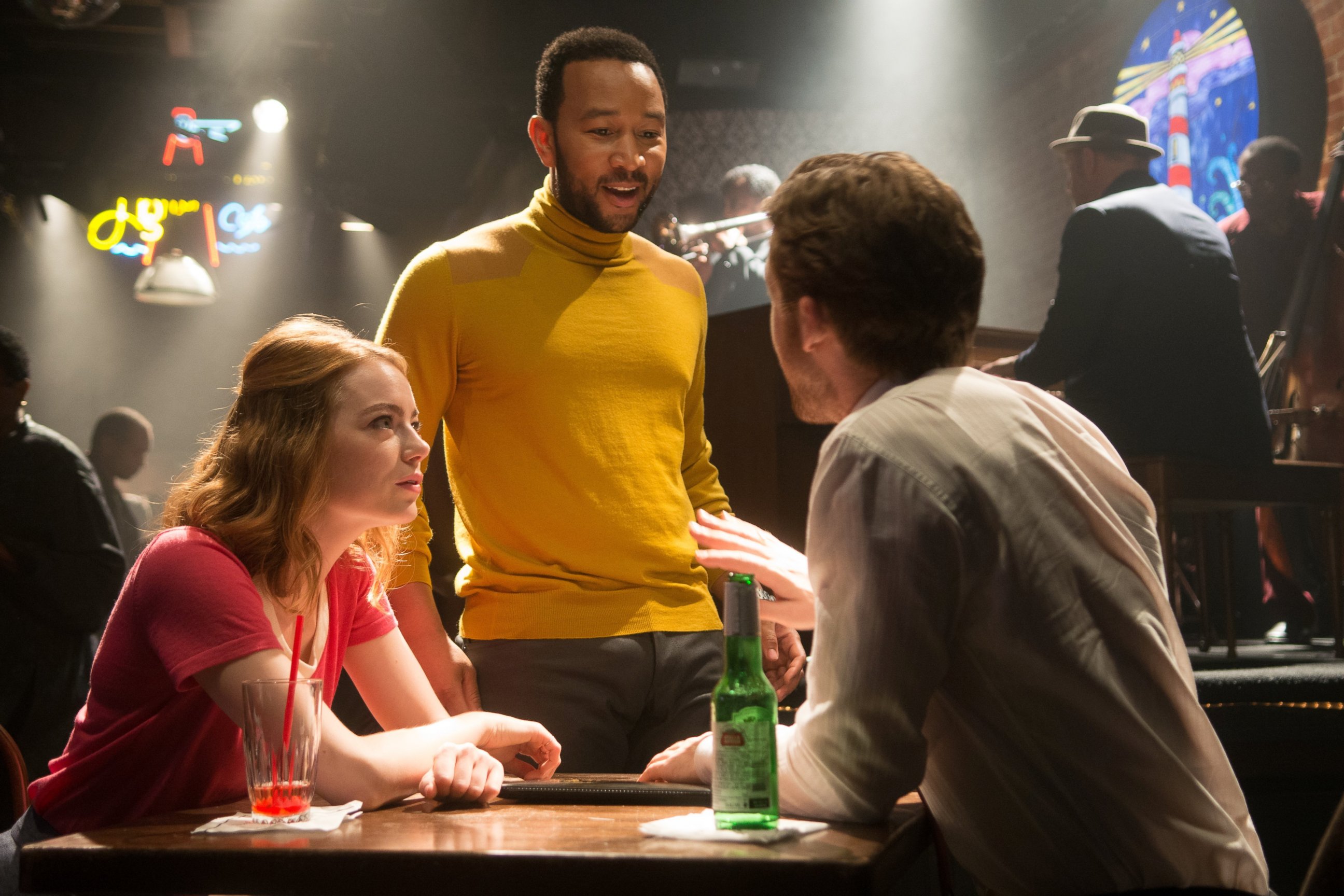 Filming, August 2015 to October 2015
"La La Land"'s complex opening scene — a massive musical number in the midst of a most unglamorous, realistic traffic jam — was shot in 48 hours.
The cast and crew shut down a ramp that connects the 100 and 105 freeways. On both days, temperatures soared above 100 degrees.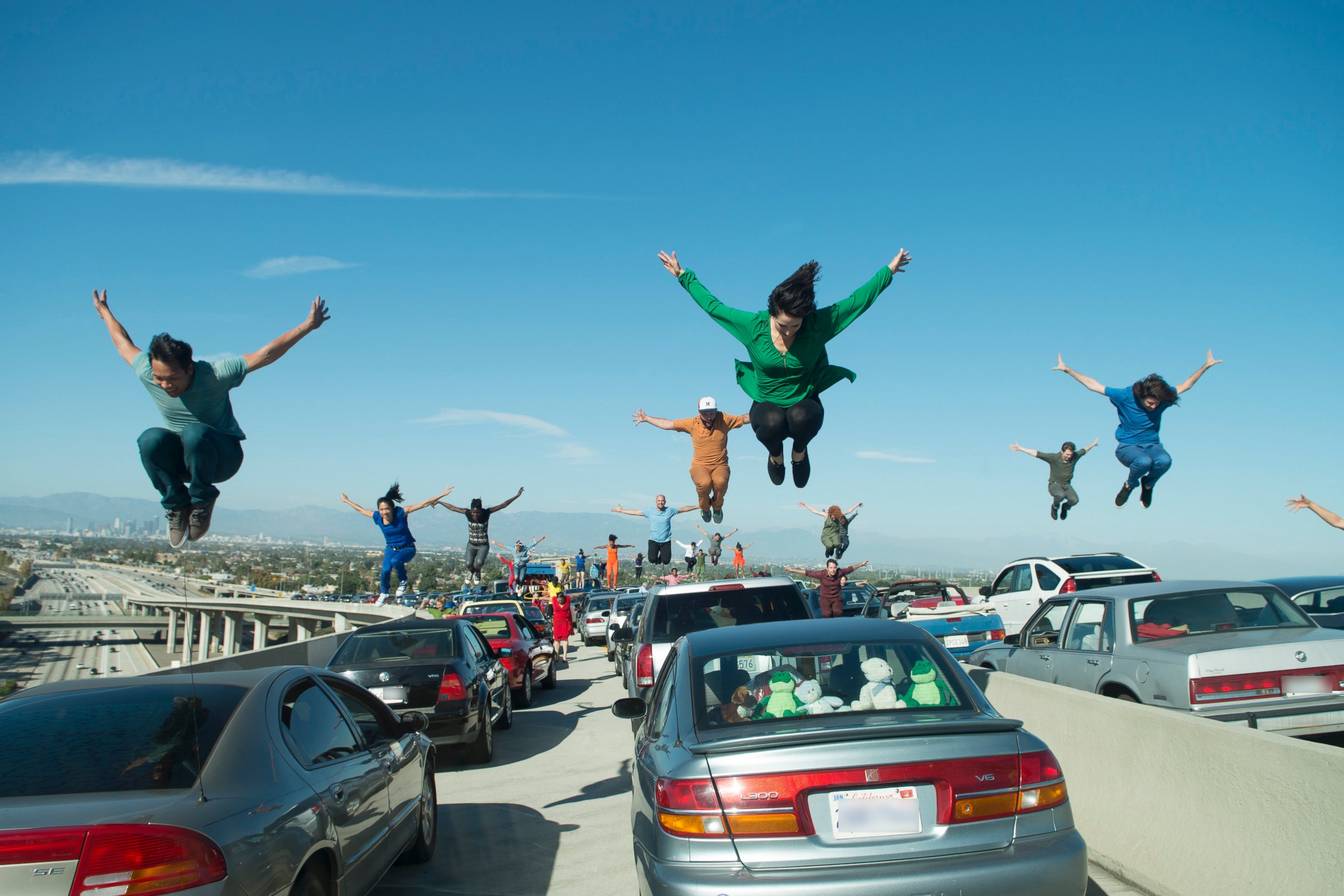 Moore started the dance rehearsals for the scene in May 2015 at the parking lot behind the production office. The sequence was mapped by using Post-it notes on miniature model cars.
When the big day of filming came, the cast did a six-hour rehearsal on the ramp before shooting. To avoid being caught on the overhead camera, Moore was hidden beneath a car during the shoot so she could shout instructions to the dancers.
The filmmakers called the whirlwind shoot a "blur."
The rest of shooting took place at more than 60 other LA locations, according to The Hollywood Reporter, with most scenes being shot as one long take.
The six-minute scene in which Sebastian helps Mia find her Prius had to be done not only in a single tracking shot but also at sunset. If they didn't get it right in a half-hour, they had to wait another day to try it again. It took eight takes and two days to shoot. Stone told The Los Angeles Times that when she and Gosling finally nailed the scene, "everyone just exploded."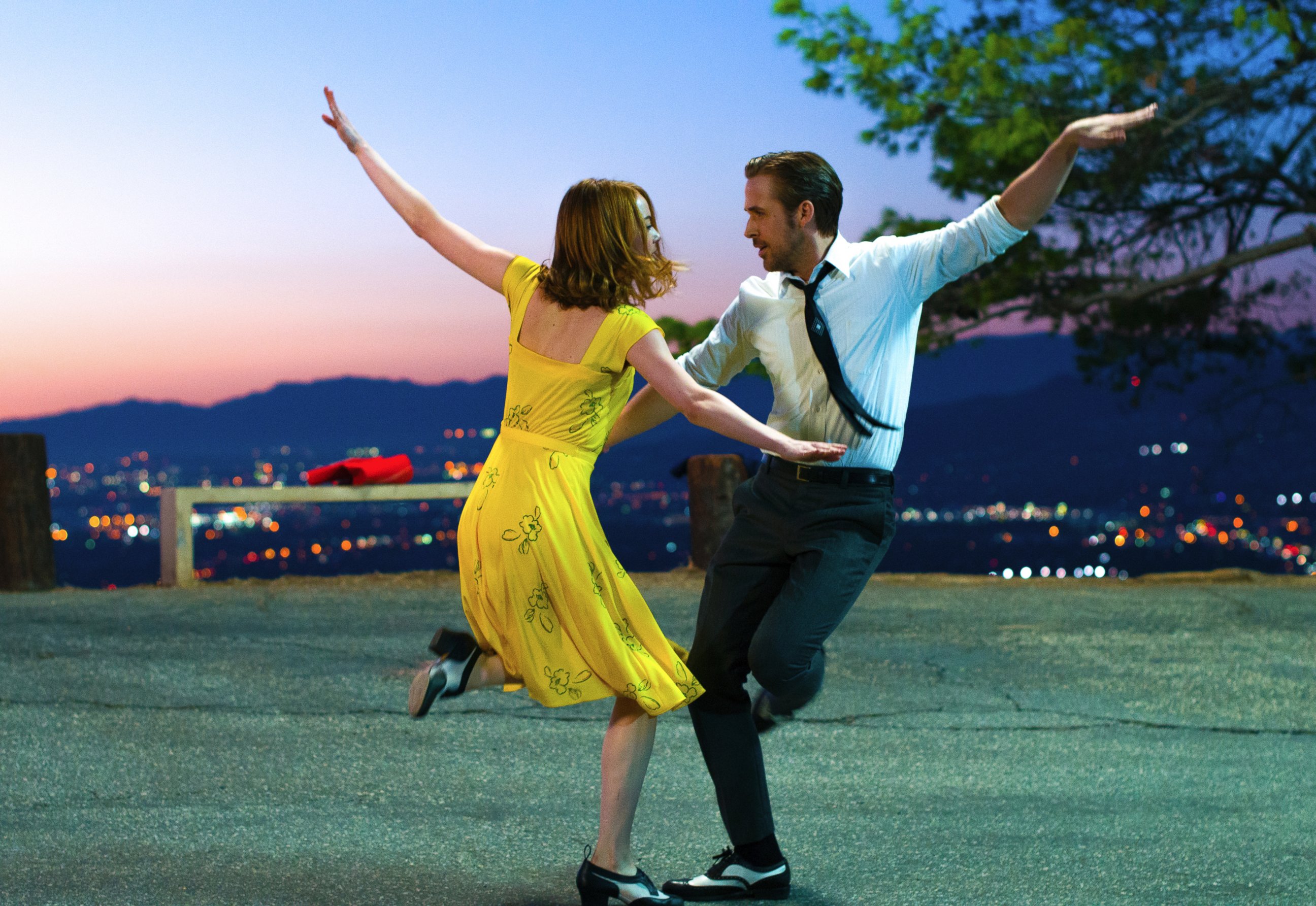 Shooting fantastical music numbers taking place in the real world meant singing the music live each take, but Chazelle put more emphasis on emotion than technique. "We weren't asked to do things we couldn't do, because we weren't meant to be Broadway performers," Gosling told ABC News' "Nightline" in December.
"We aren't Fred and Ginger, even though Ryan is an incredible dancer," Stone told The Los Angeles Times. "It was nice to know that if we fell on our feet or if we laughed — in the song 'City of Stars,' I laughed twice because I was out of tune — Damien was celebrating rather than yelling, 'Cut! We're going back. Make it perfect!'"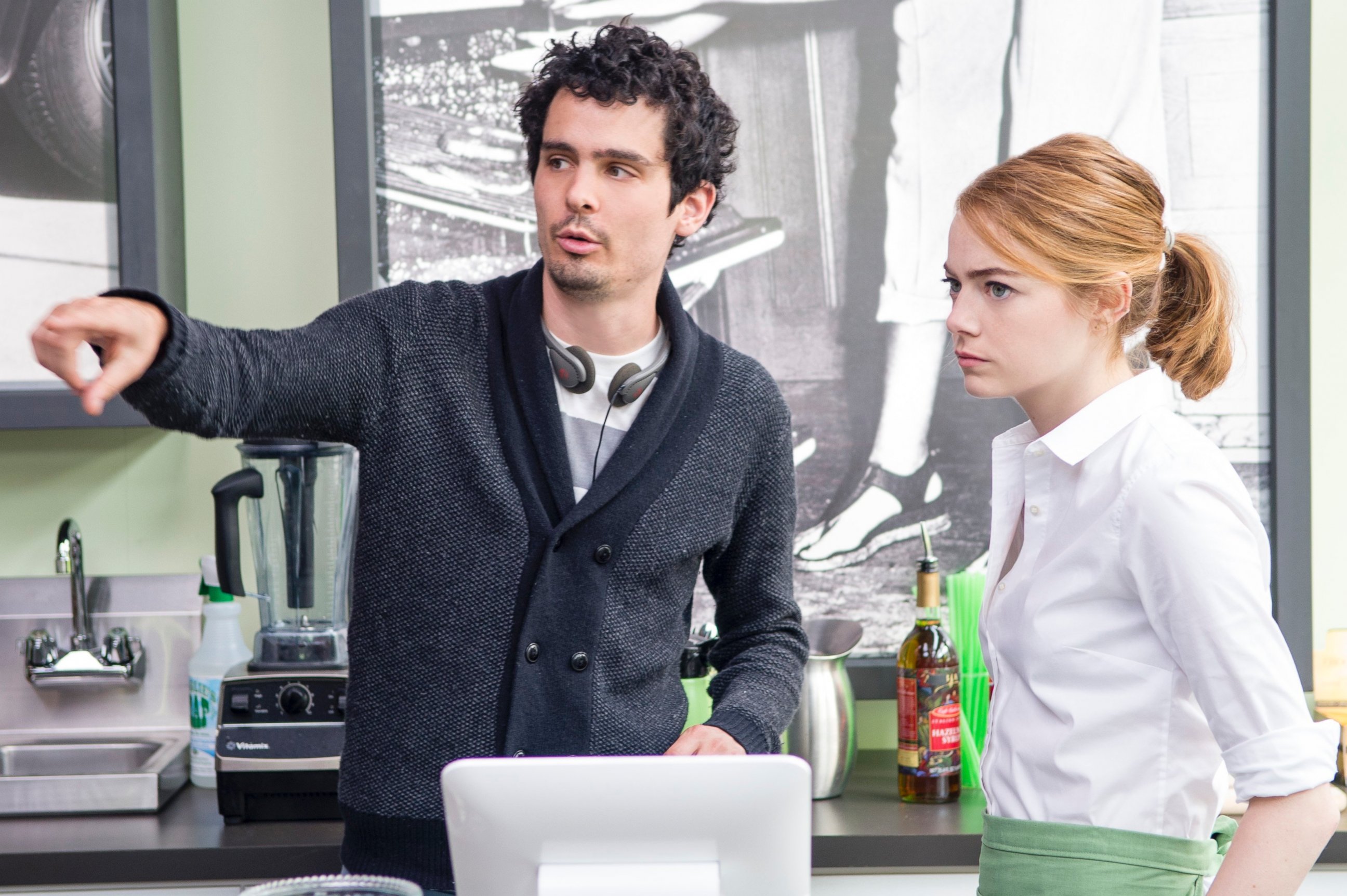 Editing, 2016
Chazelle spent nearly a year editing the film with Tom Cross, who won an Oscar for his work on "Whiplash." Cross said he found this project much more challenging because of the music factor.
"It was apparent he was going for something very, very different. I was very excited by it," Cross told ABC News. "This was much more ambitious." Cross explained that the movie was intended to capture the old romantic feeling of falling in love, with montages, irises and lots of fading in and out. Even with a plan in place for how the editing would be done, Chazelle and Cross said, things evolved throughout the process.
"Edit is the film's therapist. As well planned as it was, when you get into the editing room, there is a lot of things that change. When you get these great performances, maybe you don't need so much dialogue," Cross said at a Landmark Theatres panel discussion. "The soul of the movie was always there, but we had to find a big balance."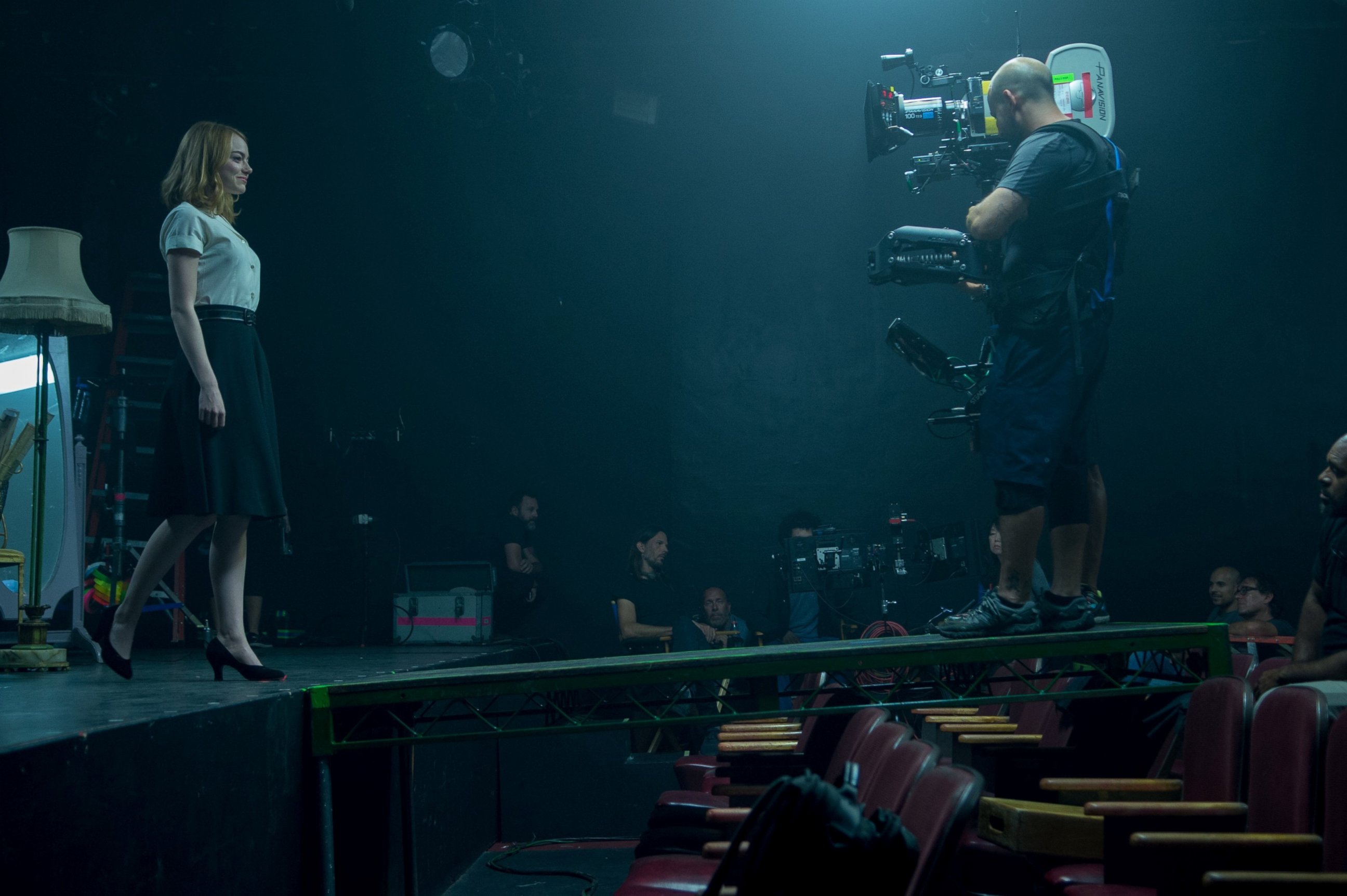 In a movie that is equal parts heartbreak and joy, Cross had to find a way to make the music best emphasize the film's emotion, which meant experimenting.
"At some point — I don't mean all at once — but we tried at different points cutting every [musical] number from the movie," Chazelle said during the panel discussion.
Cross said that at one point "Audition (The Fools Who Dream)," sung by Stone, didn't make the cut.
"Don't tell Emma," Chazelle quickly said. "Each number had to claw its way back in, and that's how you know that it's earned its place."
Hurwitz played a big part in the editing process. They decided not to use temp music, which most films employ early on.
"Temp music is music from older movies or classical music that they later replace with the original score. It didn't feel like we could do that on this movie," Hurwitz said. "All day, every day as [Cross] was cutting scenes, I was giving them score cues. Then they were adjusting the scenes to fit the score. So the picture and the score were evolving together, which is unusual."
Premiere, August 2016
The movie premiered at the Venice Film Festival on Aug. 31, 2016.
On Jan. 9, "La La Land" set a record for the most Golden Globe wins, taking home seven prizes.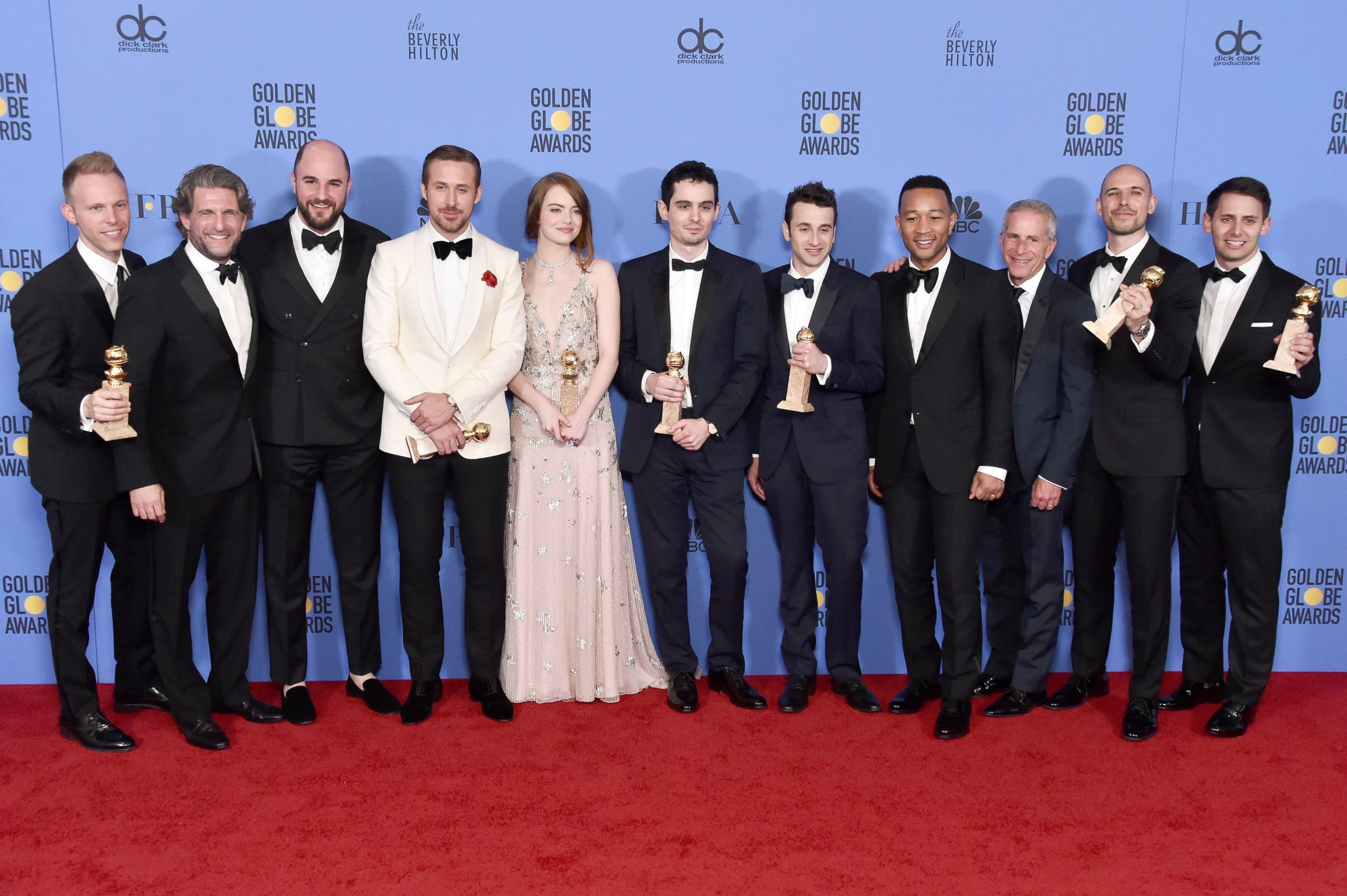 "La La Land" tied the record for most Oscar nominations, with 14 nominations. Only two other movies have received that many nods: "Titanic" and "All About Eve."
The nods prompted what was likely inevitable backlash, with some critics suggesting it doesn't offer enough originality or substance. However, in the musical, Gosling's character shares his perception of Hollywood, saying "They worship everything and value nothing." At many times this year, film fans said movie magic lost its appeal because of that very notion. It seems with "La La Land," audiences get some of that magic back.