Tennis darling Melanie Oudin made a splash at the U.S. Open this year by unexpectedly thrashing top-ranked Maria Sharapova and Nadia Petrova before being finally beaten in the U.S. Open quarter finals.
Oudin's wins are all the more impressive because unbeknownst to tennis fans, the 17-year-old phenom has been dealing with a difficult and messy family situation.
SI.com reports that Melanie's father, John Oudin, filed for divorce from Leslie Oudin, Melanie's mother, last year on the grounds of adultery. The "other man" cited in the court records is Melanie's coach, Brian deVilliers, according to SI.com.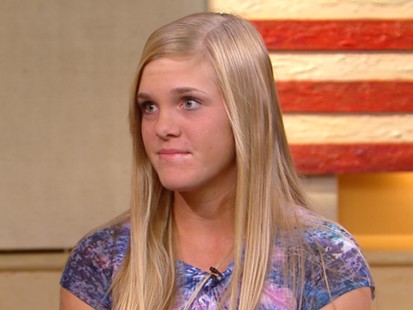 The report details a sworn statement by John Oudin that reads in part, "On December 29, 2007, I confronted my wife about whether she was having an affair with Brian deVilliers. I confronted Brian deVilliers separately. My wife and Brian deVilliers both admitted to me they were having an affair."
Melanie and her twin sister, Katherine, may have known about the alleged affair, according to the SI.com story which quotes an affidavit filed by John Oudin.
"Both [Melanie and Katherine] asked me point blank if I thought Mom was having an affair with Brian. When I asked why they had suspicions, Melanie told on one occasion she woke up at 1 a.m. in her hotel room and Leslie was not there. She called Brian's cell phone and connected with her."
According to the report, the divorce filings include an order that Leslie Oudin "…not interact with Brian deVilliers except as it specifically relates to the children's tennis activities…[and] not to travel with Brian deVilliers to any tennis tournaments in which the children are participating."
DeVilliers is the director of the Racquet Club of the South (RCS) based in Norcross, Ga., where Melanie and Katherine Oudin have been students for eight years. The website for deVilliers' club touts its students' achievements with a banner that reads "more National Titles in 2007-2008 than any other U.S. Academy." There are pictures of a smiling Coach deVilliers surrounded by his students on the courts.
Melanie Oudin Also Battled Through Family Drama
In a September interview on Tennis.com, Brian deVilliers was asked about Melanie Oudin and the Oudin family. De Villiers replied, "They're just a normal family. I've been very lucky."
Leslie and John Oudin both traveled to London to see their daughter compete at Wimbeldon this year and television cameras also captured the two in the player's box for Melanie's match against Nadia Petrova.
Press reports indicate the divorce proceedings are ongoing.