A photograph of Mel Gibson's ex-girfriend Oksana Grigorieva that appears to show bruising and swelling around her left eye has been released on the Internet, along with more recordings of the actor's purported expletive-laced ranting phone calls.
RadarOnline, which posted the photo Tuesday, said it was taken the morning after the Jan. 6 confrontation between Gibson and Grigorieva, in which she claims he punched her in the mouth and face.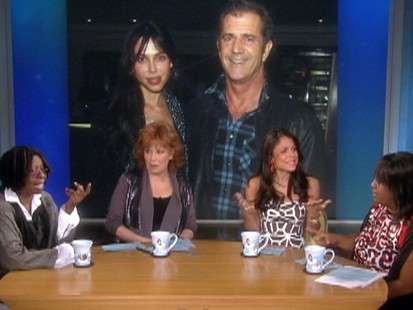 In the photo, what looks like red and purple bruises extend from beneath Grigorieva's left eye to her left temple. The area around her left eye also appears to be swollen.
A week earlier, the website released another photo of Grigorieva in which her right front tooth appeared chipped.
The photographs are the latest bombshell in the couple's all-out custody battle, which has included accusations of domestic violence, extortion and child endangerment. Gibson and Grigorieva have a nine-month-old daughter, Lucia.
A rep for Gibson declined comment today. Grigorieva's rep Stephen Jaffe recently resigned. However, a source close to Grigorieva did confirm to ABC News that the picture was of the Russian singer. Gibson has previously denied hitting her.
RadarOnline also released today a series of phone calls it says the actor made to Grigorieva the night of Feb. 18 when she fled from his Malibu mansion.
A source told the website that Grigorieva received about 30 calls from Gibson from 8 pm to 6 am. In messages recorded on her answering machine, a man purported to be Gibson drops the F-bomb repeatedly, hurling insults at Grigorieva.
On Monday, RadarOnline released the seventh in a series of recorded rants in which Gibson allegedly flies into a jealous rage over Grigorieva's ex, former James Bond actor Timothy Dalton, with whom she has a 12-year-old son.
"Well, you should go [expletive] him … because I don't care," a man presumed to be Gibson says.
Earlier this month, the Los Angeles County Sheriff's Department launched a domestic violence investigation into the January incident.
Mel Gibson Meets with Sheriff's Detectives
The sheriffs are also investigating Gibson's claims that Grigorieva tried to extort money from the 54-year-old Oscar-winning actor and director.
Los Angeles County sheriff's spokesman Steve Whitmore told The Associated Press that Gibson met with detectives on Sunday to discuss his claims, but they did not discuss the domestic abuse case.
In a video posted on the Internet Friday, the 40-year-old Russian singer denied Gibson's extortion allegations.
Perhaps to head off any more accusations, Gibson recently requested that an independent observer accompany him on his visits with Lucia.
Even though Gibson has been allowed unsupervised visits with his daughter, a source told People magazine that he wanted an unbiased witness present so that "Oksana couldn't lie."
The observer, approved by the Department of Children and Family Services, was present last weekend when the actor hung out with Lucia on the grounds of his church, according to People.
The church is a "safe place for them to be together, run around, have fun and play," the source told the magazine.
Mel Gibson and Britney Spears?
Last week, Gibson was reportedly seeking solace from his troubles from an unlikely source: Britney Spears.
According to In Touch Weekly, the 28-year-old pop singer has been counseling the 54-year-old Academy Award winner as his custody battle with ex-girlfriend Oksana Grigorieva grows ever more ugly.
"Mel has been talking to her a lot," In Touch quoted a friend of Spears as saying. "They speak on the phone all the time, usually late at night."
Gibson came to Spears' side during her 2008 breakdown, taking her to dinner and reportedly flying her to his estate in Costa Rica. Now she apparently wants to return the favor.
"Mel was one of the only people who reached out to help Britney when she was at her lowest point, and she believes that demonstrates what a loving and wonderful man he is," In Touch quoted the friend saying. "She wants people to give him a second chance -- just like he gave her one when everyone else turned away."
Gibson's publicist declined to comment on the Spears report. A representative for Spears did not immediately respond to ABCNews.com's requests for comment.