Remember the steely young Omarosa Manigault-Stallworth from the original run of NBC's hit reality show "The Apprentice"? How about Evan Marriott, the construction worker who pretended to be a rich bachelor for Fox's one-season-wonder "Joe Millionaire"?
For both Marriott and the reality star known only as Omarosa, their 15 minutes on reality television took them from anonymity to instant fame. Marriott took his half-million dollar winnings and quit work, and Manigault-Stallworth continued to thrive on public verbal smack downs on a host of other reality television series.
"I knew what would bring great ratings," she said. "I knew what would entertain America. I knew they liked watching me, and I liked entertaining them and I profited from it."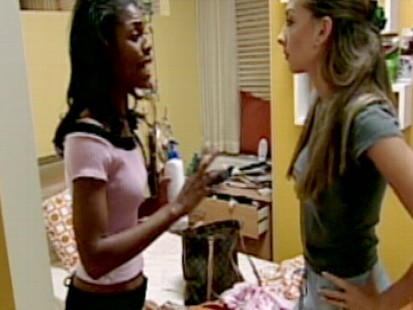 But behind the scenes, the lives of reality stars tell less romantic tales. "I actually went into a depression," said Marriott. "I started drinking a lot. I'd wake up at 10, 11 o'clock in the morning and go to the bar and start drinking, 'cause I had nowhere to be."
What happened to Manigault-Stallworth, and what happens to any of the average Joes or Janes on reality TV is an interesting question after the sad reality of Ryan Jenkins from the VH1 show "Megan Wants a Millionaire."
After finishing the show last spring, Jenkins went to Las Vegas, met and married a 28-year-old bikini model Jasmine Fiore. Last month he was accused of her gruesome murder as he fled to his native Canada and later hanged himself in a rural motel room.
Looking at Jenkins' performance on the show, psychologist Richard Levak cringes. "He is a perfect example of his type. The glib, self-serving narcissist who is so full of himself and he knows how to manipulate a woman and he's not ashamed of it."
Anatomy of the Reality Personality
Levak has screened contestants for a variety of reality shows, including "Survivor," and says Jenkins is not the reality-show norm. He describes what he calls a "super normal" type -- confident and competitive.
"For the most part, the people who apply are sort of extroverted," said Levak, "[They] want to be in front of the camera, love to compete, love to perform, and don't mind being self-absorbed."
They tend to have the successes and failures of real life. Richard Hatch, the first winner of CBS' "Survivor" spent time in prison for failing to pay income tax on his million-dollar prize.
Then, there's Bethany Frankel, one of Bravo's "Housewives of New York" who now has a best-selling cookbook and a line of bakery products. "Everyone told me not to do it," she recalled. "And I mean every single person said it would ruin you."
It didn't ruin, but it certainly injured Marriott, who was uncomfortable with a fame he didn't think he'd earned. "It's not like I had the most rushing yards in a season or invented the world's longest-lasting light bulb, you know?"
Reality Fame: Cheaply Won, Easily Lost
As Manigault-Stallworth admitted, she thought she was a star long before anyone ever heard of her.
"I was always an outstanding person and an outstanding candidate at whatever I submitted myself to," she said. "So I was used to being the only one, or the first to attend college, the first to accomplish a certain thing."
Not everyone though, can handle fame cheaply won and easily lost. Some reality show contestants go on for years afterward, seeking the rush they felt with instant stardom.
"I think if you have nothing else in life and that all you're clambering onto, is fame, I think it can ... twist you up pretty bad," said Marriott.
He eventually pulled himself together and invested what money he had not spent into his own excavation business. He's doing pretty well. But he lives in the afterlife of fame.
"It destroyed my dating life," he said, "because what people tend to forget is that I was portrayed as something on TV, but in real life that's really not me. So ... if I meet girls they think they know what I'm about or know about me and they really know nothing about me."
"It is the smallest fish bowl you'll ever be in," said Manigault-Stallworth. "There are no longer boundaries because you've been in everybody's home and everybody's living room every week and they feel they know you intimately, they feel like they can come up and say anything to you, they can ask you anything because they feel like you are public property now."
Reality television messes with contestants' heads. After merely auditioning for "Britain's Got Talent" and orbiting to International fame, Scottish singer Susan Boyle quickly ended up in the hospital suffering emotional exhaustion.
And there are ethical concerns, said Levak, who believes that if they were posed as scientific psychological experiments, "almost none of the reality TV shows would be approved in my opinion with human subjects' approval."
Humiliated, Trapped and Depressed
At the least contestants should be thoroughly vetted and most are. But Ryan Jenkins had a criminal conviction in Canada for beating up a girlfriend. "You put on somebody that is fragile psychologically and ... they are humiliated, they feel cornered, they feel trapped and they could fall apart," said Levak. "They could become severely depressed. It's possible that someone could become psychotic."
What cannot be predicted is how any contestant will handle fame. Manigault-Stallworth now volunteers at the Fred Jordan Mission on skid row in Los Angeles and she's entered seminary school. "We ask that you open our minds and our hearts to you dear Lord," she preached one afternoon to a roomful of homeless people. "Ya'll know I'll get in somebody's face in a minute, right ... but you have to take care of your brothers. We are our brother's keepers, right?"
She believes she's had a calling. "I want to become a child of God, which I know that I am, but moreover a servant of God."
She doesn't complain about her experience because it made her money, and allowed her to do things she might never have done. Reality television changed her life for worse, and for better, as it did for Joe the fake millionaire.
"You know what, I don't miss my moment of fame ... but I'm thankful I was a part of it," he said. "I was a part of pop culture, you know."
It was pop culture and it was fame, or what Manigault-Stallworth looks back and calls " The Illusion of Fame."
"The illusion of fame is that people will keep caring about you even after the show is over and the credits have rolled because they don't," she said. "It's your responsibility after you've been a part of these shows and you've had your 15 minutes to do something with that opportunity and not squander it."