As she walked through the turnstile at Staten Island Ferry Terminal surrounded by eager fans seeking selfies, it was almost as if life for Bebe Rexha had come a full circle.
"It's funny because I remember taking the Staten Island ferry at four in the morning or after school," the popstar told "Nightline." "And now I'm taking the Staten Island ferry with the whole glam squad."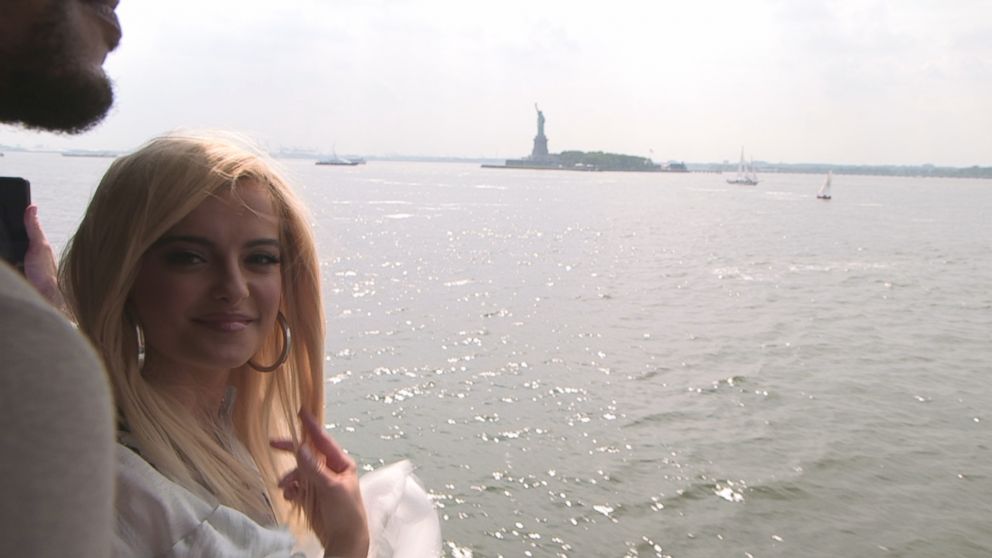 "Nightline" went with the 28-year-old singer and songwriter on a hometown tour of her native Staten Island in New York City as the "The Way I Are" star reflected on her childhood, her success and her belief in destiny.
From oozing sex appeal with "I Got You" to her genre-defying country collaboration with Florida Georgia Line in "Meant To Be" - which has been number one on the charts for 30 straight weeks, Rexha has mastered the art of churning out bona fide pop hits.
Despite her rise, she has remained true to her roots.
Admiring the "sickest view of the city" from the ferry deck, she reflected on her relationship with Manhattan.
"To me it was like, 'Oh my gosh, I want to be a big star one day. I want to come into the city and work in the city and make it out here,'" she recalled. "And it was the city of dreams for me, you know?" she recalled.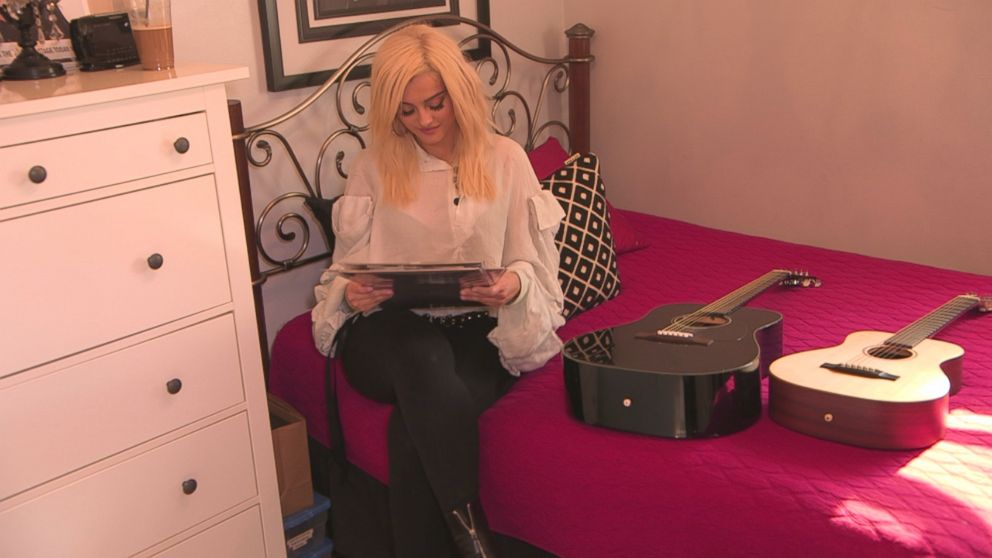 Rexha spent many years paying her dues by writing hits for other artists, including "The Monster" for Eminem and Rihanna, and "Hey Mama" for David Guetta.
"I never wanted to write songs," she told "Nightline." "I just saw Christina Aguilera and Britney Spears and Destiny's Child. And I wanted to just be a singer."
"And little did I know that going into songwriting was going to be the reason why I became an artist" she said. "And I think that for me it's been a really long journey in trying to be like, 'I'm Bebe Rexha, and this is who I am.' And I'm not just like the faceless songwriter or artist."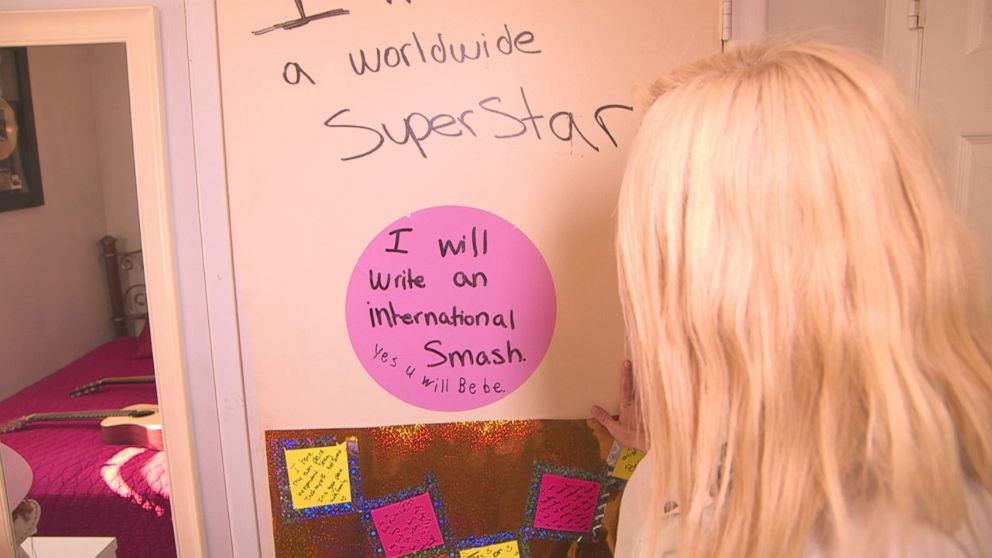 Walking into her childhood home, a humble duplex on a crowded block, she recalled her years growing up there, playing the piano and writing songs.
Filled with post-it affirmations, her famed closet door bore a large sign, "I Will Be a Worldwide Superstar," indicating that this was where the seeds of her ambition and intentions were planted.
The idea, she said, came from watching Oprah with her dad after school.
"She said that when she first started out, she put a check on her mirror and she would look at [it] every morning. And it said, like, "To Oprah Winfrey for, like, $500 million,"" she said. "So I said, "I'm going to write it on my door.""
And it worked. Her latest single, "I'm a Mess," went gold in one day.
"What's kept me kind of going is this sense of, like, hunger and drive and passion for music," she said. "But also a sense of insecurity -- of feeling like I need to belong and prove myself to the world."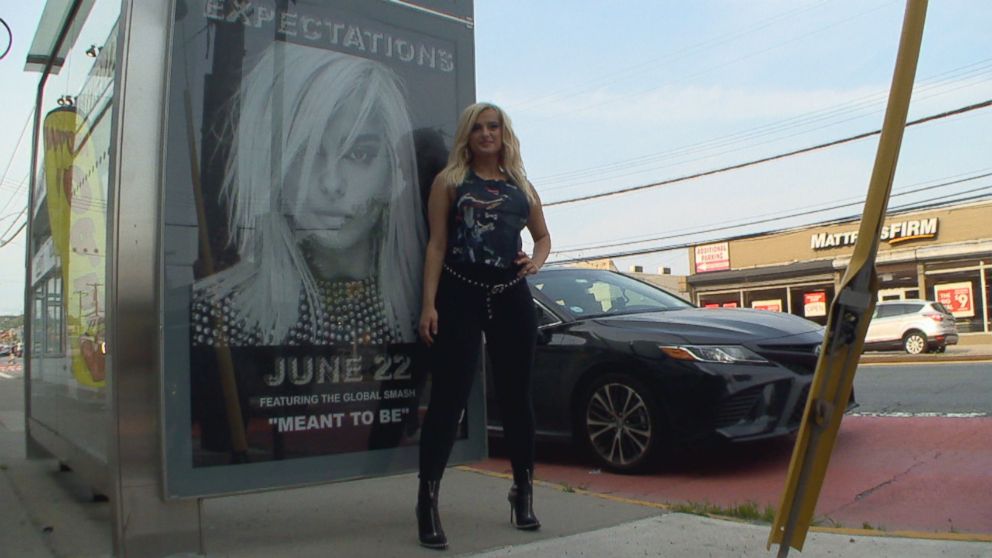 Despite her success, Rexha is still absorbing her evolving identity and stardom in real time.
Spotting a billboard promoting her latest album "Expectations" at a local bus stop, the star excitedly grasped her hands and squealed "That is so cool!"
"Life is full of surprises and you expect things to go a certain way. And I truly believe that, not to be corny, but I think what is meant to be yours is yours," she explained of the album title.
Hugging the bus stop barely five blocks from her childhood home, she posed for a picture taken by her support team and mother.
Reflecting on her immediate circle, she shared that she has "a really strong team around me."
"I drive them crazy, because I have moments of like just crying and being on the road and being like watching 'Pride and Prejudice' or watching a love movie and then being like, 'I want to be in love,'" she laughed. "Just normal girl stuff."
Adding that she is superstitious about showing some of her emotions to people out of fear of "jinxing things," she admitted that she sometimes cries out of happiness.
The daughter of an Albanian immigrant father, she said that many of her values, like a strong work ethic and respect, were instilled by her parents.
Describing an incident when her mother recently took away her mobile phone and laptop because she was "acting like a diva," she said that her parents continue to treat her "like the same girl" and still hold her accountable for her actions.
"I think with my family, it's like, no matter, like, who I become or how much money I make, my dad makes it really clear," she said. "He's like, 'I don't care how much money you make. You could have $1 billion. Respect for other people, especially your elders and for yourself is the most important thing.'"
Those values, she added, have held her in good stead and kept her grounded.
"That's the most important thing to my core," she said. "The stress of the industry gets to me sometimes. And all of the traveling and not seeing my family for a long time. And not being able to fall in love and it being about the music and constantly going, going, going."
Her experience as a songwriter, she mused, has given her more leverage than some of her peers in the industry.
"You know, if you don't write your own songs, it's kind of like this luck game," she explained.
"People have to believe in you on other terms. Do they think you're pretty enough or skinny enough? Or can you dance? Are you a girl that girls want to be friends with or guys want to be with?"
"It's who you know and how much you want to pay for a record," she said. "Whereas like when you're a songwriter, you write the song and you are the controller. And you own the publishing. So when I write a song, I don't ever have to wait around, at a computer or at my cellphone, waiting for an email, hoping that somebody sends me the next hit."
She further explained, "I've been in the situation where I was signed and then dropped. And nobody would pick up my call. I've been in situations where I've gotten paid and then I wasted all of the money, because I wasn't smart about it. But I said, 'you know what? As long as I keep writing and have my publishing company, there is power in the pen. There is something very powerful in writing.'"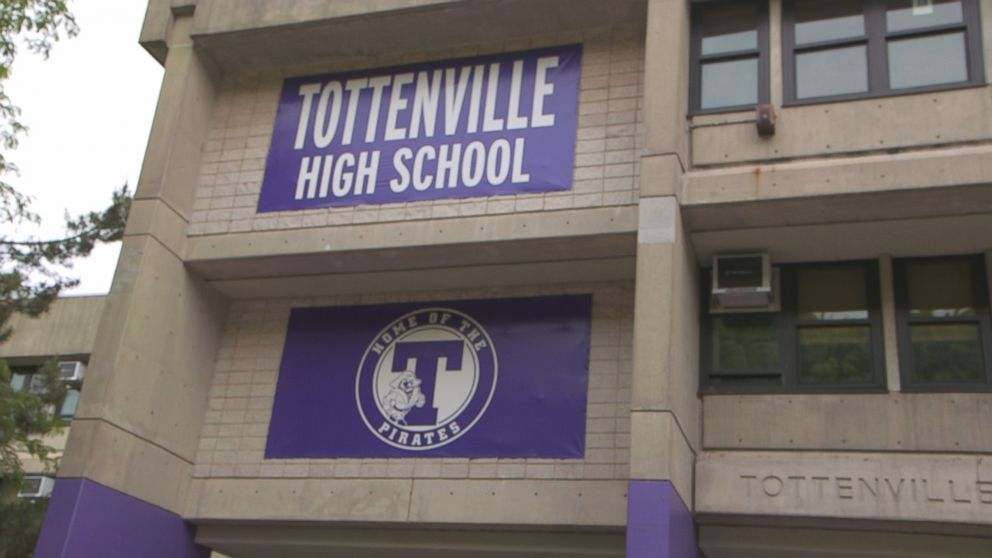 Continuing a tour of Staten Island with "Nightline," Rexha returned to her former school, Tottenville High. Upon walking in the 2007 graduate recognized and hugged the security guard from her school days.
She then snuck into the cafeteria to surprise a group of 60 school kids who thought they were there just for a student council meeting.
The students exploded in cheers and applause, took pictures with Rexha and even sang "Me, Myself and I" with the singer.
To their astonishment, Rexha confessed, "I was so nervous. I was like, 'They're not going to know who I am.' So I'm glad you guys screamed, because I was like, 'They're going to be like, "Who is this b----?"'" she said.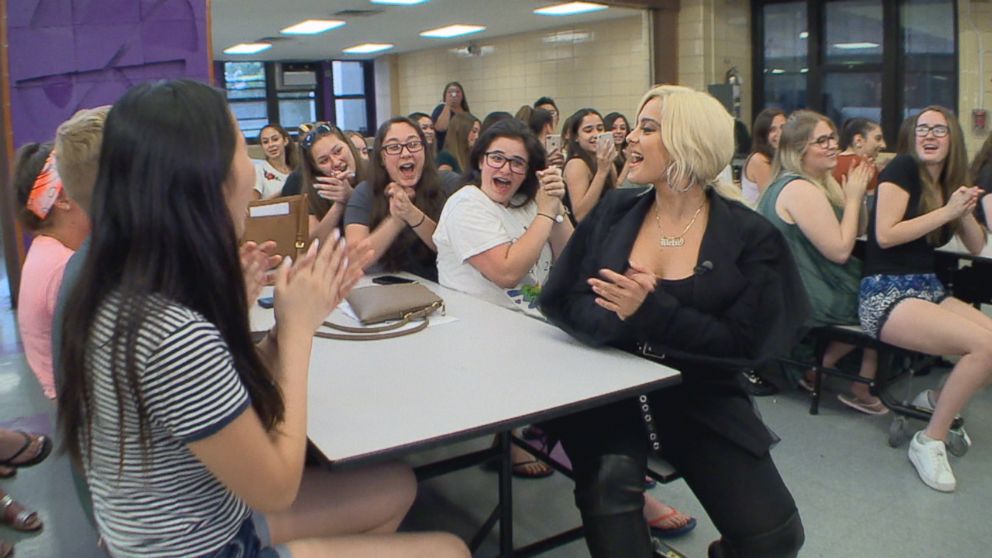 "Just believe in yourself, love yourself," she told the students. "And especially for the girls here, I know it's hard. I know it sucks sometimes being a girl, but support each other and don't be competitive, because trust me, you're going to need each other."
Her words struck a chord with the teenagers, many of whom see her as a source of inspiration.
"I feel like, coming from the same area as us in Staten Island, which like how she said, it's so looked over by every other borough and coming from the same place as her, even the same school," said Patrick Houricin.
"It's just so cool how she's so successful and all of us want to be the same way she is."