— -- He's grown up in front of our eyes, his every milestone captured by the cameras around the world and now, just days before Prince George Alexander Louis will celebrate his first birthday, Kensington Palace released a new snap of the growing prince walking.
It was taken by Press Association Staff photographer John Stillwell at the Sensational Butterflies exhibit at the Natural History Museum in early July.
The young prince was born July 22, 2013, at 4:24 p.m. in the Lindo Wing at St Mary's Hospital, with thousands of screaming fans and journalists outside.
In what they called it the Great Kate Wait, the media camped out for nearly three weeks outside the hospital, awaiting the arrival of the 8-pound, 6-ounce heir to the throne.
Prince George Takes His First Foreign Trip
Kensington Palace Releases Photo of Prince George Ahead of Trip Down Under
Pope Francis Gives Queen Elizabeth Present for Prince George
Finally Kate stepped out in a pale blue polka dot Jenny Packham dress reminiscent of the green Catherine Walker polka dot dress Princess Diana wore more than 30 years earlier when she debuted a baby Prince William.
"He's got a good pair of lungs on him that's for sure," William joked to the crowd, perhaps a sign of what a boisterous boy little Baby Cambridge would become.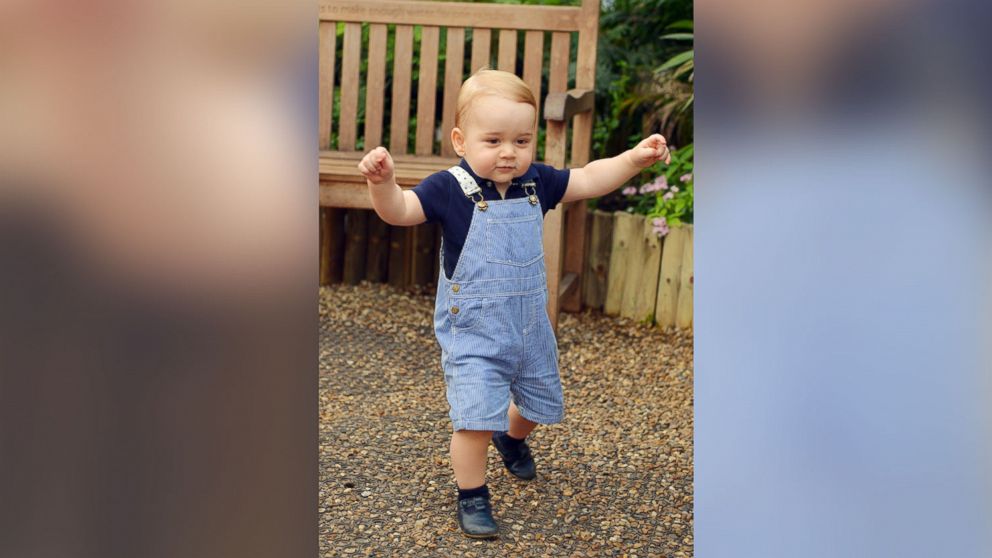 The Duchess told well wishers: "It's very emotional and such a special time, I think every parent will know what this feeling feels like."
And it seems Prince George was ready for his first Royal Job and the life that awaited him; when his little hand peaked out of the white baby blanket, the British media immediately dubbed it George's first Royal Wave.
"He's got her looks, thankfully," William the proud father said, and poking fun at his ever receding hair, added: "He's got way more than me, thank God."
The couple strapped Baby George in his car seat, and William hopped behind the wheel of their Range Driver, driving his family home to Kensington Palace, something most normal couples do, but not most royals.
The only semblance of royalty was the bodyguard seated up front with William, signifying that this was very percious cargo indeed, and a police escort.
The Duke and Duchess of Cambridge decided that their firstborn was not going to be showcased in front of the world's cameras, but instead Prince George would have an upbringing that woul be private and as normal as possible.
A month later we got our second glimpse of Baby George, with an official photo released by the Cambridges. Will and Kate broke tradition with a Royal snap shot by Kate's father, Michael, at their Bucklebury home, with puppy Lupo and the Middletons' snoozing dog Tilly.
A bubbly Prince George showed the first signs of his personality waving his arms at his christening seemingly having mastered the Royal wave at only 3 months. The christening an intimate family affair with the Middletons and a few close friends, many of the extended members of the Royal family not included.
But in a nod to the solemnity of the occasion, an unprecedented portrait of the four generations of Windsors, the Monarch and her three heirs was released.
The world fell in love with the boy who could one day be king in his tour Down Under in April, when William and Kate took their growing son to New Zealand and Australia for his first Royal crawlabout, a play date of sorts with children he could one day rule. The couple could have introduced the third in line to the throne in a more formal setting like Charles and Diana did when they went on the same tour 31 years ago. Instead the Duke and Duchess in a break with tradition in a more relaxed environment with other first time parents.
The little Prince stole the show . He broke a few little girls hearts, he stole a few toys, happily munching on his Mums hair as the world watched.
One parent commented, "George is bubbly, quite feisty and he took control. He crawled to the center of the room and he owned the place." Perhaps the little boy who would be king has realized his lot in life early.
William and Kate are careful to keep the prying eyes of the media at bay. In just a few public appearances we have seen the prince grow up before our eyes into Curious George. The pint size prince is taking his first steps now and according to his parents he's quite a handful.
"He's absorbed with helicopters and anything with wheels," his mother said.
Prince William told a crowd just last week at an event, "At the moment bath time is quite painful but hopefully donning a snorkel and mask might calm him down."
The Duchess of Cambridge was overheard telling a guest at a school event recently, "He's racing around."
She can't believe he's opening doors already. One thing for sure, the world will be watching the growing Princes every move as he becomes a toddler.