ORLANDO, FL. — -- It was called the dinner party of the year when President Obama and First Lady Michelle Obama were guests of Prince William, Duchess Kate and Prince Harry at Kensington Palace last month.
The dinner party took an adorable turn when William and Kate's 2-year-old son, Prince George, showed up just before his bedtime, dressed in a monogrammed robe, to greet the Obamas.
Prince Harry and the first lady revealed in an interview with "Good Morning America" co-anchor Robin Roberts what really happened that night when Prince George stole the show.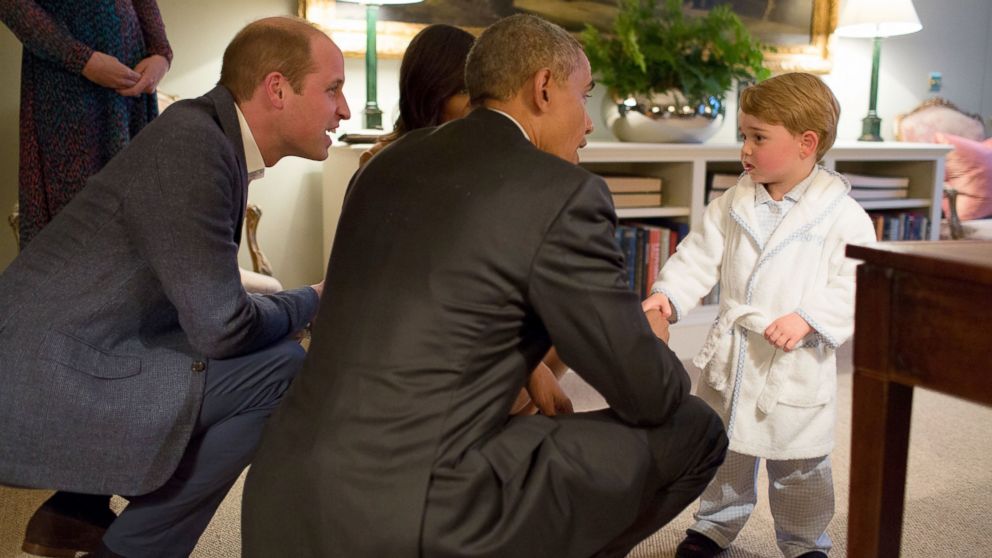 The first lady marveled at what an amazing uncle Prince Harry, 31, is with Prince George.
"I have to say that the most precious thing, if you haven't already fallen in love with him, is to see him with his nephew," Obama told Roberts. "Because all throughout he was like, 'Uncle Harry, why are you so quiet?' and I was like, 'What? You're not quiet.'"
Prince Harry Opens Invictus Games With Promise 'You Will Be Inspired'
]/>
"No, I wasn't," Harry said in reply to Obama, adding that he was on his "best behavior" for the president and the first lady.
Prince Harry remarked that Prince George couldn't understand why his normally playful uncle was so well-behaved.
"George literally turns around and goes 'Mummy, Daddy, why is Prince Harry being so quiet,'" Harry recalled. "Well, normally I'm like throwing him around the room and stuff."
"And he didn't understand what is wrong with you," the first lady said to Harry. "He's got a pretty good uncle over here."
Prince Harry and Michelle Obama spoke to Roberts at the 2016 Invictus Games for wounded veterans, held this week at the ESPN Wide World of Sports Complex in Orlando, Florida.
The pair revealed that the famous video featuring Prince Harry and Queen Elizabeth II that went viral after the Obamas laid down the gauntlet for Team USA to beat Team Britain at the Games was all conceived when President Obama started challenging Prince Harry.
"The president kind of egged you on, dragged him into it," Mrs. Obama said, teasing Prince Harry.
Prince Harry added, "In summary, Mrs. Obama came to us with the challenge and I genuinely, I didn't know what to do. She dragged her husband into it, who happens to be the president. Slightly awkward, and you know, it was, 'Who can you call to top the president?'"
The first lady said that President Obama gave Prince Harry a challenge he couldn't refuse, recalling the president telling the prince, 'Well if you can get your grandmother to do this, then you can drop the mic."
Prince Harry wasted no time accepting the challenge from the president, recruiting his grandmother, Queen Elizabeth II.
"I said, 'You know what? Now that you're so confident, I didn't wanna have to ask the queen because I didn't want to back her into a corner,'" Harry said. "But when I showed her the video and I told her she's like, 'Right. What do we need to do. Let's do this.'"
The video showed Harry and Her Majesty looking at an Invictus brochure when they get a video from the Obamas accepting Harry's challenge to the Invictus Games with a man in uniform behind them saying "Boom!" The queen says, "Oh really? Please," and Harry adds "Boom!" with a grin.
Harry described his grandmother's video appearance as "amazing."
"You know, four years ago she jumped out of a helicopter so this is a walk in the park," Harry said, referring to his grandmother's video with Daniel Craig, aka James Bond, for the 2012 London Olympics.
The video featuring Prince Harry and the queen was retweeted more than 30,000 times.