2 Ex-Pussy Riot Women Tell ABC They Were 'Shoved,' Detained in Sochi
The song that the punk rockers say got them in trouble.
February 18, 2014, 6:19 AM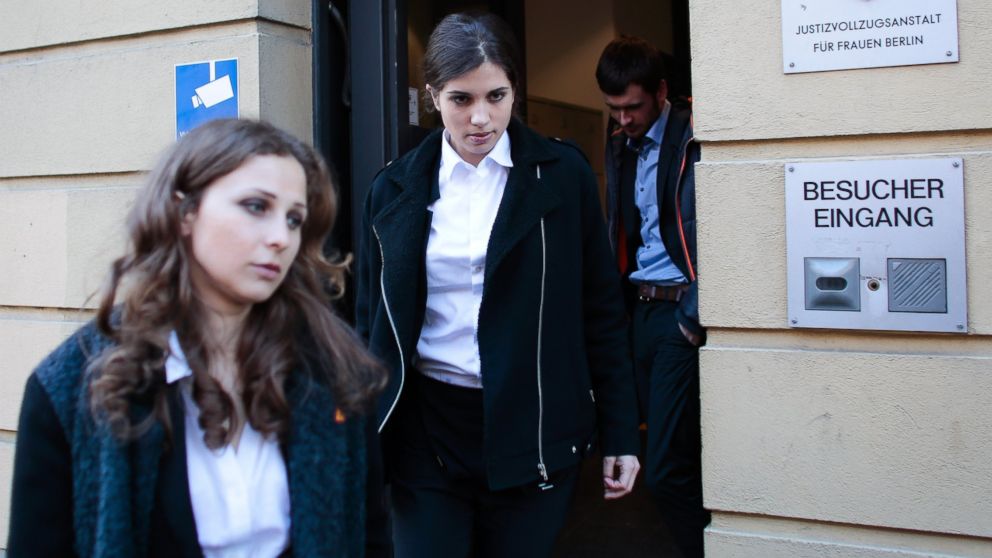 Feb. 18, 2014— -- Two former members of the Russian protest group Pussy Riot were "surrounded," "shoved" and arrested by Russian police near the Olympic village today in what they told ABC News was the latest in daily harassment by security officials.
"We are in Adler police station. We arrived here on Sunday to perform a song, 'Putin Will Make You Love Your Motherland,'" Nadya Tolokonnikova told ABC News in a phone call following today's confrontation.
Tolokonnikova said she and Masha Alekhina were harassed by officers from Russia's Federal Security Service (known by the acronym FSB) since they arrived in Sochi. They were taken into custody today along with a group of human rights activists.
"We were surrounded by FSB and other security forces and they stopped us every day. The day before yesterday they detained us to inspect our documents, we spent nine hours in the police station," she said.
"Yesterday we spent hours at the FSB and they openly told us that we are wanted. And today we were walking along the sea near the seaport building in Sochi and we were surrounded by police, and they arrested us, saying that something was stolen in our hotel. They used force, shoved us into the car and brought us into the police station, locked in a room surrounded by police," Tolokonnikova added.
Police did not respond to calls by ABC News for comment.
One of the other activists detained said they were arrested after leaving a church and were walking toward the port. A total of nine people were arrested, Semyon Simonov said, and are still being held for questioning. He said they were not carrying any banners or shouting at the time of the arrest.
Tolokonnikova and Alekhina -- whose full names are Nadezhda Tolokonnikova and Maria Alyokhina -- were among those who protested against Russian President Vladimir Putin in Moscow's Christ the Savior Cathedral in 2012. They were charged with hooliganism, along with a third woman who struck a plea deal, and remained jailed until December.
They were released in a broad prisoner amnesty ahead of the Sochi Olympics, ostensibly to mark the 20th anniversary of the Russian constitution.
Following their release, they were flown around the world, including to the United States, where they spoke out against the Russian government. The pair said they would speak up for prisoner's rights around the world.
A few weeks ago, six members of Pussy Riot issued a statement saying the group was parting ways with Tolokonnikova and Alekhina, saying the pair had become too focused on their fight for prisoner's rights.
"They completely forgot about the aspirations and ideals of our group – feminism, separatist resistance, fight against authoritarianism and personality cult," the group said in a statement.