Queen Elizabeth II Becomes Longest-Reigning British Monarch: 63 Things to Know About Her 63 Years on the Throne
The record was previously held by her great-great grandmother, Queen Victoria.
September 9, 2015, 12:59 PM
— -- Queen Elizabeth II made history today, becoming Britain's longest-reigning monarch, at 63 years.
The Queen, 89, surpassed her great-great-grandmother, Queen Victoria, reigning for 63 years and 217 days. She has outlasted 12 U.S. presidents, 12 British prime ministers and 7 popes during her reign.
Queen Elizabeth took over the monarchy in 1952, at the age of 25, after the unexpected death of her father, King George VI. She married Prince Philip in 1947 and it was with her husband of 65 years that she, today, marked her record-making reign.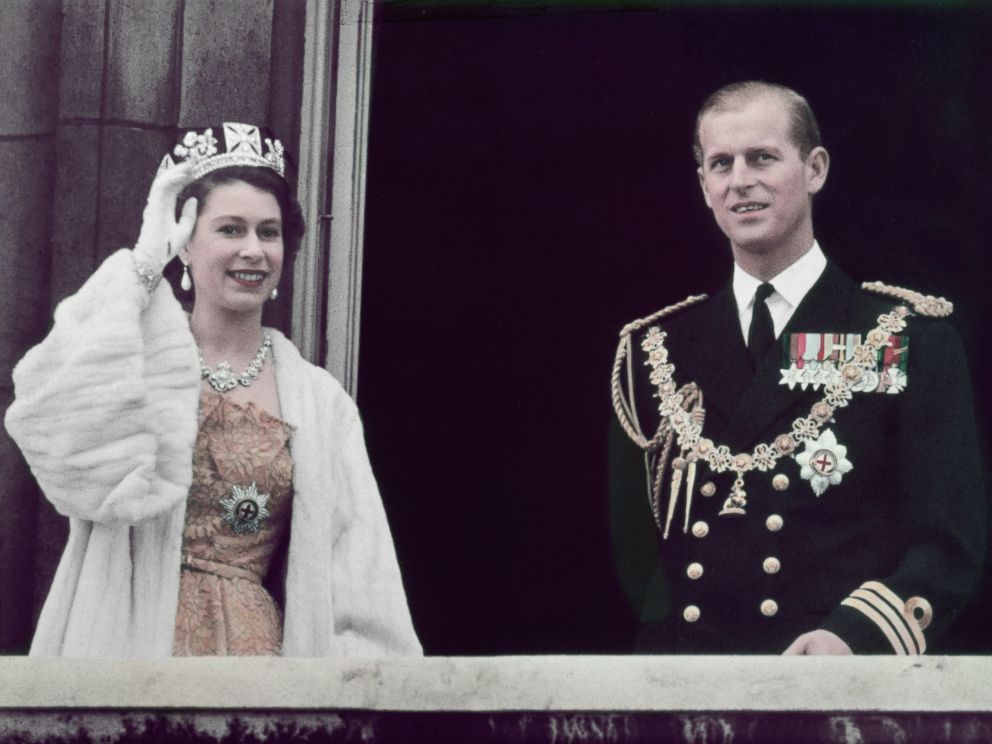 She and Prince Philip celebrated in a "business as usual" manner today, inaugurating a new train in Scotland, while the rest of her country celebrated their Queen.
The Queen made no mention of Queen Victoria as she addressed the cheering public in Scotland today, but made a quiet nod to her reign by wearing her great-great-grandmother's diamond bow brooch, which has been passed down to her through the generations.
The Queen, in her always humble way, thanked well-wishers.
"Prince Philip and I are very grateful for the warmth of your welcome on this occasion," she said. "Many including you, First Minister, have also kindly noted another significance attaching to today although it is not one to which I have ever aspired."
"Inevitably, a long life can pass by many milestones. My own is no exception," the Queen continued. "But I thank you all and the many others at home and overseas for your touching messages of great kindness."
Tonight, the Queen returns to Balmoral in Aberdeenshire, where she is spending her annual summer holiday. The Duke and Duchess of Cambridge, Prince William and Catherine, have joined the Queen and will help her celebrate privately tonight at Balmoral.
In honor of the Queen's 63-year reign, here are 63 facts about the longest-reigning monarch:
1) Queen Elizabeth II has served 63 years and 217 days, making her the longest reigning British monarch surpassing Queen Victoria.
2) Queen Victoria is Queen Elizabeth's great-great-grandmother.
3) She ascended the throne in 1952 at the age of 25 when her father died while she and Prince Philip were in Kenya,but her coronation didn't take place until June of 1953.
4) She married Prince Philip in Westminster Abbey on November 20, 1947. During her Golden Jubilee in 1977 she said, "All to often Prince Philip has had to listen to me speak but quite frankly he has been my strength and stay all these years "
5) She is, in fact, an accidental Queen. Her Father King George VI became King when his brother, Edward, abdicated the throne for American divorcee Wallis Simpson.
6 ) On her 21st birthday, the Queen pledged, "I declare before you all that my whole life, whether it be long or short, will be devoted to your service."
7) Queen Elizabeth has had more than 30 corgis and dorgis (corgi and dachshund mix) during her reign. Her first dog, Susan, was an 18th birthday present.
8) She is an avid equestrian still riding her horses today at age 89.
9) She is also a thoroughbred breeder and races her own horses. She has made several private visits to Kentucky in the U.S. to see the stud farms, and attended the Kentucky Derby in 2007.
10) During the London Olympics, she played herself with Daniel Craig welcoming "James Bond" into her private sitting room and later jumping out of a helicopter to the world's surprise. At the 2013 BAFTA's she received an honorary award for her devotion to film and was cited as "being the most memorable Bond girl yet."
11) She has five great-grandchildren, four great-granddaughters and one great-grandson.
12) The queen's actual birthday is April 21, but the nation celebrates it every year in June at the Queen's birthday parade called Trooping the Colour.
13) She has reigned over 12 prime ministers, from Winston Churchill to David Cameron.
14) In 1957, she visited the United States and made an appearance before the U.N. General Assembly.
15) In 1991, she became the first British monarch to address a joint session of the U.S. Congress.
16) Her family nickname was Lilibet.
17) The queen has answered more than 3.5 million letters of correspondence.
18) During her reign, she has hosted more than one-and-a-half million people for garden parties at her homes.
19) Queen Elizabeth has moved with the times. She has a Facebook page. She launched a British monarchy website in 1997, followed by a YouTube channel, a Twitter site and a Flickr page.
20) The queen has been given all sorts of gifts on her foreign tours, including two tortoises on her visit to the Seychelles in 1972, an elephant by the President of Cameroon in 1972 and two beavers on a visit to Canada
21) The queen and Prince Philip have sent 45,000 Christmas cards during her reign.
22) She has undertaken 265 overseas visits to 116 different countries during her reign.
23) She has launched 21 ships during her reign.
24) She has sat for 129 portraits during her life in the throne.
25) The queen was an auto mechanic and drove a truck during World War II to aide in the war effort.
26) In 1982, the queen woke up to find a stalker in her bedroom . Initially unable to reach security, she spent 10 minutes talking to the man about his personal problems.
27) Just like in the movie, "The Queen," the monarch often drives herself around her various homes in her Range Rover.
28) She is a petite 5-feet, 4-inches.
29) Her first walkabout meeting members of the public took place in 1970.
30) She is one of the most photographed women in the world, and one of the Queen's hobbies is taking family photos.
31) She first met Prince Philip at the age of 13.
32) She is patron of more than 600 charities.
33) The queen's purses are made by Launer and cost about $1,500 each.
34) When Queen Elizabeth is in residence at Buckingham Palace, her piper plays beneath her window every weekday morning for 15 minutes at 9 a.m., a tradition dating back to Queen Victoria's time.
35) Britain's Royal Mint has released a new coin to commemorate the Queen becoming the longest reigning monarch.
36) Queen Victoria became queen at age 18, while Elizabeth ascended the throne at 25.
37) Queen Elizabeth was born in Mayfair, London. She was four years older than her sister, Margaret, and both sisters were educated at home.
38) In 1940, during World War II, Princess Elizabeth broadcast to other children.
39) Queen Elizabeth saved up war ration coupons to purchase the fabric for her wedding dress, which was designed by Norman Hartnell and was encrusted with 10,000 pearls.
40) In 1981, just a month before Prince Charles and Diana's wedding, a man fired a gun at the Queen as she rode her horse down the mall. The shots turned out to be blanks.
41) The queen called the year 1992 the "annus horribilus" after her beloved Windsor Castle burned down, Princess Anne got divorced, Prince Andrew separated from Sarah Ferguson and Charles and Diana 's marriage started to collapse.
42) In 2012, as she celebrated her Diamond Jubilee of 60 years on the throne, her approval rating reached a record high 90 percent.
43) The queen has surpassed Victoria's record of 23,226 days, 16 hours and 23 minutes. It's believed the Queen will surpass the record at 5:30 in the afternoon but no one knows the precise time Her father died so it's hard to pinpoint the precise moment.
44) The queen has said she doesn't want any fuss to be made over her and wants the milestone to be business an usual like any other day.
45) She doesn't have a passport.
46) There are more than two billion coins that bear the queen's image in circulation and 300 billion stamps with her image worldwide.
47) At age 89, she has completed more than 400 engagements a year.
48) Some 400,000 people gathered for Queen Victoria's coronation, while 27 million watched Queen Elizabeth's, which was the first televised coronation.
49) Queen Elizabeth rides in the same golden carriage that Queen Victoria did for the State Opening on Parliament.
50) Queen Victoria married Prince Albert when she was 21. He died just 20 years later. Meanwhile, Prince Philip has been the consort for 68 years and the first British monarch ever to celebrate a diamond wedding anniversary.
51) Queen Elizabeth's net worth has been estimated between $500 million and $2 billion but no one truly knows.
52) The Queen's Royal Collection has one of the most extensive art collections in the world with priceless pieces of art including many of the anatomical sketches by Leonardo Da Vinci and paintings by nearly ever master.
53) Buckingham Palace is the Queen's official residence but she often calls Windsor Castle home.
54) Buckingham Palace and Windsor Castle are official royal residences which are held in trust for future monarchs, while Balmoral and Sandringham are private residences owned by the Queen.
55) There are 237 roads named after Queen Elizabeth in the U.K.
56) The Queen receives a red box every day with information on her government.
57) Queen Elizabeth is head of state of the U.K. and 15 Commonwealth realms with a population of 139 million.
58) She is the 40th monarch since William the Conquer.
59) She has 30 godchildren.
60) She has been on the throne during seven different papacies and 12 U.S. presidents.
61) Kensington Palace was the birthplace and childhood home of Queen Victoria.
62) The Imperial State crown is housed at the Tower of London and worn by the Queen each year at the state opening of Parliament. It contains more than 2,800 diamonds, 270 pearls, 17 sapphires and 11 emeralds.
63) The crown is so heavy that the Queen often wears it prior to the state opening of Parlimament in her home so she can adjust to its great weight.