Sept. 25, 2013— -- It's 9 o'clock on a school night. But for Lennon and Maisy Stella, it's time to go to work.
The Canadian sisters have become two of country music's unlikely new stars. "Nightline" was with them backstage at the Grand Ole Opry, just moments from showtime, and spent a week following other up-and-comers on their search for country music greatness.
Nashville has become music's tinsel town, drawing a new generation of young hopefuls who are willing to sacrifice just about anything, even their childhood, at a long shot at fame and fortune.
Lennon and Maisy's mother, Marylynne Stella, is one half of the girls' entourage. Their father, Brad Stella, is the other.
"I mean we always knew they were ridiculously talented, but I didn't think we'd be dealing with it this early," Marylynne Stella said.
VIDEO: Young 'Nashville' Stars on Making the Big Time
Once YouTube sensations, Lennon, 14, and Maisy, 9, have had their careers explode since they landed roles on ABC's hit drama "Nashville" as Maddie and Daphne Conrad, the young girls of the show's lead star, Rayna James, played by Connie Britton. Their cover of the Lumineers' hit "Ho Hey" is the most viewed Opry video this year.
"It's so awesome, and it's happened so quick," Lennon said. "It's been such a blessing."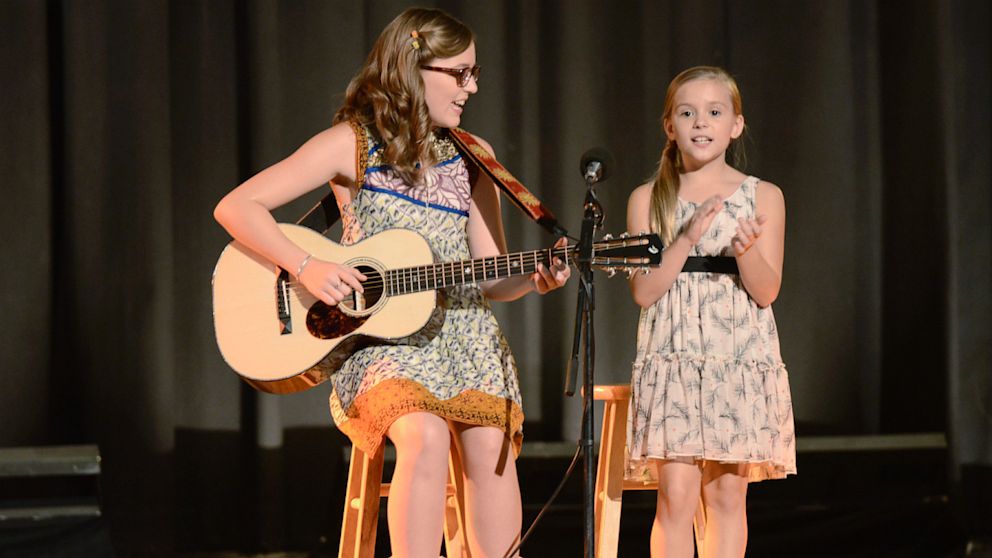 The girls became an overnight success, thanks to a show that makes being discovered look easy. Country megastars like Taylor Swift are making Nashville cool again.
Here, kids filled up casting call waiting rooms, lining up, dreaming of stardom, willing to sacrifice even their childhood for a long-shot chance at fame and fortune.
Walking through her "Hall of Fame," casting coach Regina Moore of Moore Casting said, "That's Miley Cyrus, and her sister Noah also came through, auditioning, taking classes here."
Moore has her eye on a new talent: Annalise Morelli, an eager teenager chasing her country dream.
"I haven't seen her in a year, and I know she's been working really hard at it," Moore said.
Seventeen-year-old Morelli came to Nashville with hopes of becoming country music's next breakout star. To help her chase those dreams, her mother, Lisa Morelli, quit her own job, left her husband and their other daughter back in South Carolina, and moved to Nashville with Annalise.
They rent a tiny apartment over a friend's garage. "We call it the lucky house," Annalise Morelli said, "because everyone who has lived here has gotten a record deal."
She has been dreaming of a record deal for as long as she can remember. Thanks to a songwriting friend, she's landed a gig at Nashville's legendary Bluebird Café. It's just the opportunity that might get her there.
"She has no idea who may walk off the street that's a producer, a writer, whoever, that may have something they're working on that she might be right for," Moore said.
It's the fabled nightclub where Garth Brooks was discovered, and where a then 14-year-old unknown named Taylor Swift landed her first record deal.
It's a plot twist worthy of a primetime drama. The Bluebird is so key to the Nashville story that the TV show has painstakingly recreated the real café on its soundstage.
Lennon and Maisy know firsthand what it's like to be discovered thanks to the Bluebird Café.
"We came up one night and performed a song. Someone was just videotaping it, someone posted it, you know how that happens," Lennon said.
"Thank God for that person," Maisy chimed in.
Their Bluebird performance helped land them their roles on "Nashville." And it could be Morelli's turn.
Before her debut at the Bluebird, Morelli said she planned to play her favorite song, "I've Got You Figured Out," which she wrote herself. She is hoping to set herself apart from the millions of other people willing to do anything to get ahead.
"I believe in what I do so much that I know everybody else is different. There's not another Annalise Morelli, I can't let what they do distract me," she said.
Her mother was emotional before her daughter's performance, thinking about the pressure and the possibilities of what could happen.
"I hope she gets signed tomorrow night at the Bluebird," Lisa said through tears. "I would love nothing more."
Even though Lisa Morelli knows the odds are astronomical, her expectations are still running high.
"It's not like college where if they work hard and their grades are good, they get to become a doctor," she said. "This is real."
Songwriter Eric Paslay has been in Nashville for 10 years, and knows that sacrifice well and even wrote a song about his first time playing at the Bluebird Cafe.
"If you sing better than Aretha Franklin, Adele, that doesn't mean you're going to be famous," he said. "If somehow you end up in the right room, on the right night, with the right song, and they're drinking the right Coca-Cola, they might say, Hey, she's got something or he's got something."
Paslay has turned his professional heartaches into hit songs for stars like Eli Young Band, and now he's begun climbing the charts on his own, with his catch tune "Friday Night." He's been in Nashville for a decade, but he's still considered a new artist.
"It might take 10 years, it might take one night, [to be discovered]," he said.
Just minutes away from performing, Morelli spotted a face in the crowd, and realized the stakes couldn't be higher. Scott Borchetta, the record mogul who signed Taylor Swift, is staying to see her show. He said he remembered where he was sitting the night he first heard Swift perform.
"She was really born to do this. It's so cute to look back at those days. She was like a charging bull," he said.
As CEO of Big Machine Label, Borchetta is a music industry heavyweight who has the power to make Morelli a star. As she prepares to take the stage, she knows this could be her big chance for a shot at stardom.
To find out what happens, watch our "Nightline" report HERE.