— -- Gooooood Morning, Vietnam!
As Adrian Cronauer, Robin Williams made the troops laugh, playing a passionate radio DJ in the 1987 movie. Off-screen, Williams performed a similar role, making an instant connection with United States service members wherever he went.
The performer, who died Monday at the age of 63 in a suspected suicide, traveled to war zones, entertaining more than 89,000 troops in 13 countries during his United Service Organizations (USO) tours. Such trips can be brutal on performers – flying around in a cargo plane, doing everything to stay awake – but he would always make it a point to be with U.S. troops and perform nonstop.
After his shows, he'd stick around, making personal connections with service members. Retired Gen. Carter Ham respected Williams' character.
"He would go to the guard towers, he'd go to the dining facilities, he'd go to the security police who couldn't come to the shows because they were on duty. And he would spend time with them individually. That was very moving," Ham said.
SLIDESHOW: Robin Williams' Best Roles
Robin Williams Checks Into Rehab
There was an instant connection between Robin Williams and the troops. Never phony, never the privileged celebrity – just a comedian who helped them escape the cruelty of war, or the aftermath of injuries, if just for a moment. Williams used comedy as a source of therapy to help soldiers cope with the stresses of war.
Williams followed the lead of other popular USO performers such as Bob Hope and Marilyn Monroe, Jay Leno and Willie Nelson.
"I'm so honored to meet them and know what they've gone through and say, 'Hey dude,' this is just something that really humbles me," Williams told ABC News' Bob Woodruff during a "Stand Up for Heroes" event in 2012.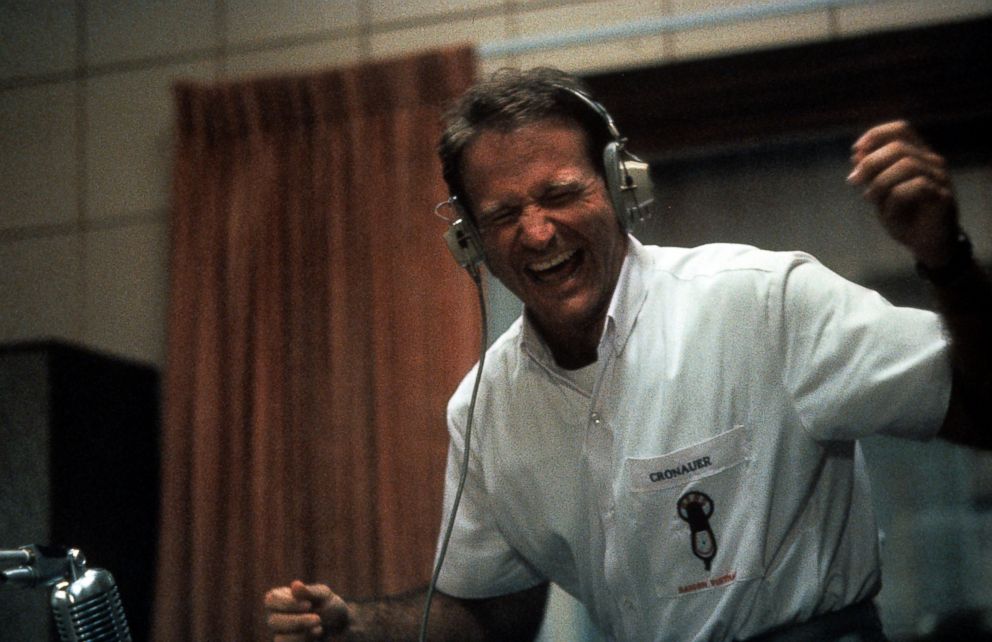 One of his most memorable USO tour moments came in Kuwait in 2007, during what's called retreat – with the troops turning to face the flag as it was lowered – and in the process, turning their backs to the stage.
Williams, not sure of what to do, stood solemnly and bowed his head, his face showing a bemused pride.
After the audience turned back around, Williams joked about the incident.
"I'm not going to forget that. I've never had an entire audience go, 'Forget you!' You have no idea!" he said, drawing laughs from the crowd.
He would talk about the incident for years to come. He was proud of the troops. And they were proud of him.
Williams appeared at the 2008 USO Gala – a yearly event to honor men and women in uniform – and spoke about the need to support the troops.
"I put together pretty strange shows," Williams said. "I took Lewis Black, Lance Armstrong and Kid Rock. And even people in the USO were going, "Really?' But it was for me, I would have to say, the greatest experience of my life.
"In the midst of all the insanity, it is so great to just have a moment, a bit of home and a bit of them. And the two combinations are the best things that I ever experienced in my whole life."
Williams toured with USO for the first time in 2002, traveling to the Middle East and Europe – performing comedy, meeting troops and signing autographs.
"I wanted to go over there to Afghanistan and to those bases to let them know people at home haven't forgotten them, and also when I get back to tell people not to forget the people there," he told American Forces Network Europe in a 2002 interview.
"I met a lot of great people. It's incredible."
USO released a statement on the actor's death.
"The entire USO family is saddened by the news of Robin Williams' passing," the statement reads. "One of the great comedic actors of his generation, Williams traveled around the world to lift the spirits of our troops and their families. He will always be a part of our USO family and will be sorely missed."
Secretary of Defense Chuck Hagel called Williams a "true friend and supporter" of the troops.
"From entertaining thousands of service men and women in war zones, to his philanthropy that helped veterans struggling with hidden wounds of war, he was a loyal and compassionate advocate for all who serve this nation in uniform," Hagel said in a statement. "He will be dearly missed by the men and women of DoD – so many of whom were personally touched by his humor and generosity."