Will Hollywood relocate from the hills of Los Angeles to the banks of the Ganges? Could Indian stars soon get the same treatment as Angie, Brad and the rest of our A-listers?
Quite possibly. With a potential $2 billion deal between Indian billionaire Anil Ambani's Reliance Entertainment, other Indian investors and Steven Spielberg's DreamWorks SKG, Bollywood and Hollywood are now linked by more than their names.
In recent weeks, some of Hollywood's biggest celebrities have made deals to work in Bollywood. Reliance Entertainment signed agreements with stars like George Clooney, Jim Carrey and Brad Pitt. Later this year, Johnny Depp is expected to star in Mira Nair's "Shantaram." Sylvestor Stallone agreed to appear in ''Kambakkht Ishq," and Will Smith reportedly said he wants to star in a Bollywood film.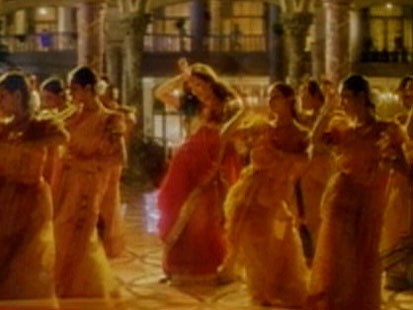 Although the Reliance-DreamWorks deal is not the first between the two filmmaking centers, it is the largest so far and offers hope for future mega deals.
Of the two film centers, Hollywood is considered to be the corporate machine whereas Bollywood has a reputation for making less-than-transparent deals, perhaps to foster the interesting rumor of shady financing from organized crime.
Hollywood released about 630 films last year, with an average budget of $106.6 million. Bollywood creates about 800 movies a year on budgets that are a fraction of those from LaLaLand. In addition, Bollywood films, which average 140 minutes versus Hollywood's 100 minutes, are shot in 40 days — about the same time it takes for a higher-budget Hollywood film. Bollywood's $2.2 billion in revenues in 2007 (according to PricewaterhouseCoopers) is a tenth of Hollywood's.
The term "Bollywood" is a combination of Hollywood and Bombay, the former name for Mumbai where the movies are made (otherwise it may have been called Mollywood). The name is considered offensive by some because it makes it seem as if the Hindi film industry is a tiny distant relative of Hollywood, despite the fact that it churns out more films per year. Bollywood only accounts for a quarter of all Indian-made films.
Warner Bros has made inroads into the Indian film industry and is financing and distributing the biggest budget release in Bollywood this year, "Chandni Chowk to China." Details about the agreement have not been revealed.
The film's producer, Rohan Sippy, comes from a Bollywood dynasty. Sippy's grandfather, G.P. Sippy, produced "Sholay," one of the most popular Indian films of all time. His father, Ramesh Sippy, directed the film. Rohan Sippy's new film, "Chandni Chowk To China," will be distributed by Warner Bros on more than 100 screens around the United States.
"Hopefully the film will have the quality and enjoyment that we had of the great Hindi films that we grew up on and hopefully it will appeal to people in India and even for small towns and cities outside of India — that's the great thing about Hindi films, when it works, it works across all countries," he said.
But for those who fear Bollywood films' "Sound of Music" type musicals will become more similar to Hollywood's action thrillers and romantic comedies, they need not worry. Sippy believes that the success of foreign films in the U.S. depends upon them offering something different.
"In order for our cinema to break out, we have to retain our identity and in order to do that is our strongest element is music and sound," Sippy said. "It would be impossible to take it out because then it's just a film, not a Hindi film."
Americans may already be familiar with the female star of "Chandni Chowk To China," Deepika Padukone, who also played a role in "Om Shanti Om" — one of Bollywood's biggest international hits.
A few of Bollywood's most famous actors have had success in both India and America, including the stunningly beautiful Aishwarya Rai, whose first international release was "Bride and Prejudice." Salman Khan acted with "Heroes" actress Ali Larter in 2007's "Marigold" and Vishal Bharadwaj is said to be in talks with about a Hollywood film with actress Uma Thurman.
But crossover between Bollywood and Hollywood is difficult. It is a huge risk to give up fame in one country to start over again in the other. For the younger actors beginning to gain momentum in their native country, the loss of momentum could end their careers. Of course, for established actors like Stallone — who may not have as many opportunities for Hollywood leads — the chance to play in Bollywood and earn money has little downside.
It is not just actors and investors who are crossing the oceans. Bollywood producer Milan Luthria is hiring an American film crew for his upcoming, still unnamed, film. Luthria's recent hit "Taxi No 9 2 11" was the Bollywood version of the Hollywood's "Changing Lanes" starring Ben Affleck and Samuel L. Jackson.
Luthria hired the American crew in part because there is more money in the Indian film industry so they are able to afford the foreign rates.
"I don't think America does anything better than movies, so you really get a wide choice of talent to pick from," he said. "For me personally it adds to my learning process. If I interact with American technicians, there's a cross learning experience that happens."
As for the potential Reliance deal and the global expansion of the Indian film industry, Luthria was positive about both.
"There is more awareness abroad of Indian films, they don't look at it as a small fledgling industry," Luthria said. "We've got more reach, there are Indians everywhere."
Note: This story has been corrected. In its original form it identified Akshay Kumar as the female lead in "Chandni Chowk to China." Kumar was the male lead; the lead actress' name is Deepika Padukone. ABC News regrets the error.