He's played the put-upon responsible son of an Enron-style corrupt executive, and a possible pedophile (his words), in last year's surprise hit movie "Juno." He's had a TV career that spans three decades.
Now, Jason Bateman co-stars opposite Will Smith and Charlize Theron in the holiday weekend superhero release, "Hancock."
Bateman discussed his new movie, experiences from a lifetime in the business, and plans for the future (including an "Arrested Development" movie) on "Popcorn" with Peter Travers on "ABC News Now."
Playing an idealistic PR executive whose life becomes indebted to Smith's drunk superhero character, Bateman admits that he didn't have to prepare much for the role. "Some people really try to play a different person, do a lot of research, and what not," he said. "I just try to find the part of me that's closest to what I think they want out of the character."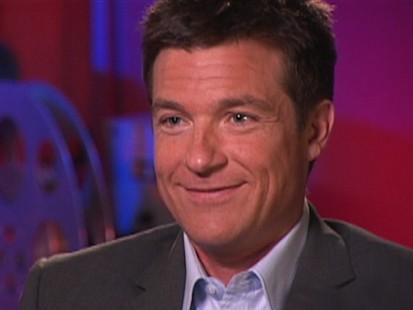 The role of the straight man is familiar territory for Bateman. His portrayal of responsible Michael Bluth on the TV sitcom "Arrested Development" was praised by critics as one of the most complex of the type. His acting in the series simply responded to the outlandish antics of other characters (played by Jeffrey Tambor, Will Arnett and David Cross, among others), resulting in a deadpan character that resonated with viewers.
"You need a straight man, you need a funny man, and I'm happy to play the former," he said. "It's not the flashy role, so it's usually hard to cast that part sometimes, so I'll jump forward and take that. It also lends itself to what I think is funny: to react and to be dry as opposed to being the antagonist. I like being the protagonist, I like to react."
Bateman got his big break at age 12, as orphaned James Cooper on the television show "Little House on the Prairie." "It was a great way to come into the business as a young boy, being in the soft, warm, safe bosom of Michael Landon and his nice family there. I thought it was all going to be like that for the rest of my career," he recalled.
Future TV experiences weren't as idyllic as "Little House." But his early experience on that show taught him a lesson he still considers essential. "As I went on to these more typical, prickly sets, I knew that you could, in fact, get the day done by being nice," he said. "So, I knew that this didn't have to be that day and ... if I was ever in the position to influence a tone of a set, that I would do it the way Michael Landon did it."
His success at a young age turned him into a teen idol, starring on such shows as "Silver Spoons" and "The Hogan Family," and movies like "Teen Wolf Too." Bateman tried to prevent it from going to his head. "Anybody who's a teenager, who was on a television show, was a teen idol. It comes with the package. So, I never took it seriously unless it was a sad day. Then, I'd go out and buy a teen magazine and look at myself a little bit and find a quiet room somewhere," he joked.
The 1990s were a lean time for Bateman. He appeared in bit parts on TV shows and the odd movie role here and there. It was "Arrested Development" that brought him back to the public spotlight. "All roads lead back to that," he said. "There were not a lot of people -- well, there were a few million -- that watched the show, but a lot of people in Hollywood did, and those are the people that hire in my line of work, so that was lucky for me."
Though known primarily as an actor, Bateman would like to pursue other aspects of the business. "I wouldn't be upset if I never acted again," he said. "I do like doing it. I'm not announcing my retirement, but I can tell you that it is so much more complicated and interesting to contribute, participate in and guide multiple departments. I soak these things up when I'm lucky enough to be on the sets or when I'm watching the movies. I can't wait to have the opportunity to have that job and collaborate in more areas than just the acting.
"I'd love to do what my old boss Ron Howard has done with his acting career, or people like Tom Hanks or George Clooney or Brad Pitt," he continued. "They build these companies that are vibrant, product-generating entities, as opposed to ... sort of vanity labels, which are a result of some sort of contractual perk. These guys work really hard and just love the business. That's a wonderful position to have in a business that doesn't lend itself to longevity or consistency."
For now, Bateman keeps his aspirations level-headed. "I'm simply trying to work with people who are bigger, better, cooler and more talented than me," he said. "I don't really care what part it is or how far up the call sheet my name is -- I just want to work with people who are doing what I'd like to be doing and that I can learn from.
"I'm not really interested in making a whole lot of money or being super famous," he divulged. "I don't mean to be falsely humble there, it's really true. It's been 30 years now, and I'd like to have another 30. And there were 10 or so in there that were pretty quiet, and it's not great. I don't have a degree in anything. What else am I going to do?"
Bateman hopes that choosing the critical high road as opposed to instant celebrity has been key in his successes so far. "Being in a film that made the screener circuit ("Juno") in the Oscars exposes me to a bunch of filmmakers that are never ever gonna see "Hancock." Is Paul Thomas Anderson? Is Peter Weir?"
As for a movie version of the TV show that brought him back to the spotlight, it's been rumored and written about in blogs and newspaper stories for months. Bateman says the fate of the planned film still hangs in limbo, but he remains optimistic. "There is a will there," he said. "All of the creatives are on board and, hopefully, they'll work something out. I wouldn't be surprised if we could announce something in a month or a year."