The reactions range from confusion to disbelief to disappointment. But the vast majority of Clay Aiken's hardcore fans – Claymates they're called – support his recent acknowledgement on the cover of People magazine that, "Yes, I'm gay."
But is there a double standard for celebrity males who come out versus females? Since Aiken's news leaked Wednesday, his official Web site had received more than 2,000 entries on the message board. Compare that with the non-reaction from fans when Lindsay Lohan earlier this week told DJ Ted Stryker that she and Samantha Ronson have been together for a "long time…a very long time."
"I think when gay men comes out it's often more thought-provoking," said Andrew Belonsky, editor of Queerty.com. "It's still big news. You hear about girls having sex with girls all the time, and then there's that lesbian fantasy [that straight men have]."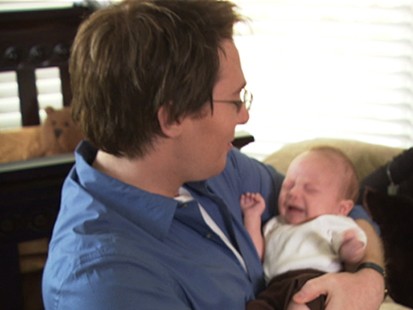 Some Claymates, on the other hand, seemed completely blindsided by Aiken's revelation.
"This is really shocking news as I had no idea he was gay," read a comment posted by "Sheridansq" on the Aiken fan site ClayManiacs. "And now I have to deal with this. I am not sure what to say to people who know I was a fan…I didn't go to work today and am not answering the telephone."
Some refused to believe it was true. "Reeks of photoshop to me," wrote "Playbiller" on fan site AikenForums.com. "No, I am not delusional, this just does not add to me."
"I honestly thought the whole thing was a huge joke and eventually Clay would laugh about it and say "Just joking!" but he never did," said Krystal Gray, a 21-year-old fan from Ontario, Canada. "After I realized it wasn't a joke, I was confused, appalled, a little taken a back."
If there is some confusion, it could be due to Aiken's evasive answers to previous questions about his sexuality. In an interview with New York magazine earlier this year, he sounded almost asexual.
"I have got too much on my plate," the 29-year-old "American Idol" alum told the magazine regarding his lack of a relationship. "I'd rather focus on one thing and do that when I can devote time to it, and right now, I just don't have any desire."
Because of answers like that, some fans now feel duped.
"I wish him well and hope he gets some peace of mind now BUT I feel he lied to everyone-especially us fans. He should have just said so years ago. I feel like we were 'used,'" read a comment by "NJ4ClayA" on The Clayboard, another fan site.
"Emily" on AikenForums.com wrote: "Yeah, that's why I'm a little ticked about the whole thing too. The fact that he lied to us all these years. I haven't really been a huge fan for a couple years now but back when I loved Clay, I used to argue with my family and friends who called him gay. I swore to them he wasn't. Now I feel like the stupid one for ever defending him against them."
Who Are the Claymates?
Belonsky believes part of the vehement reaction to Aiken's news stems from having a devoted fan base.
"The thing with Lindsay Lohan, she occupies such a different world of celebrity," he said. "She was the drug addict, the wild girl. She has less fans than people who like to watch her and are intrigued by her. Clay's fans really love him. They are people who enjoy him for his talent."
Gray considers herself one of Aiken's biggest fans. "I was a member on more than three message boards all dedicated to Clay," she said. "I made a binder of Clay pictures and articles; I had a Clay pillow case and pj's; and I had Clay's face plastered on every inch of my walls. I would cry when I watched his performances on 'Idol.' It was insane. He seemed like the perfect guy expecially since I too am Christian, when all of a sudden he's not only a father, but he's gay."
Women, a lot of them older, make up the majority of Aiken's rabid fan base. And many of his fans are born-again Christians like him. "A lot of these people may not know somebody who is openly gay," Belonsky said. "It's much different for people to think of gays as an abstract group than to see someone they have followed for so many years."
Said Gray, "I'm starting to get used to the whole idea (that Aiken is gay), but it's definitly hard for me to grasp still."
For some of his Christian fans, Aiken's public admission is a deal- and heart-breaker.
"Diane" on AikenForums.com wrote: "Sorry, the Bible says homosexuality is wrong, and as a Christian I believe that. We can't just follow the parts of the Bible that we want or that are convenient to us, or we are not Christians. And he says he's a Christian. Too bad, I was supporting him since 2003."
Aiken told "GMA"'s Diane Sawyer that he realized not every fan would be okay with his admission.
"I'm sure that there are people who will grapple with it, you know. I'm sure that emotions will run the gamut from people who already knew, to people who really believed that it wasn't true. You know, the best I can do is say that I tried and I know that you know this, as hard as I could over the past five years, never to lie about it."
Meanwhile, Belonsky cautions about jumping to conclusions about Lohan's recent comments on her relationship with Ronson.
"Everyone is taking it as a confirmation," Belonsky said. "I don't think it's a confirmation. She's dating a girl but that doesn't necessarily mean she's lesbian. That's a problem we have in this society. You assume somebody has to be one or the other. We have to categorize people."
New Fans for Aiken
As for Aiken, Belonsky sees a brighter future. "I don't think this will hurt his career. I think it will help. Lance Bass [from NSync] was written about much more [after he came out]. A lot of people who are shocked and feel betrayed will come around. And I think this will create new fans. A lot of people who thought he was gay dismissed him as sort of silly and self-hating. It's undeniable that he's talented. Maybe now people will be, 'What is this Clay Aiken kid all about?'"
At least one person posting a message on AikenForums.com seemed to think so. "Well he gained at least one fan," wrote "Phamousboi." "All I can say is, finally, girl. We've been waiting."