Ed McMahon, perhaps the most famous sidekick in television history, has died at a Los Angeles hospital. He was 86.
For 30 years, he sat cheerfully on the couch next to Johnny Carson on the set of NBC's "Tonight Show," and it was his trademark phrase that opened the broadcast every evening: "H-e-e-e-e-e-ere's Johnny!"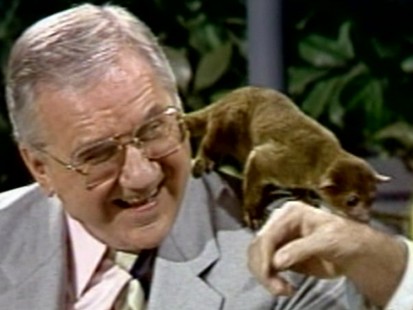 His publicist, Howard Bragman, did not give a cause of death, saying only that McMahon had a "multitude of health problems the last few months." He had been hospitalized in February, reportedly with bone cancer, and had also suffered a broken neck in a fall in 2007.
He died early Tuesday morning at Ronald Reagan UCLA Medical Center, surrounded by his family, said Bragman.
"It takes a lot more time to not be nice than to be nice," McMahon once said. Audiences will remember him laughing at Carson's jokes, moving aside on the set to make room for the show's featured guests, and smiling through commercial pitches.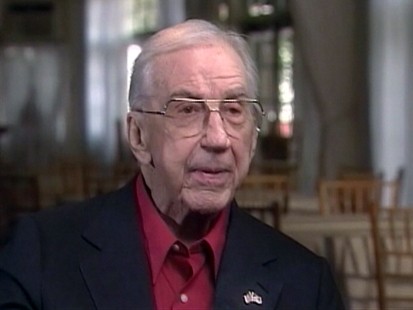 There is a famous clip in which McMahon delivers the slogan, "Now, doesn't your dog deserve Alpo?" -- but he barely got to finish, because Carson bit him. The audience loved it, and McMahon, the perfect straight man to Carson, apparently did too.
"You can't imagine hooking up with a guy like Carson," McMahon said in an interview with The Associated Press in 1993. "There's the old phrase, hook your wagon to a star. I hitched my wagon to a great star."
Beginnings as a Carnival Barker
Edward Leo Peter McMahon Jr., born in 1923, grew up in Lowell, Mass., and worked as a carnival barker and a bingo caller to put himself through college at Catholic University. He did two tours of duty in the U.S. Marine Corps, serving in the Korean War.
"My childhood dream was to be a broadcaster," he told Time Magazine in 1998. "In those days, before television, it was to be a radio announcer. All my heroes were people that announced on radio. When the war started, I wanted to become a Marine fighter pilot, which I became. And I wanted to fly off a carrier, which I did."
After working at local radio and television stations, he became a game show announcer, hosting such shows as "Concentration" and "Snap Judgment."
In 1957, he was brought in to be the announcer for a program called "Who Do You Trust?" It was there that he met Carson. When Carson took over the "Tonight Show" from Jack Paar in 1962, he brought McMahon along.
Ed McMahon Dead at 86
Carson, McMahon told Time, "had the two elements vital to a good talk show host. He had the curiosity of a child, and he listened. And listening is so important, because sometimes your next question is in the last answer. And Johnny always recognized that."
McMahon's success on television brought him a fortune reported at one time to be more than $200 million. He hosted other shows, including "Star Search" and "TV Bloopers and Practical Jokes."
But viewers in his later years will remember him as a pitchman, hawking insurance policies and promoting the Publishers Clearing House sweepstakes. He left "Tonight" when Carson did in 1992. Carson died in 2005.
McMahon had three marriages and six children. One of his sons, Michael, died of cancer in 1995.
His later years were marked by declining financial fortunes. In 2008, he revealed that he was behind on mortgage payments on his Beverly Hills mansion, and in danger of foreclosure. Donald Trump, the real estate mogul, offered to buy the house and lease it back to McMahon.
McMahon would make a theatrical bow to Carson when he came on stage, and could often be heard off camera calling out "Hi-oooooh!"
In 2008, he reprised his role as pitchman on ABC's "Jimmy Kimmel Live."
"I spent my whole life doing commercials, so here I was back doing a commercial again," he said at the time. "It was very comforting. Believe me."