5 Things to Know About James Charles, the First Male Ambassador for CoverGirl
CoverGirl named the 17-year-old makeup artist as its first male ambassador.
November 1, 2016, 6:06 PM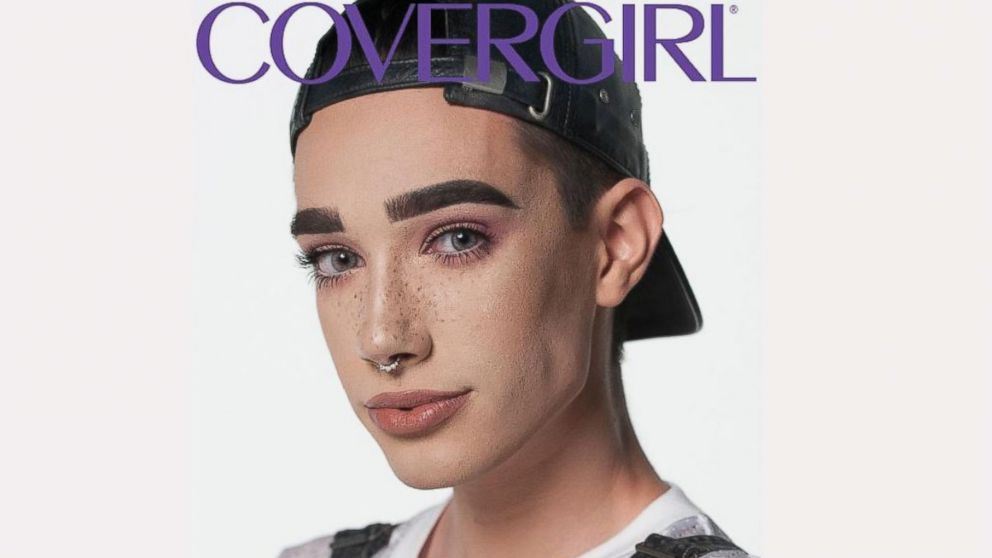 — -- At just 17, James Charles made history last month when he was named as the first-ever male ambassador for CoverGirl.
The high school senior and makeup artist got the call a few weeks ago -- only a year after he began putting makeup on himself and turned into a social media star. Since then, it has been a whirlwind. He's already shot his first commercial alongside his idol Katy Perry and is helping launch CoverGirl's new So Lashy mascara.
"This has been by far the craziest year of my life," he told ABC News. "But I've been loving every single second of it."
"CoverGirl has always embraced diversity and pushed the boundaries," he said. "I think having a male ambassador really takes it one step further and just expresses inclusivity for all. Makeup is kind of becoming a more genderless concept, which is so cool and something that I'm all for."
With CoverGirl's So Lashy, the company's first universal mascara, Charles is promoting "lash equality." In other words, "the mascara can be used for anybody, regardless of who you are, what you are or what kind of look going for," he said.
Charles admits that being a "boy in beauty" hasn't always been easy.
"Of course I get hate every once in a while," he said. "Not everyone has to like what I'm doing and that's totally OK. I feel happy and I feel confident, and I have a lot more people supporting me than don't, and at the end of the day, that's what matters."
That support grew after CoverGirl made its big announcement. Charles' followers on Instagram doubled, and now he's at almost a million. Here are five things to know about this rising star:
1. He started out as a hairdresser.
Just over a year ago, Charles was doing hairstyling for clients in his hometown but began to feel "constricted creatively" when he kept getting requests for the same hairstyle. After he did a friend's makeup and posted a picture on social media, he got a positive response, and other folks began requesting him for their makeup. Around Halloween last year, he posted his first picture of himself in makeup and the response was overwhelmingly positive.
Before he knew it, Charles had amassed over 400,000 followers on Instagram and over a 147,000 subscribers on his YouTube makeup tutorial channel. Last month, he posted then and now photos of himself to celebrate his one-year anniversary "of the first time I ever tried makeup on myself."
"Never in a million years would I have ever imagined to be here from posting pic on the left. It's crazy to see how much I've improved and grown as both a person and artist. I've had so many amazing opportunities and met so many amazing people in the past year," he wrote. "400,000 people in one year. Thank you all so much I can't even begin to explain how much you all mean to me. Imagine where we'll be in another year?"
2. He hasn't even graduated from high school.
Charles' career has already taken off and he hasn't even finished high school. Earlier this fall, one of his posts went viral after he retook his senior picture because he wasn't happy with the way it looked the first time. For the retake, he brought his own ring light, "so my highlight would be poppin," he wrote on Instagram.
Although he's taking a break from school while he works on the campaign for CoverGirl, he's still completing his assignments in hotel rooms and at friends' homes. "I worked my butt off to have a high GPA, so I'm not about to let that fall down."
3. He considers himself an occasional singer, and he's got a voice to back it up.
"I've been singing literally since I was born," he said.
Charles has been part of a few different a capella groups and often posts short clips of himself singing with his best friend Anthony Gargiula, another rising social media star, and other friends.
"Makeup is where my career is going but I would love to also indulge in music. It's still one of my absolute favorite thing in the world."
4. He counts Katy Perry as a friend now.
"I've been a fan of Katy Perry for so long," Charles confessed. "When I found out I was going to be shooting with her on set, it was one of the coolest things I'd ever heard."
When it came time, Charles was nervous, but the pop star quickly put him at ease. "She and I connected so quickly," he said. "We were talking on- and off-camera."
Other ambassadors in the So Lashy campaign include Sofia Vergara, DJ and host Amy Pham, YouTubers Chloe + Halle and beauty blogger Nura Afia.
5. He's got mascara tips.
"Mascara can definitely be one of the hardest parts of the beauty routine," Charles said. "Nothing is worse than when you are applying your mascara and you've worked an hour on the most flawless blended eye shadow and with one slip of the finger, your mascara is all over your face. We've all had it happen. So Lashy is literally the perfect mascara. The wand is so great and it makes it so easy to get into all the cracks and creases in your eyes to make sure all your lashes are elongated, nice and coated and lifted, so you get a nice, flawless look no matter what size lash you have."