How far the famous fall.
Tiger Woods is the latest sports star to mar his golden reputation with a scandal of supreme proportions. After ignoring rumors of infidelity that began running rampant following his Thanksgiving weekend car crash, Wednesday, the champion golfer finally fessed up -- sort of -- to doing wrong by Elin, his wife of five years and the mother of their two young children.
He's far from the first hero in the realm of sports to tumble from grace. Below, read up on Woods' "transgressions" and those of three other revered athletes who, thanks to recently revealed controversies, ended up not quite living up to fans' expectations. Then, check out the ones who fell, got back up, and soared again: a lesson to Woods and anyone hoping to overcome a PR disaster and get back to the game.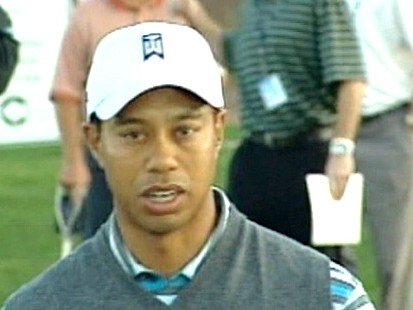 Tiger Woods
It was a twist in the tale of the golf prodigy pretty much no one saw coming: a chain of events that dragged the previously pristine Woods into a downward spiral, starting with his Nov. 27 car crash at the foot of his Florida home and ending -- for the moment, anyway -- with him releasing a statement apologizing for his "transgressions" and vowing to be a better husband and father.
"I have let my family down and I regret those transgressions with all of my heart," Woods said in a statement posted on his Web site Wednesday. "I have not been true to my values and the behavior my family deserves."
"I am not without faults and I am far short of perfect," he added. "I am dealing with my behavior and personal failings behind closed doors with my family. Those feelings should be shared by us alone."
Woods' statements came after Jamiee Grubbs, a cocktail waitress and reality TV star, told Us Weekly magazine that she had a nearly three-year affair with the golfer. Prior to Grubbs, Woods was romantically linked to club promoter Rachel Uchitel, who admitted to the New York Post that she and Woods met but denied that they had an affair. Late Wednesday, a possible third mistress stuck her head out of the sand: Las Vegas nightclub marketing manager Kalika Moquin told Life and Style magazine that she hooked up with Woods more than once.
The golf star has yet to make a public appearance or offer details beyond his stoic online statement. That may be due in part to the fact that, according to the Chicago Sun Times, his wife has dragged him into intense marriage counseling "with a counselor who has been conducting sessions several times daily" and is demanding a rewrite of their prenuptial agreement.
But perhaps he should take a tip from ex-NBA star Charles Barkley, who had his fair share of scandal and contended that athletes aren't role model material.
"I just hope he tells his side of the story about what happened," Barkley told the New York Post. "You've got to face the music, because it is what it is. Not talking about it can make it worse."
Andre Agassi
On the court in the 1990s, he was virtually unstoppable. But it turns out Andre Agassi's formula for winning was far darker than blood, sweat, tears and the occasional Gatorade.
In "Open," his new autobiography, the eight-time Grand Slam champion reveals that he used crystal meth in 1997, around the same time he married actress Brooke Shields, and lied to tennis authorities when he failed a drug test, claiming he "unwittingly" took the substance.
Agassi writes that he sent a letter to the ATP tour to explain the positive test, saying he accidentally drank from a soda spiked with meth by his assistant "Slim." In the book, Agassi adds that "Slim" was the person who introduced him to crystal meth, dumping a small pile of powder on the coffee table.
"I snort some. I ease back on the couch and consider the Rubicon I've just crossed," Agassi writes. "There is a moment of regret, followed by vast sadness. Then comes a tidal wave of euphoria that sweeps away every negative thought in my head. I've never felt so alive, so hopeful -- and I've never felt such energy."
"I'm seized by a desperate desire to clean. I go tearing around my house, cleaning it from top to bottom. I dust the furniture. I scour the tub. I make the beds."
Now healthy and happy with current wife and fellow tennis champion Steffi Graf, Agassi hopes his fans won't change their opinion of him after reading about his low point in life.
"I was worried for a moment, but not for long," he told People magazine in October. "I wore my heart on my sleeve and my emotions were always written on my face. I was actually excited about telling the world the whole story."
Marion Jones
Marion Jones rocked the 2000 Olympics in Sydney, Australia, racking up five medals for her unparalleled track and field performance. They all went away in 2007, when after years of denying she had ever taken performance-enhancing drugs, Jones broke down in federal court and admitted that she used a designer steroid from September 2000 to July 2001. Her punishment: a six-month sentence in a Texas federal prison, from which she was released in September 2008, and returning the three gold and two bronze medals she won in 2000.
Now, Jones is looking to make a comeback via the WNBA. San Antonio Silver Stars coach Dan Hughes confirmed to the Associated Press Monday night that the 34-year-old Jones has been training with his assistants to possibly play in the womens' basketball league.
"I thought it would be an interesting journey if I decided to do this," Jones told The New York Times about her decision to pursue a second shot at sports stardom. "It would give me an opportunity to share my message to young people on a bigger platform; it would give me an opportunity to get a second chance."
"It's important for people to know that it's possible to make a mistake in your life, but it's what you do after the mistake that people are going to remember you by," she added. "Are you going to make whatever negatives that happened in your life a positive? Are you going to disappear? That has certainly never been in my horizon. How can I use my experience, my story, to help people and in the process hop on this journey of trying to make a team?"
Michael Vick
If there's one thing you don't mess with in American culture, it's the sanctity of the dog. NFL quarterback Michael Vick violated that doctrine when, in 2007, officials conducting a drug investigation into Vick's cousin discovered evidence of unlawful dog fighting activities on a piece of rural Virginia land owned by Vick. As the press began its own investigation and federal and state authorities further examined the football star, it became clear that he was at the center of an interstate dog fighting ring that tortured and put to death underperforming animals. The public recoiled in horror, demanding retribution for the innocent animals.
They got it, to an extent. In July 2007, federal authorities slammed Vick with felony charges. The following month, the 29-year-old was convicted of conspiracy and running a dog-fighting organization and served 18 months in prison.
Prior to the dog fighting scandal, Vick had held the title of highest paid player in the NFL. Having been considered for the Heisman Trophy during his freshman year at Virginia Tech, he was known as one of the league's rising stars and most formidable quarterbacks. Now, he's playing ball again for the Philadelphia Eagles, but forgiveness isn't going to come easy. Protesters descended on Eagles practices earlier this year, holding high signs reading messages including "Hide Your Beagle, Vick's an Eagle."
Kobe Bryant
Here's the thing: if you excel at sports and screw up in your personal life but put things back together well enough that you can bring it on the field, the course, the court -- whatever your arena -- you'll rise again. No athlete proves that theory more than Los Angeles Lakers star Kobe Bryant, who in the summer of 2003 was arrested and accused of raping a 19-year-old hotel employee. In the wake of the investigation that ensued, Bryant's reputation plummeted. Sponsors, including McDonalds, cut off his endorsement contracts. But in September 2004, prosecutors dropped the assault case after the employee refused to testify in a trial. Still, Bryant agreed to apologize for the incident, hung his head publicly and bought his wife, Vanessa, a rock of a diamond ring for sticking by his side through the ordeal.
Then, he got back to the game. In the 2005-2006 season, Bryant helped bring the Lakers back to the NBA playoffs. In January 2006, he became the first player since 1964 to score 45 points or more in four consecutive games. The next season, Bryant earned his second career All-Star Game Most Valuable Player trophy. He followed that up in May 2008 by scoring the NBA MVP award. Finally, in 2009, Bryant helped the Lakers cinch their first NBA Championship trophy in seven years, and won the title of NBA Finals MVP in the process.
Yes, many fans agree that Woods ought to apologize and come clean about his "transgressions." But the man isn't a God. He's just a golf player, albeit a spectacular one.
As Bryant's case shows, as long as Woods can keep swinging that club on the course, the current drumbeat of bad publicity will fade into the ether and his athleticism will roar once again.