— -- Adam Busby of TLC's "OutDaughtered," is sharing his struggle with postpartum depression in hopes of raising awareness for fellow fathers across America.
The reality TV dad of Ava, Olivia, Hazel, Riley, Parker, all 2, and big sister Blayke, 6, opened up in a telephone interview with ABC News, revealing how the pressures of parenthood triggered an onset of depression--something Busby said he's suffered from since his quintuplets were born and is still battling every day.
"It totally got worse and worse, but it crept in," Busby said. "The babies, providing for my family and the kids and stuff, I felt like it was just constantly on my mind to where it's really hard to focus on anything else. I started withdrawing from friends that I've talked to on a daily basis. I didn't feel like engaging with people ... just because of the weight and constantly thinking about all this stuff that I have to prepare for.
"I felt like my love, my mental state, my thoughts, I gave every ounce to my family and I poured that into my family and my girls," he added. "I felt like at the end of the day, there was just nothing left."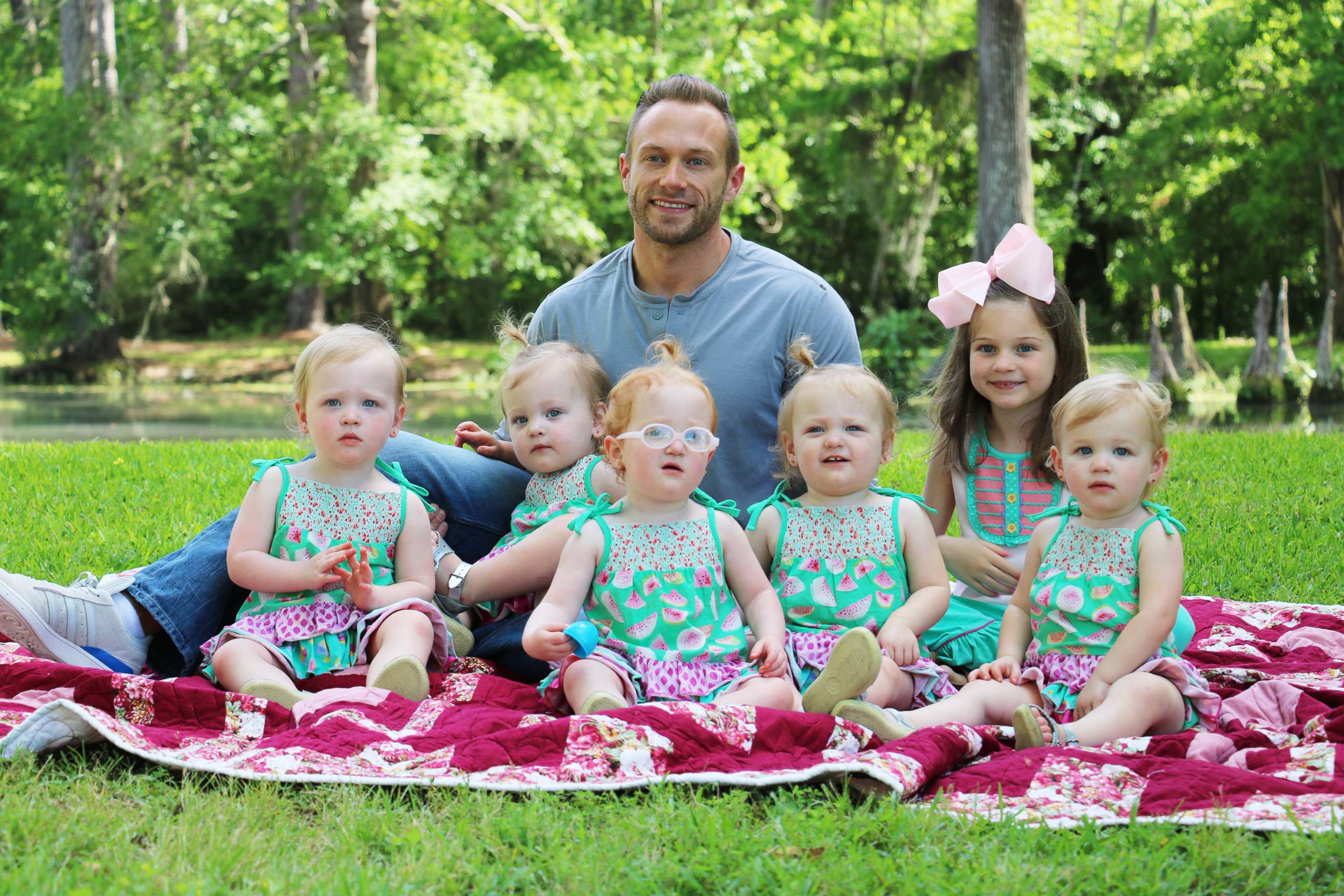 Busby and his wife, Danielle Busby, welcomed their quintuplets in April 2015 at the Woman's Hospital of Texas. They were the first all-female quintuplets to be born since 1969.
The family currently appears in the second season of "OutDaughtered," where on a recent episode, Adam Busby revealed that he's been struggling with postpartum depression (PPD).
On July 18, Adam Busby also sounded off on the issue via Twitter where he received some support as well as criticism.
"I've gotten a lot of criticism since coming out with this from people that just don't understand, and that just adds to the stigma," Adam Busby told ABC News today. "You can think logically about it and say, 'You should just put yourself into perspective and think about all the good stuff you have going for you.' Yeah, we have a lot of great stuff going on, but whenever you struggle with depression, your mind just doesn't let you go that way."
He continued: "I always thought that people with depression are weak and that's not the case. I know that there's this stigma out there because I'm guilty of it. I held onto it for two years and I tried to fix it myself and I tried to deny it and I tried to run from it and all that did was make it worse because I held it in."
Adam Busby admitted that he didn't realize he could be experiencing PPD until a friend suggested it, he said.
"You kind of start digging more and realize, 'Man, this is something that's happened ever since the babies were born and I've been struggling with it since, because of the sheer change in our lives,'" Adam Busby said, adding that he felt the need to open up to help other new dads who are also suffering from depression.
"[I]t's hard for me to talk about, but I would be doing an extreme disservice to tell about everything else that we've gone through and how we've overcome it and not tell [this] part of my story," he said. "I've read the statistics."
According to a February 2017 study published in the JAMA Psychiatry medical journal, scientists in New Zealand found that pregnancy and childbirth may be a high-risk period for male depression. The research concluded that expectant fathers were at risk for symptoms of depression if they "felt stressed or were in poor health." The study also reported that a man's rate of depression increased by 2 percent postnatal versus their partner's pre-pregnancy.
A 2010 meta-analysis published by the American Medical Association looked at postnatal depression in fathers and its association with postnatal depression in mothers. The studies examined concluded that prenatal and postpartum depression was found in 10 percent of men and was higher during their partner's postpartum period.
"The answer is yes, men can be clinically depressed after the birth after a child or five," Dr. Sheryl Kingsberg, division chief of OB-GYN behavioral medicine at UH Cleveland Medical Center, told ABC News.
Kingsberg said the thought of intense pressures associated with parenting can trigger depression in anybody.
"The life changes and responsibility changes in parenting qualify as situational risk factors for developing depression," she said. "Realize also you've got sleep deprivation in there ... the pressure of feeling financially responsible and just the extreme pressure that can weigh on somebody of having a fragile life in your hands, that also is a risk factor for developing depression.
"His risk quintupled," she continued. "One is really huge in people's minds and five at once, I would probably say that intensifies it."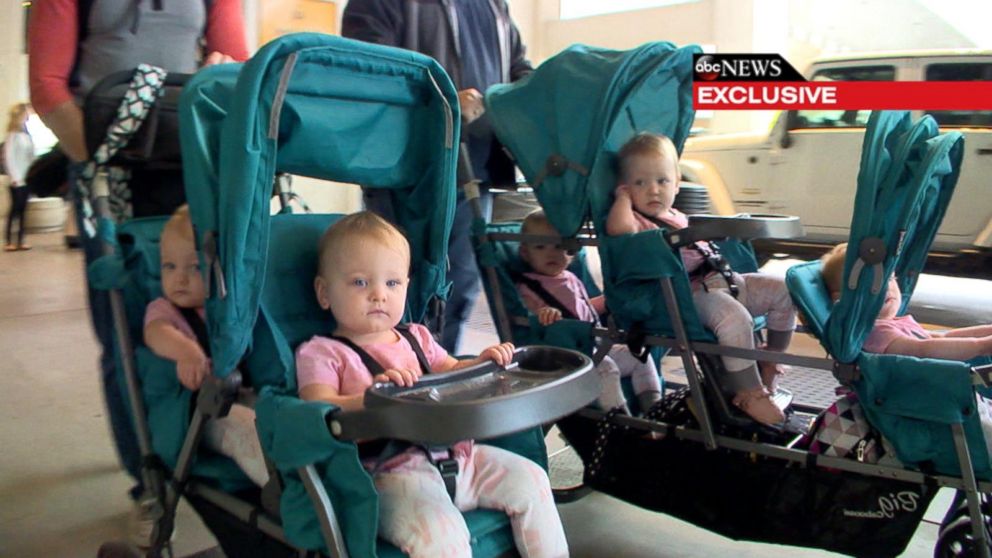 Adam Busby said his struggle is still a "work in progress" and that he's turned to a pastor, psychologists and psychiatrists for help.
"I have not by any means beat it and I'm still working on myself," he said. "[P]eople see me on social media and they think I'm this superdad that can take care of all these kids by myself and do all these great things, but I'm still struggling with this. And if this dad that looks like [superdad] on TV, is not afraid to come out and say he's vulnerable and he's real, maybe that would encourage other people to come out and say, 'Hey that's me too' and possibly take the steps to get help."
Danielle Busby tweeted last week that she supports her husband 100 percent and said she was in shock over what he is going through.
"She's had to prod me and nudge me along when I was taking a little bit longer than she thought I should be as far as finding a counselor to talk to," Adam Busby said. "She's been my rock ... and loved me all the way through this."
Adam Busby said he has advice for other fathers who may also me struggling with PPD.
"Talk to somebody you love, talk to somebody you trust -- tell them, this is what you're struggling with," he said. "Trying to keep it to yourself or trying to fix it yourself, or thinking this is something that's just going to pass, will make it worse."
ABC News' Sabina Ghebremedhin contributed to this report.